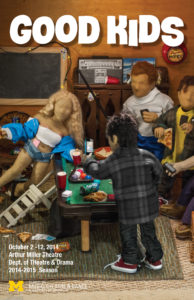 Good Kids
by Naomi Iizuka
Department of Theatre & Drama
October 2 – 12, 2014 • Arthur Miller Theatre

Something happened to Chloe after that party last Saturday night; the problem is, she can't remember anything. And everybody at high school is talking about what happened. Was she raped? Did she ask for it? How could those boys do that to her? Or did they? Set in a high school in the American mid-west, in a world of Facebook, Twitter, smart phones and YouTube, Good Kids explores the very public aftermath of a sex crime and its cover-up.Who's telling the truth?Whose version of the story do you believe; and what does that say about you?
Good Kids is the first work of a New Play Initiative established by the Big Ten Theatre Consortium. This collaboration among theatre departments will commission, produce, and publicize a series of new plays by female playwrights, with a secondary goal of creating strong female roles. The Consortium chose acclaimed dramatist Naomi Iizuka for the honor of the first commission. Head of playwriting at the University of California – San Diego, Iizuka's widely-produced plays include 36 Views, Strike-Slip, Anon(ymous), At the Vanishing Point, and Polaroid Stories. Loosely based on the Steubenville High School rape case, Good Kids is provocative, haunting and stunningly current.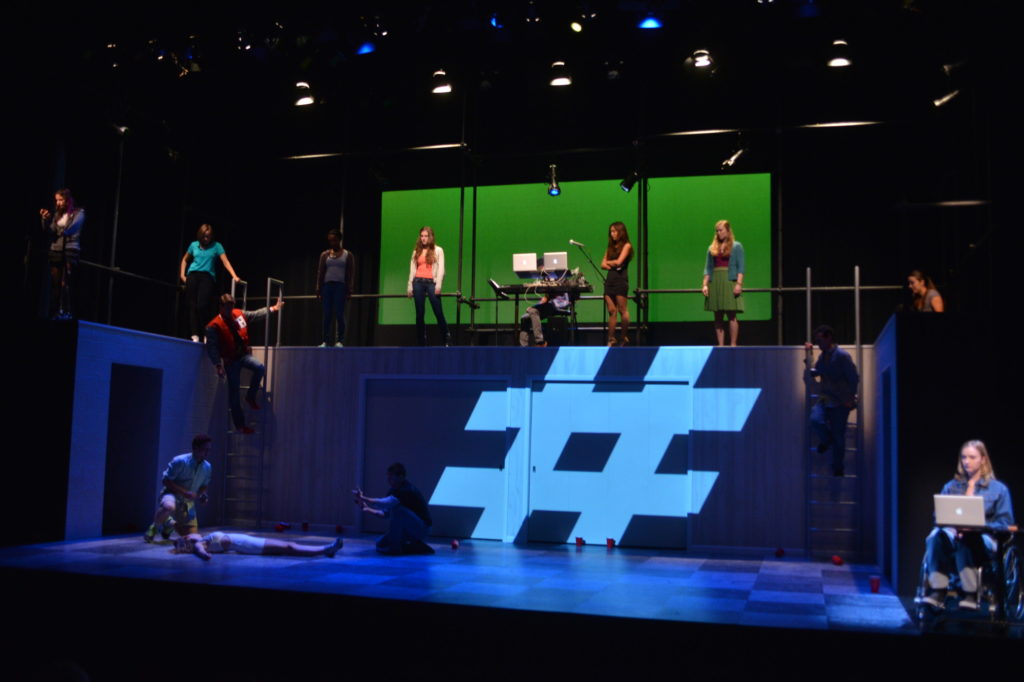 Artistic Staff
Director: Gillian Eaton
Scenic Design: Vincent Mountain
Costume Designer: Christianne Myers
Lighting Designer: Mary Cole
Projection Designer: Colin Fulton
Composer/Live Mix: Phil Rice
Sound Designer: Henry Reynolds
Stunt Coordintor: Robert Najarian
Vocal Coach: Annette Masson
Stage Manager: Kayleigh Laymon
Cast
Deirdre: Cayley Costello
Landon: Will Ropp
Sierra: Hojeong Shin
Madison: Tara Stallion
Amber: Lena Drake
Connor: Matt Provenza
Ty: Caleb Foote
Brianna: Savannah Rounds
Chloe: Daisy Bishop
Kylie: Emma Boyden
Daphne: Blair Prince
Tanner: Brendan Alpiner
Skyler: Becky Gordon
Music: Phil Rice
Understudy: Jonathan D. Pal
Sponsors
Good Kids was commissioned by the Big Ten Theatre Consortium
as part of its New Play Initiative.
Special thanks to the Office for the Vice Provost for Equity, Inclusion, and Academic Affairs for their generous financial support.
Resources
Good Kids the Play
It's On Us
SAPAC
RAINN
Not Alone
Media
Program
Video
Photos
[cycloneslider id="14-15-good-kids"]