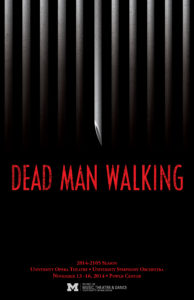 Dead Man Walking
Music by Jake Heggie
Libretto by Terrence McNally
Based on the novel by Sister Helen Prejean
University Opera Theatre • University Symphony Orchestra
November 13-16, 2014 • Power Center

The Story: Based on the prize-winning book by Sister Helen Prejean, CSJ, Dead Man Walking tells the true story of her experience as a spiritual advisor to a convict on Louisiana's death row. Through his appeals for pardon to the inevitable final execution, Sister Helen stands by Joe de Rocher despite her internal struggle to reconcile her faith in his humanity with the heinousness of his crimes. Her unpopular and controversial choice to attempt to save his soul leads to confrontations with those closely affected by his actions. A powerful tale of compassion and the effect of crime on the families of both the victim and perpetrator, Dead Man Walking is both inspirational and devastating.
Background: Premiered by the San Francisco Opera in 2000, Dead Man Walking is the first opera by composer Jake Heggie in collaboration with award-winning playwright Terrence McNally (Master Class, Love! Valor! Compassion!). Heggie initially garnered a following by artists such as Frederica von Stade for his songs that flatter the voice. His latest full-length opera Moby Dick premiered at Dallas Opera in 2010. Dead Man Walking features a melodic and dramatic score that brilliantly echoes the emotional journeys of its main characters. The San Francisco Chronicle declared, "[Dead Man Walking] must be reckoned something of a masterpiece — a gripping, enormously skilled marriage of words and music to tell a story of love, suffering, and spiritual redemption."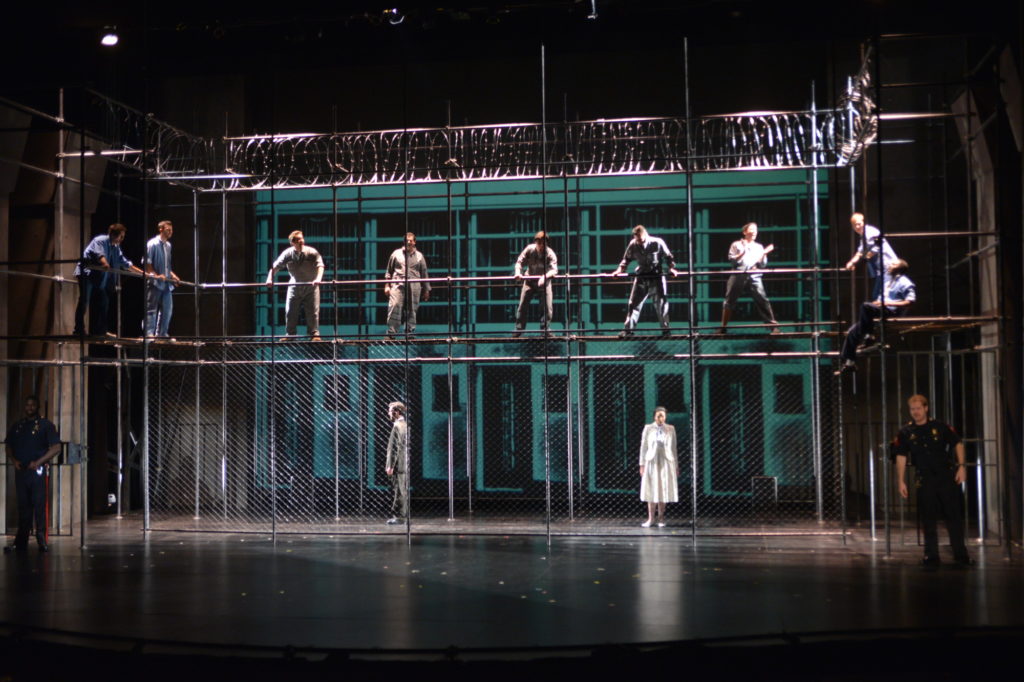 Artistic Staff
Director: Kay Walker Castaldo
Conductor/Music Director: Jerome Shannon
Assistant Conductor: Mélisse Brunet
Scenic Designer: Gary Decker
Costume Designer: Suzanne Young
Lighting Designer: Robert Murphy
Sound Designer: Henry Reynolds
Wig & Makeup Designer: Alyssa Battersby
Fight Choreographer: Robert Najarian
Diction Coach: Timothy Cheek
Chorus Master: Jessica Allen
Children's Chorus Master: Bonnie Kidd
Repetiteurs: Stanton Nelson, Nicholas Shaneyfelt
Supertitles: Chris Bergen
Stage Manager: Brett Finley
Cast (Thursday-Saturday/Friday-Sunday)
A Teenage Boy: Eric Faler
A Teenage Girl: Kate Berg
Anthony De Rocher: Darren Fedewa
Joseph De Rocher, Anthony's brother: James Schmid/John Daugherty
Sister Helen Prejean: Sarah Coit/Ashley Dixon
Sister Rose: Antonina Chekhovskaya/Katy Clark
Sister Lillianne: Kaswanna Kanyinda
Sister Catherine: Melissa Sondhi/Elaina Robbins
First Mother: Marina Hogue
Mrs. Charlton: Shenika John Jordan/Christabel Nunoo
A Hitchhiker: Kevin Harvey
Motorcycle Cop: Anthony LaFrinier/Francisco Bedoy Solorzano
Father Grenville, the prison chaplain: Dan Kitzman/Alexander Turpin
George Benton, the prison warden: Jonathan Harris/Glenn Healy
First Prison Guard: Ross Green
Second Prison Guard: Marcus Peterson
Inmate #1: Paul Robert Brumfield
Inmate #2: Tomer Eres
Inmate #3: Alex Greenzeig
Inmate #4: Michael Fragale
Inmate #5: Benton DeGroot
A Paralegal/A Nurse: Tessa Patterson
Mrs. De Rocher, Joe's mother: Natasha Drake/Lani Stait
Her 19 year-old son: Tom Cilluffo
Her 14 year-old son: Kevin Harvey
Owen Hart, the girl's father: Michael Miller/Luke Randall
Kitty Hart, the girl's mother: Angela Nieman/Tory Wood
Jade Boucher, the boy's mother: Nora Burgard/Tessa Romano
Howard Boucher, the boy's father: Lonnie Reed/Carlos Enrique Santelli
Inmates: Matthew Fleisher, Marty Gray, Harrison Kane, David Magumba
Nuns/Mothers: Kaitlin Baker, Linda Burns, Zoe Hart, Madison Montambault, Rikki Morrow-Spitzer, Megan Smania, Christina Swanson, Maggie Tigue
Press: Kaitlin Baker, Paul Brumfield, Alex Greenzeig, Madison Montambault
Doctor: Marty Gray
Children: Sofia Berenfeld, Emma Rose Carpenter, Leika Hillebrand, Loey Perpich Jones, Kayla Kendall, Emma Li, Alexandria Linders
Sponsors
Media Sponsorship by WRCJ
Resources
[accordion title="Synopsis"]
Setting: Louisiana, mid 1980s
Prologue
A teenage boy and girl have been skinny-dipping at a secluded lake. They have the radio on in their car, and are making out to its music. Anthony and Joseph De Rocher emerge from the shadows and turn the radio off. They attack the teens, raping the girl and shooting the boy. When the girl screams, Joseph stabs her until she is silent.
Act I
Sister Helen and Sister Rose are working with a group of children. Helen reflects upon her upcoming trip to Angola State Penitentiary where death-row inmate Joseph De Rocher, convicted of the horrific double murder, has asked her to visit. She sings a hymn, deeply disturbed about understanding her mission in life and the meeting. While driving to the prison, Helen is stopped for speeding. She prays for guidance. The prison chaplain, Father Grenville, receives her and warns that her visit is a waste of time as he regards Joe beyond salvation. Helen walks toward death row amidst mocking calls from the other prisoners. Joe puts on a cocky face for Helen before finally admitting to fear. He asks her to be his spiritual advisor and to accompany his mother to a hearing for a possible pardon. At the hearing, Joe's mother pleads for her son's life while the families of the victims counter with rage. As both sides await the verdict, Helen introduces herself to the other families. Word arrives that the pardon has been rejected. Helen tells Joe that an appeal has been sent to the governor and asks him to admit his guilt. Joe insists that his brother committed the murders. The guards and warden arrive, asking Helen to leave the room. Helen enters the canteen, but hallucinating and weak from a lack of food, she faints.
Act II
The governor has refused a pardon. Alone in his cell, Joe learns the date and time set for his execution. He muses upon his feelings about the victims, Sister Helen, and his own impending death. Awakening from a nightmare about Joe, Helen admits to Sister Rose that she must find the strength to forgive Joe herself. On the night of the execution, Joe and Helen become friends by discovering a shared love of Elvis. She asks again that he admit his guilt. Joe's family comes to see him and he asks their forgiveness. His mother fights Joe's desire to confess, insisting she believes in his innocence. Joe is led away and Helen comforts his mother. To herself, Helen wonders if she has the strength to face this night, as her sister nuns arrive to support her. Having arrived to witness the execution, the parents of the murder victims take Helen to task for being on Joe's side. When one father, Owen Hart, expresses doubts about the redemptive value of execution, Helen opens a dialogue with him. Permitted one last visit with Joe, she asks him to take her to that night. He does so slowly, admitting his guilt. She promises him forgiveness, both hers and God's. Joe is brought to the execution chamber as Father Grenville and the spectators recite the Lord's Prayer. Helen reads to Joe from the Bible and stays beside him until they reach the place where they must bid farewell. She is taken to the viewing area, and makes a point of being where Joe will be able to see her. In his last moments, Joe asks the forgiveness of the victims' families and directs to Helen the words, "I love you." When Joe is gone, Helen sings a hymn for him; victorious in the understanding of what her life's mission is to be and in his redemption.
— adapted from synopses by Central City Opera & Madison Opera
[/accordion]
Media
Program
Photos
[cycloneslider id="14-15-dead-man-walking"]