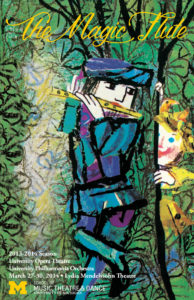 The Magic Flute
Music by Wolfgang Amadeus Mozart
Libretto by Emanuel Schikaneder
University Opera Theatre • University Philharmonia Orchestra
March 27-30, 2014 • Lydia Mendelssohn Theatre

In the traditions of all the best fairy tales, a handsome youth is armed with magic devices to protect him form harm, and sets out to free a beautiful princess from a wicked sorcerer. He encounters abundant mishaps, deception and magic in a fierce battle of good versus evil. But The Magic Flute is more than an amazingly bewitching tale of danger and tenderness, suspense and romance. Completed only a month before his untimely death, The Magic Flute shows Mozart's genius at its highest, for he fuses into one rich work beautiful arias with whimsical interludes, sweeping melodies with vocal fireworks, and the serious with the comic. And as all good fairy tales should end, love triumphs, with the youth and princess living happily ever after.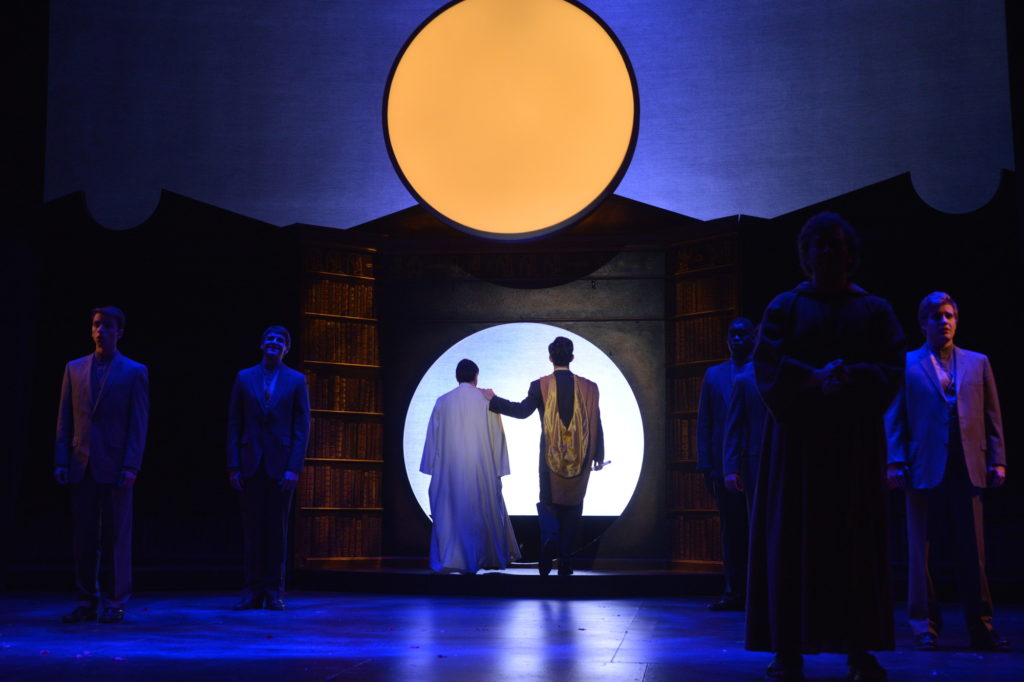 Artistic Staff
Director: Kay Walker Castaldo
Conductor/Music Director: Martin Katz
Assistant Conductor: Adrian Slywotzky
Scenic Designer: Peter Harrison
Costume Designer: Suzanne Young
Lighting Designer: Kendall Smith
Sound Designer: Colin Fulton
Wig & Makeup Designer: Elizabeth Geck
German Diction Coach: Timothy Cheek
Chorus Master: Arianne Abela
Fight Choreographer: Robert Najarian
Repetiteurs: Manuel Arellano, Michael Gaertner
Supertitles: Chris Bergen
Stage Manager: Miriam Michaels
Cast (Thursday-Saturday/Friday-Sunday)
Sarastro: Glenn Healy/Jonathan Harris
Queen of the Night: Leann Schuering/Katy Clark
Speaker/Priest: Luke Randall/Ian Greenlaw
1st Lady: Erica Gabriel/Dana McGarr
2nd Lady: Ashley Dixon/Kate Nadolny
3rd Lady: Sarah Coit/Tessa Patterson
Pamina: Francesca Chiejina/Natasha Drake
Tamino: Alexander Turpin/Jacob Wright
Papageno: James Schmid/Jean Bernard Cerin
Papagena: Imani Mchunu/Amy Petrongelli
Monastatos: Kevin Harvey/Paul Robert Brumfield
1st Spirit: Tory Wood/Elaina Robbins
2nd Spirit: Nora Burgard/Zoe Hart
3rd Spirit: Tessa Romano/Rachel McIntosh
Young Pamina: Emma Li/Dana Steiner
Armed Men: Michael Bagby, Jesse Donner
Second Priest: Daniel Kitzman
Slaves: Achilles Bezanis, Tomer Eres, Marcus Peterson
Papagena Double: Marisa Diamond
Children: Helena Marano, Ethan Steiner
Ensemble: Achilles Bezanis, Alex Bonoff, Benton DeGroot, Tomer Eres, Breanna Ghostone, Jenna Hane, Marlena Hilderley, Marina Hogue, Patrick Kiessling, Daniel Kitzman, Westley Montgomery, Olivia Nienhouse, Angela Nieman, Christabel Nunoo, Claire Pegram, Marcus Peterson, Samuel Plumb, Nicholas Rathgeb, Rodrigo Ruiz, Melissa Sondhi, Maggie Tigue
Sponsors
Media Sponsorship by WRCJ.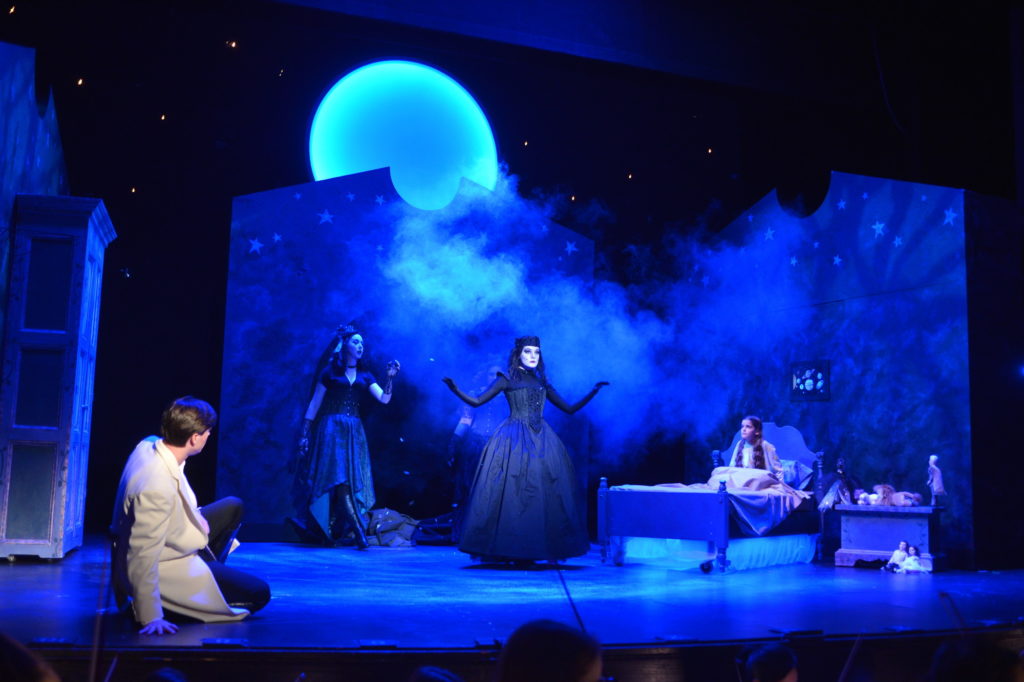 Resources
[accordion title="Synopsis"]
Act I
Alone in the middle of the night, a young child hears her parents fighting. She tries to find comfort and sweeter community in her books and toys, but is troubled by fears of monsters in the dark, loneliness, and the unknown. She tries to read under the covers for protection, and perhaps dozes off. From the armoire across the room, there is a rattle. A prince, Tamino bursts in, pursued by a dragon. Three ladies in the service of the Queen of the Night appear to save Tamino from the dragon. When they leave to tell the Queen, the bird catcher, Papageno appears. He boasts to Tamino that it was he who killed the creature. The ladies return to give Tamino a portrait of the Queen's daughter, Pamina, who they say has been kidnapped by the evil sorcerer, Sarastro. Tamino immediately falls in love with the girl's picture, and the magic image it produces. The Queen, appearing in a burst of thunder, tells Tamino about the loss of her daughter, and commands him to rescue her. The Ladies give a magic flute to Tamino, and silver bells to Papageno to ensure their safety on the journey, and appoint three spirits to guide them. Inside the realm of Sarastro, his slave Monastatos pursues Pamina, but is frightened away by Papageno. The bird catcher tells Pamina that Tamino loves her and is on his way to save her. Led by the three spirits to the temple of Sarastro, Tamino learns that it is the Queen, not Sarastro, who is evil. Tamino charms wild animals with his flute, then rushes off to follow the sound of Papageno's pipes. Monastatos and his men chase Papageno and Pamina, but are left helpless when Papageno plays his magic bells. Sarastro enters in great ceremony as his people express their love and honor for him. He punishes Monastatos and promises Pamina that he will eventually set her free. Pamina and Tamino meet before he is led into the temple with Papageno.
Act II
Sarastro tells the priests that Tamino will undergo initiation rites, and that Tamino is the one mentioned in the writ of wisdom who is to take over the kingdom with his true love. Monastatos, after having been beaten for attempted rape, still tries to kiss the sleeping Pamina, but is surprised by the appearance of the Queen of the Night, who invades Pamina's dream to give her daughter a dagger and command her to kill Sarastro. Monastatos tries again to seduce Pamina and is stopped by Sarastro, who finds the desperate Pamina and consoles her. In the Hall of Trials, Tamino and Papageno are told by the ancient priest that they must remain silent and are not allowed to eat. The three spirits reappear to guide Tamino through the rest of his journey and to tell Papageno to be quiet. Tamino remains silent even when Pamina appears. Misunderstanding his vow of silence for coldness, she is heartbroken. Tamino passes to the final tests, and faces death as he considers the Trial by Fire and Water. Although terrified, he boldly rushes to begin. Hearing Pamina's voice, he stops and the lovers are reunited. Pamina enters in Initiate's robes and they face the ordeals together, protected by the magic flute. In a final battle, the Queen of the Night, her three ladies, and Monastatos attack the temple, but are defeated. Sarastro blesses Pamina and Tamino as all Sarastro's people converge in the child's room for a morning birthday breakfast, and hail the triumph of courage, virtue, and wisdom as the dazzling morning sun wipes away the terrors of the night.
— Kay Walker Castaldo
[/accordion]
Media
Program
Photos
[cycloneslider id="13-14-magic-flute"]