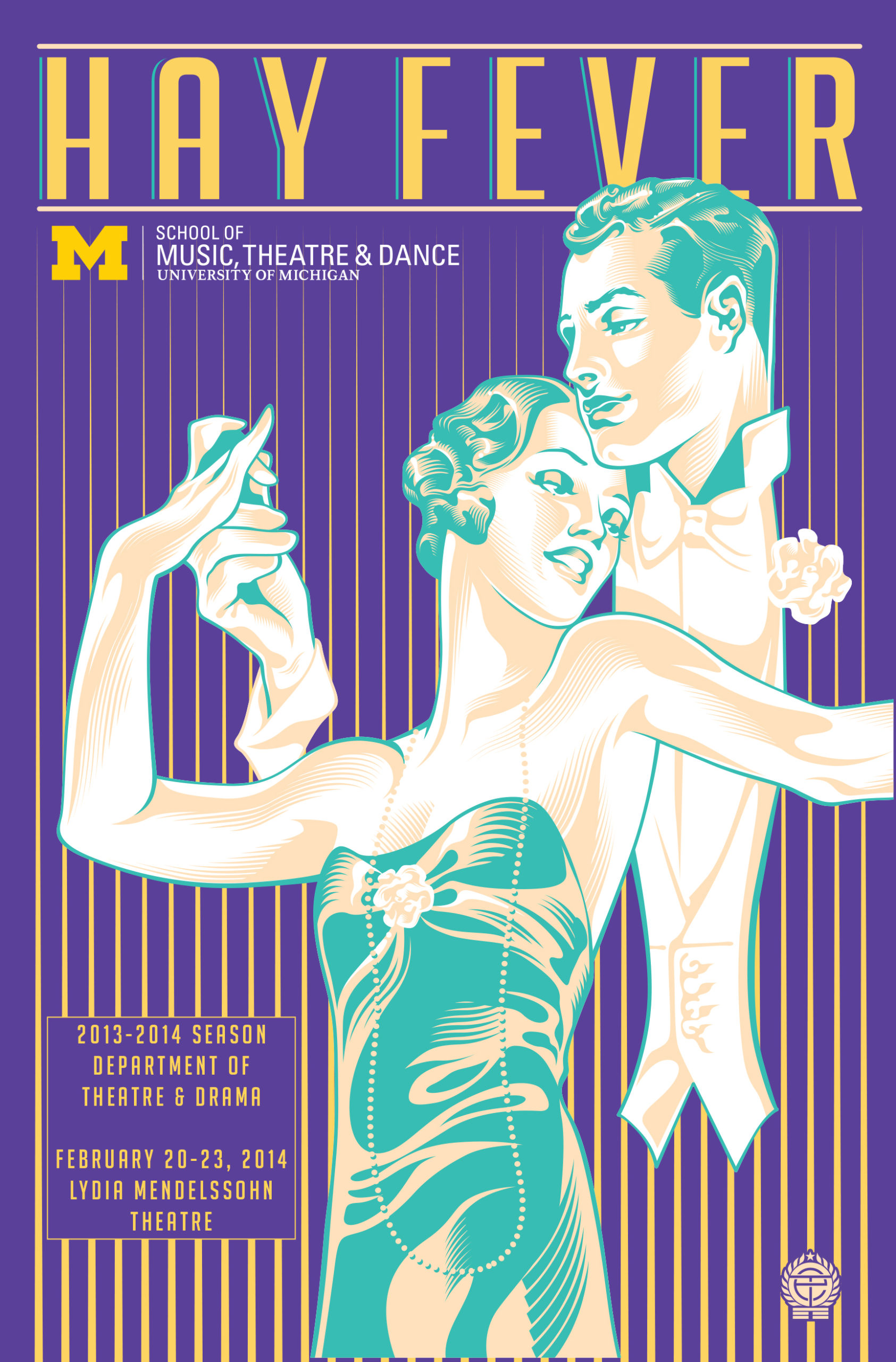 Hay Fever
a comedy by Noël Coward
Department of Theatre & Drama
February 20-23, 2014 • Lydia Mendelssohn Theatre

The Story: The Bliss family – mother Judith, a retired actress, her pulp-novelist husband David, and their two adult children, Sorel and Simon – are enjoying their summer home in the English countryside. Life for this bohemian family is filled with theatrics, where reality easily slides into fiction. Unbeknownst to each other, they have each invited a potential romantic interest to join them for the weekend. All sorts of entanglements ensue as their guests try to fit into the whirlwind of this highly imaginative household. As the Bliss's behavior becomes increasingly outrageous, their guests must decide whether to bask in the exhilarating vitality of their hosts or to escape the madness.
Background: Noël Coward's works have a style all their own, with quick witty, dialogue, clever construction, glittering characters, and a slight cynicism. All are undeniably entertaining. Based on the weekend parties of one of his acquaintances, Coward penned Hay Fever in three days in 1924. The play debuted at the Ambassador Theatre in London in 1925 to tremendous success. Coward directed a revival of the work in 1933 and another at the National Theatre in 1964, the first time the theatre had revived a work by a living playwright. After Coward's death, Laurence Olivier recalled: "We remember [Coward's] talents, the masterliness and the variety of them, his originality, his inventiveness, the protean range of his gifts…he was the most complete master of the stage." Showcasing Coward's genius in full force, Hay Fever is a infectious comedy that continues to delight.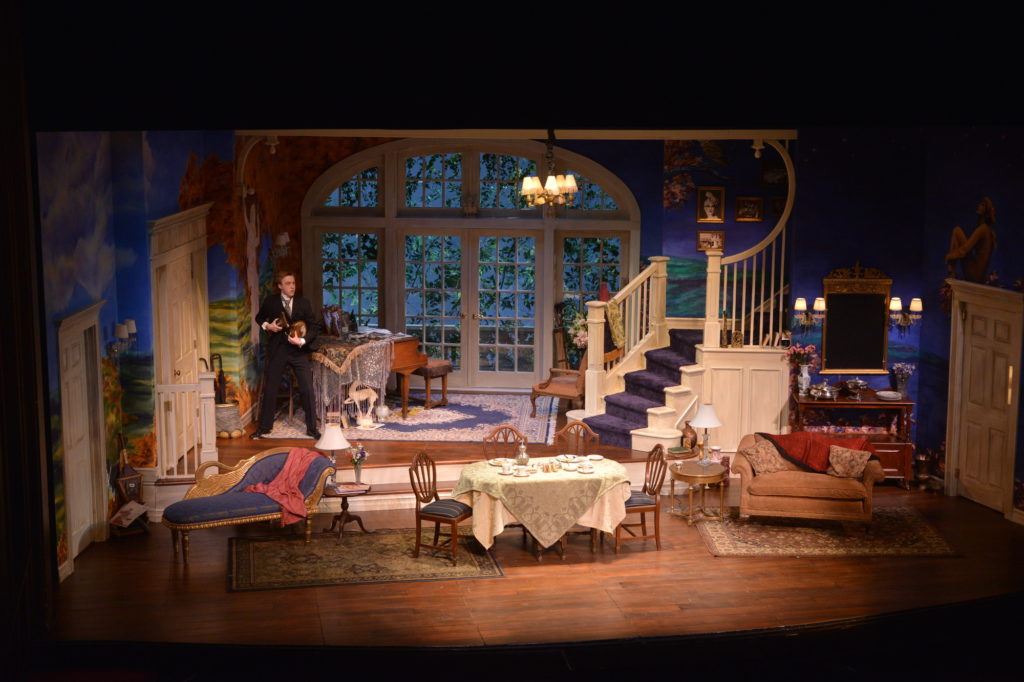 Artistic Staff
Director: Gillian Eaton
Scenic Designer: Gary Decker
Mural Design: Beth Sandmaier
Costume Designer: Lily Parker
Lighting Designer: Elizabeth Williams
Sound Designer: Henry Reynolds
Wig & Makeup Designer: Dawn Rivard
Vocal Coach: Annette Masson
Music Director: Alex Madda
Choreographer: Karl Skyler Urban
Stage Manager: Elana Lantry
Cast
Judith Bliss, a retired actress: Liz Raynes
David Bliss, her husband, a writer: Ben Reitemeier
Sorel Bliss, their daughter: Delaney Moro
Simon Bliss, their son: Ian Johnston
Clara, the housekeeper, Judith's former dresser: Alexandra DeMaio
Richard Greatham, a diplomat: Graham Techler
Sandy Tyrell: Jordan Golden
Myra Arundel: Madeline Rouverol
Jackie Coryton: Regan Moro
Noël Coward: Tim Markham, Eric Myrick II
Gertrude Lawrence: Danielle Boivin, Emily Shimskey
Accompanist: Evan Zavada
Resources
[accordion title="Synopsis"]
The madcap Bliss family lives a bohemian life at their English country house. Father, David, is a writer struggling to finish his latest book; mum, Judith, is a retired actress with secret plans to return to the stage; son Simon is an artist; and daughter Sorel is trying hard to be ordinary. They all share a disregard for convention and rules, which includes not telling each other about the guests they have invited down for the weekend. As these plans are revealed, the family, their unsuspecting guests and the overworked housekeeper Clara are propelled into a whirlwind of entanglements and misunderstandings. When a silly word game after-dinner goes wrong, each family member pairs-off with a visitor different than the one they invited. Suddenly, it looks like divorce, a few marriages and many nervous breakdowns could be in the offing.
[/accordion][accordion title="From the Director"]
Noël Coward was as famous as a songwriter as he was as a playwright and his unique wit and charm defined the times for which he wrote. "A Room With A View," "Mad Dogs And Englishmen," and "Nina" are just a few titles that have become staples of popular music. So it made sense to sprinkle a few of his more famous musical creations around the show. They are gorgeous signposts to a theatre tradition rooted in joy and sophistication. I hope you enjoy this evening spent in the company of an unforgettable man who defined the word 'Cool.'
— Gillian Eaton
[/accordion]
Media
Program
Photos
[cycloneslider id="13-14-hay-fever"]