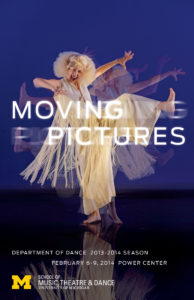 Moving Pictures
Choreography by guest Andrea Miller and faculty Missy Beck, Bill DeYoung, and Peter Sparling
Department of Dance
February 6-9, 2014 • Power Center

The Department of Dance presents Moving Pictures, a concert featuring four works by faculty Missy Beck, Bill De Young, and Peter Sparling and a work by the vibrant and inventive Andrea Miller of Gallim Dance. Peter Sparling celebrates the expressive power of women's voices in GirlTalk, a set of three dances to vocal music ranging from G. F. Handel to the Stovall Sisters, a 70's Southern Gospel funk girl group to New York City R&B icon Laura Nyro. In the dance tradition of music visualization, each song evokes its own landscape of dancing populations, framed and amplified between two projection screens of highly kinetic video imagery designed by Sparling. Beautiful Wreck, by Missy Beck, explores themes of architecture both of the body and of bridges.Dancers' bodies move in spiraling arches as they create architectural formations, which exhibit the strength as well as the breath and movement inherent in such seemingly solid structures. Bill De Young creates a new dance work inspired by the musical composition "The Unbearable Lightness," by Matti Kovler, originally commissioned by the Tanglewood Music Festival (listen at mattikovler.com). Scored for seven double basses, "The Unbearable Lightness" will be played live by the SMTD Double Bass Studio,featuring U-M Professor Emerita Diana Gannett. Highlighting the concert is Miller's joyous romp Pupil Suite, a wildly quirky work set to the contagious music of Israeli band Balkan Beat Box. The Village Voice declared, "[Miller] is "one of those young choreographers you want to keep in your sights. Her ideas are intriguing, and her movement style lusty, and daring."
Artistic Staff
Artistic Director: Judy Rice
Stage Manager: Jenn Jacobs
Repertoire & Performers
[accordion title="The Unbearable Lightness (2014)"]
Choreography by Bill De Young
Scenic Design by Kasia Mrozewska
Costume Design by Tara Ellis
Lighting Design by Mary Cole
Music:
"The Unbearable Lightness" by Matti Kovler
Performed by the U-M SMTD Double Bass Ensemble
Musicians:
Diana Gannett, Aaron Johnson, Zoe Kumagai, Christopher Livesay, Gillian Markwick, Betsy Soukup, Ben Willis
Dancers:
CJ Burroughs, Kiri Chapman, Alison Coleman, Claire Crause, Kristen Donovan, Emma Fath, Penelope Koulos, Beynji Marshall, Sarah Ponczek, Hannah Schon, KC Shonk
Choreographer's Note:
Imagine that you and your family live in a dark time, under a totalitarian regime – a regime that has utopian dreams for a better world but whose methods dictate and proscribe the way, the path that all must follow. Adhere or perish – if you dissent you are humiliated, crushed or perhaps you just quietly abide, live in the shadows, a sliver with a smirk on your face. You drink too much, normative behavior pales – quiet surrender or Saturnalia beneath the sheets, many empty swerves. But little by little, the overseers of this utopia loosen their grip, lassitude, a cigarette and a glass of beer in an outside café on a spring day. You see your shadows and dream again, the theatres are full, international music festivals have returned, the risk-takers are above ground on parade, the writers dare to say what they mean and all seems normal… DEMOS rising… spring turns into summer and then comes August 20, 1968… Orders from above, fearful reaction to laughter, expression, seditious play – you have gone too far. August 20, 1968, the Soviet tanks from the Warsaw Pact rolls into Prague reminding you to Comply Or Die – now what?
"Now we are longtime outcasts, flying throughout the emptiness of time in a straight line. Yet somewhere deep down a thin thread still connects us to that far off misty Paradise, where Adam leans over a well and unlike Narcissus, never even suspects that the pale yellow blotch appearing in it is he himself. The longing for paradise is man's longing not to be a man."

"There is no perfection only Life."

—Milan Kundera The Unbearable Lightness of Being
[/accordion][accordion title="Vox Femina (Girl Talk) (2014)"]
Choreography and video by Peter Sparling
Music by G. F. Handel, The Stovall Sisters, and Laura Nyro
Costume Design by Christianne Myers
Lighting Design by Mary Cole
Paintings for Qual nave smarrita and New York Tendaberry by Vincent Castagnacci
Dancers:
Qual nave smarrita
Luna Lemus-Bromley, Jeffrey Noble, Lena Oren, Ambika Raina, Kasia Reilly, Carley Santori, Soultana Schiavi, Honora Wood, Kelli Yapp
Hang on in There
Chloe Gonzales, Hillary Kooistra, KT Maviglia, Maeve McEwen, Ayana McPherson, Lena Oren, Samantha Parisi-Estevez
New York Tendaberry
Lisa Chippi, Luna Lemus-Bromley, Katie Muth, Kasia Reilly, Carley Santori, Deanna 'Dee' Tomasetta, Honora Wood, Kelli Yapp
Choreographer's Note:
How does a dancer embody the voice of a woman? Vox Femina imagines three scenarios inspired by female singers' voices. Handel wrote his operas for both male and female voice. In his operas, he (and many other composers who wrote for voice) did not hesitate to employ castrati, men who sang in a woman's vocal range yet played male characters. Senesino, the celebrated Italian contralto castrato, sang the title role in the revised version of Radamisto in 1720. With Qual nave smarrita, we dance to the voice of Lorraine Hunt Leiberson, the American mezzo-soprano, who, in turn, emulates Margherita Durastanti, Handel's choice for the premiere performance in London that same year. In the Act III aria, Radamisto sings:
Like a ship lost among shifting sands and tempests, no light, no harbor rids it of fear. So I, without help, in my deadly sufferings, find no comfort for my grieving heart.
The 1971 recording of Hang on in There by the Stovall Sisters was the trio's first crossover effort from their gospel roots to the funk rhythms of R&B. Former Ikettes, the sisters offered up a fierce and feisty anthem to confidence, faith, and independence for all, regardless of gender. I witnessed Laura Nyro perform the title song of her 1969 album, New York Tendaberry, in her solo concert at Carnegie Hall that same year. My first autumn in New York as an aspiring dancer at the Juilliard School, I was swept away by Nyro's soulful blues voice. It embodied for me everything about the dynamic and terrifying city. I was in love with New York… and Nyro's voice. It made me want to dance.
[/accordion][accordion title="Beautiful Wreck (2014)"]
Choreography by Missy Beck
Costume Design by Sarah Korn
Lighting Design by Mary Cole
Dramaturgy by Maxx Passion
Rehearsal Assistant Patty J. Solórzano
Music "Symphony No. 5 in C Sharp Minor: IV. Adagietto" by Gustav Mahler
Dancers:
Meri Bobber, Danielle Evasic, Mary Kruk, Ashley Manci, Riley O'Donnell, Chrissy Papetti, Madeline Rager, Catherine 'Caty' Raupp, Jakyung Seo, Patty L. Solórzano, Irene Vandenberghe, Nadia Weeks
Choreographer's Note:
Beautiful Wreck explores the metaphorical and physical connection between bridges and water. Underscored by Gustav Mahler's "Symphony No. 5 in C Minor," the dancers find themselves both creating and being caught by eddies, their fluidity impeded by unseen structures below the surface, and building connections between fixed points in space.
The inspiration for this work came from lazy hours spent looking into a river at dusk one day this past summer. Gazing into the water, I followed the strong currents as they jumped and swirled around and over the rocks – sometimes ducking under the ridge of a rock only to pop out the other side in a graceful arc. Occasionally, there would be movement that occurred separate from the currents, whose origins could not be seen. The odd leaf or two would float by, caught up in this watery dance and its path was not of its own choosing, but dictated by the water's whims.
As dusk approached, what I could see became more subjective and murky, as if looking at an Impressionist painting. Water, rocks, leaves, and fish became part of a one motion seemingly without individual definition. Viewed through this veil of fading light, the river seemed to breath and dance as if human.
In creating Beautiful Wreck, I sought to emulate that view of the river through the dusk – the dancers moving as the river with some movements partially seen in the background against a forefront of bodies. I wanted to explore where the "river's" current took the dancers in the space. Did it propel the dancers further on their trajectory? Did it suddenly force them into a new direction or movement pattern? Did the dancers succumb to the river or teeter on top of it trying to maintain stable footing?
The dance, then, represents a look into that river scene, in which there is no real beginning nor ending. Rather, the viewer has stumbled into a landscape whose movements and rhythms were in place before we arrived and will continue long after we leave the vista and continue on with our lives. Yet, the ebb and flow lingers in our consciousness long after we have departed the scene.
[/accordion][accordion title="Pupil Suite"]
(First performed by Gallim Dance in 2010)
Choreography by Andrea Miller
Re-Staged by Jonathan Royse Windham and Tal Adler-Arieli
Lighting Design by Vincent Vigilante re-created by Mary Cole
Original Costume Design by Andrea Miller, Idan Yoav, Arika Yamada
Costume Coordination by Christianne Myers
Rehearsal Director Judy Rice
Rehearsal Assistants Meri Bobber, Hillary Kooistra
Music: "Meboli," "Adir Adirim," and "Shushan" by Balkan Beat Box
Dancers:
Opening: Kiri Chapman, Emma Fath, Mary Kruk, Ayana McPherson, Samantha Parisi-Estevez, Hannah Schon
Gimp: Emma Fath
Trio:
Thursday: CJ Burroughs, Hillary Kooistra, Ashley Manci
Friday/Sunday: Deanna 'Dee' Tomasetta, Carley Santori, Samantha Parisi-Estevez
Saturday: Alexis Turner, Hillary Kooistra, Ashley Manci
Finale: CJ Burroughs, Hillary Kooistra, Ashley Manci, Beynji Marshall, Selena Moeljadi, Carley Santori, Deanna 'Dee' Tomasetta, Alexis Turner
Program Note:
Pupil Suite is an exhilarating selection of excerpts from Andrea Miller's crowd-pleasing work I Can See Myself In Your Pupil (2008). The dance is a joyous romp that plays with the madness of imagination, and the ecstasy of movement. Pupil Suite debuted at Fall for Dance in 2010.
[/accordion]
Resources
[accordion title="From the Chair"]
Welcome to Moving Pictures. Tonight's program features new works by three U-M Department of Dance faculty: Missy Beck, Bill De Young, and Peter Sparling. Our guest artist this year is the New York-based choreographer Andrea Miller, founder and Artistic Director of Gallim Dance. The Unbearable Lightness, Beautiful Wreck and Girl Talk were created in twice-weekly rehearsals through the 2013 Fall term while Miller's Pupil Suite (2010) was set by Jonathan Royse Windham during a two-week intensive in October. Tal Adler-Arieli joined us last week as the work transitioned from studio rehearsals in the Dance Building to the Power Center stage. It has been an intensive and inspiring journey for everyone involved in tonight's concert and we are thrilled to share our performances with you.
— Angela Kane, Chair, Department of Dance
[/accordion]
Media
Program
Photos
[cycloneslider id="13-14-moving-pictures"]