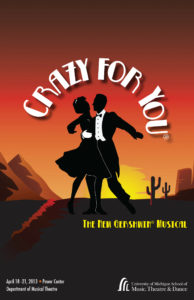 Crazy for You
Music & Lyrics by George Gershwin & Ira Gershwin
Book by Ken Ludwig
Original Broadway Choreography by Susan Stroman
Department of Musical Theatre
April 18-21, 2013 • Power Center

The Story: Bobby Child, a well-to-do playboy of the 1930s, yearns to dance on Broadway, but his mother expects him to join the family banking business. To get him away from the stage, she sends him to the small town of Deadrock, Nevada, to foreclose on the local theatre. Bobby arrives in Deadrock and promptly falls in love with the theatre owner's daughter, Polly. Determined to fulfill all of his dancing dreams, Bobby hatches a scheme to save the theatre with a grand show featuring the townsfolk. However, the cowboys can't dance, Polly hates him, and the show has no audience. Can Bobby save the theatre, become a star, and win Polly's heart?
Background: When Crazy for You opened on Broadway in February, 1992, after a decade of British musical imports, Frank Rich of The New York Times declared "When future historians try to find the exact moment at which Broadway finally rose up to grab the musical back from the British, they just may conclude that the revolution began last night…A riotously entertaining show, Crazy for You uncorks the American musical's classic blend of music, laughter, dancing, sentiment and showmanship." Loosely based on the Gershwin's 1930 musical Girl Crazy, playwright Ken Ludwig (Lend me a Tenor, The Beaux' Stratagem) adapted the classic tale of boy gets girl after many obstacles and blended it with 19 of George and Ira Gershwin's most beloved songs. The musical won the Tony, Drama Desk, and Olivier Awards for Best Musical. From "Embraceable You" to "I Got Rhythm" and "They Can't Take that Away from Me," Crazy for You is pure fun.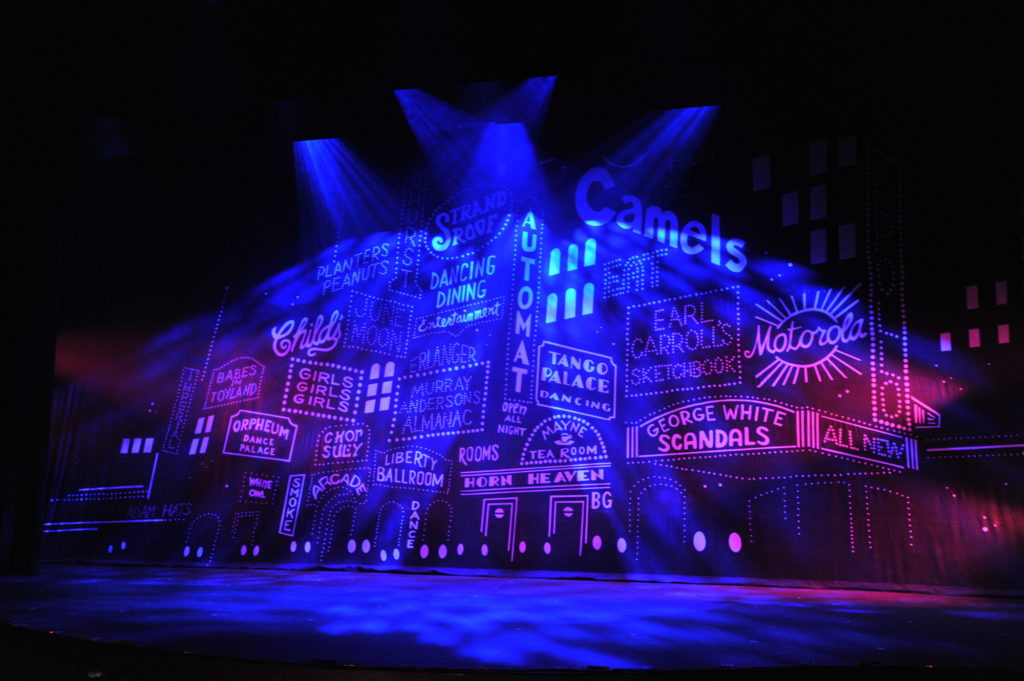 Artistic Staff
Director: Linda Goodrich
Music Director: Catherine Walker Adams
Stroman Choreography Recreation: Shari Jordan
Additional Choreography: Ron De Jesús
Scenic Designer: Bruce Brockman
Costume Designer: George Bacon
Lighting Designer: Andrew Lott
Sound Designer: Michael Eisenberg
Wig & Makeup Designer: Dawn Rivard
Stage Manager: Geehoon Lim
Cast
New York City
Bobby Child: L'ogan J'ones
Irene Roth, Bobby's fiancée: Stephanie Styles
Bela Zangler, a theatrical producer: Robert Ariza
Mrs. Lottie Child, Bobby's mom: Erika Peterson
Follies Girls
Tess, Zangler dance director: Paige Silvester
Patsy: Whitney Brandt
Mitzi: Isabelle McCalla
Elaine: Ashley Park
Louise: Kaity Paschetto
Susie: Kelsey Moore
Betsy: Hannah Flam
Margie: Alex Scolari
Sheila: Jordana Grolnick
Vera: Meg Aldridge
Deadrock, Nevada
Everett Baker, owner of the Gaiety Theatre: Al Fallick
Polly Baker, his daughter: Mary Little
Lank Hawkins, a saloon owner: Ryan Vasquez
Eugene Fodor, a British tourist: Lance Fletke
Patricia Fodor, a British tourist: Elisabeth Evans
Cowboy Trio
Moose: Kyle Timson
Mingo: Brian Flores
Sam: Alex Prakken
Harry/Bartender: Bobby Conte Thornton
Billy/Stunts/Tumbler: Adrian Baidoo
Wyatt/Stunts: Josh A. Dawson
Junior/Stunts: Michael Hartung
Pete: Sean Seymour
Custus/Perkins: Karl Skyler Urban
Jimmy: Jordan Barrow
Jack/Chauffeur: Dereck Seay
Jerry/Stage Manager: Alex Miller
Jamie: Daniel Estrella
On-Stage Musician: Luke Steinhauer
Pit Singers: Brittany Browning, AJ Klopach, Darcy Link, Christina Maxwell, Reilly Richardson, Shea Renne, Dylan Stasack, Luke Steinhauer, Jalise Wilson, Elias Wygodny
Sponsors
The School of Music, Theatre & Dance acknowledges the generosity of McKinley Associates, Inc. whose support has helped make this production possible.
Funding for the recreation of the Stroman choreography made possible by generous support from the Benard L. Maas Foundation Guest Artist and Speakers Series.
Resources
[accordion title="The Story"]
New York City, 1930s. Banking heir and show biz wannabe Bobby Child auditions for Broadway impresario Bela Zangler, but fails to make the grade. His mother demands that he give up his dreams of becoming a song-and-dance man and leave for Deadrock, Nevada, to foreclose on a long-empty theatre.
Once in Deadrock, Bobby meets Polly Baker, the only girl in town. In true musical theatre fashion, they sing, dance, and fall head-over-heels in love. When Bobby recognizes that Polly's father owns the theatre he has come to claim, he convinces her they can put on a show to raise money and save the property. Polly is enthusiastic until she realizes that he is the banker who has come to foreclose on the property. She slaps him and runs away.
Bobby is determined to go ahead with the show, pay off the mortgage, and win Polly's heart. He persuades his chorus-girl pals from Broadway to join him in Deadrock for the show. The town is soon swarming with Follies Girls, along with Bobby disguised as Bela Zangler. As rehearsals progress, "Bela" tries to persuade Polly to give Bobby another chance. Polly confesses she has already fallen in love with him – Bela! Not at all what Bobby planned.
On the opening night, the theatre is empty. Bobby, still disguised, apologizes for letting everyone down. Polly forgives him, saying he has brought a new spirit to their lives. As the townsfolk celebrate, the real Bela Zangler stumbles into the scene unnoticed and faints.
Later in the saloon, Bobby discards his disguise to show Polly that he is the man she loves, but the real Bela enters. Polly greets him with a kiss, as a despairing Bobby heads upstairs with a bottle of liquor. After Polly leaves, Bobby returns, falling down drunk, and, once again, dressed as Bela. There are now two Belas in the room, each too drunk to realize the other is there.
The next morning, Bobby and Bela awake with matching attire and hangovers. Bobby forgets he is still disguised and speaks in his normal voice. Polly storms out, furious that Bobby made her look like a fool.
Later, the company meets to discuss whether to attempt another performance. The vote is to give up, and Bobby leaves for New York. When Bela finally sees the theatre, he recognizes its potential and immediately starts working to bring the failed show back to life.
After a short time in New York, Bobby sees that he can't live without Polly and heads back to Deadrock. Polly, now a star in Bela's show, realizes that she wants to be with Bobby after all. They reunite and dance into the sunset together.
[/accordion][accordion title="Origins of the Music"]
Ladies First – Opened at the Broadhurst Theatre, New York on October 24, 1918
"The Real American Folk Song (is a Rag)"
Primrose – Opened at the Winter Garden Theatre, London on September 11,1924
"Naughty Baby" Lyrics by Desmond Carter and Ira Gershwin
Concerto in F – Premiered at Carnegie Hall, New York, on December 3, 1925.
Oh, Kay! – Opened at the Imperial Theatre, New York on November 8, 1926.
"Someone to Watch Over Me"
Treasure Girl – Opened at the Alvin Theatre, New York on November 8, 1928.
"K-ra-zy for You"
"What Causes That?," unused song
Show Girl – Opened at the Ziegfeld Theatre, New York on July 2, 1929.
"Tonight's the Night," unused song. Lyrics by Gus Kahn and Ira Gershwin
A Damsel in Distress – Released in November 1937 by RKO Pictures.
"I Can't Be Bothered Now"
"Nice Work If You Can Get It"
"Stiff Upper Lip"
"Things Are Looking Up"
Girl Crazy – Opened at the Alvin Theatre in New York on October 14, 1930.
"Bidin' My Time"
"Bronco Busters"
"But Not for Me"
"Could You Use Me?"
"Embraceable You"
"I Got Rhythm"
Shall We Dance – Released in May 1937 by RKO Pictures.
"Shall We Dance?"
"Slap That Bass"
"They Can't Take That Away from Me"
[/accordion]
Media
Program
Photos
[cycloneslider id="12-13-crazy-for-you"]