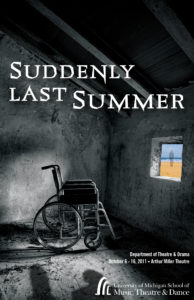 Suddenly Last Summer
a drama by Tennessee Williams
Department of Theatre & Drama
October 6-16, 2011 • Arthur Miller Theatre

The Story: Once the only constant companion of her son Sebastian, Mrs. Violet Venable is distraught by his mysterious death abroad. Sebastian had spurned his mother's companionship on his last trip, choosing instead to travel with his beautiful cousin Catharine. Since returning to New Orleans, Catharine's rants about the trip have begun to tarnish Sebastian's pristine reputation. In part jealous of her dismissal by her son for a younger woman, Violet is ruthlessly determined to protect his memory at any cost. She entreats the aid of Dr. Cukrowicz, a young surgeon specializing in the new field of lobotomy, promising generous funding for his research provided he perform one on Catharine. As the Doctor and Violet hear Catharine's tale first hand, a mother's illusion clashes with a grisly tale of sex and exploitation that may just be closer to the truth.
Background: Two-time Pulitzer Prize-winner Tennessee Williams would have turned 100 this year. Paired with Something Unspoken, Suddenly Last Summer debuted Off-Broadway in 1958 under the collective title Garden District. Critics immediately heralded Suddenly for its unique language and theatrical form. Brooks Atkinson of the New York Times declared, "Suddenly Last Summer is further evidence of Mr. Williams' genius with the language. No one else can use ordinary words with so much grace, allusiveness, sorcery and power… As an exercise that is both literary and dramatic, this brief, withering play is a superb achievement." One of America's most controversial and acclaimed dramatists, Williams' once again evokes human's capacity for violence in this gloriously harrowing play.
Artistic Staff
Director: Philip Kerr
Assistant Director: Sarah-Jane Gwillim
Scenic Designer: Gary Decker
Costume Designer: Christianne Myers
Lighting Designer: Rachael D. Albert
Sound Designer: Colin Fulton
Dramaturg: Aislinn Frantz
Stage Manager: Amalea Chininis
Cast
Joseph: Derek Joseph Tran
Nurse Sharp: Madeline Sharton
Mrs. Violet Venable: Emily Berman
Dr. Cukrowicz: Dan Rubens
Miss Foxhill: Aimée Garcia
Mrs. Holly: Elly Jarvis
George Holly: Matthew Socha
Catharine Holly: Kendra Williams
Sister Felicity: Melissa Golliday
Understudies
Mrs. Violet Venable: Jacqueline Toboni
Catharine: Kendall Chappell
Sponsors
The School of Music, Theatre & Dance acknowledges the generosity of McKinley Associates, Inc. whose support has helped make this production possible.
Resources
[accordion title="Dramaturg's Note"]
[Tennesse Williams's] theme is perhaps the most pervasive in American literature, where people lose greatly in the very shadow of the mountain from whose peak they might have had a clear view of God. It is the romance of the lost yet sacred misfits, who exist in order to remind us of our trampled instincts, our forsaken tenderness, the holiness of the spirit of man.— Arthur Miller, playwright
Tennessee Williams and Personal Theatre
In 1947, Tennessee Williams was quoted in The New York Times Magazine as saying, "My chief aim in playwriting is the creation of character… essentially my plays have been an effort to explore the beauty and meaning in the confusion of living." Throughout his career, Williams achieved this aim by appropriating the main character as a surrogate for himself. His plays are told by jaded dreamers and lost souls, making them read like the writer's own autobiography. Most obviously, the son and narrator in A Glass Menagerie is named Tom, not masking the fact that in this instance the author even used his birth name (Tennessee was a pen name adopted early in Williams's career as a way to give himself more mystery and Southern charm) for the magician-poet narrating the Wingfield saga. The rest of the Wingfield family follows suit – the crippled sister Laura is Williams's sister Rose and the overbearing mother Amanda is his mother Edwina.
Suddenly Last Summer is no exception to Williams's tradition of personal theatre. Unlike A Glass Menagerie, we do not see the narrative from the Tennessee Williams character's viewpoint. Williams's proxy here appears to be notably absent – the vacant chair in the garden. Williams is the poetic, the sexualized, the emotionally wrought and pill-popping Sebastian, whom we never see. Instead, the Williams who narrates the play is not the writer but his sister. Rose, using Catharine as her stand-in, is present in the play in all of her wit and emotional distress. Rose Williams had a history of mental illness, which ultimately led to a lobotomy ordered by her mother in 1943. Williams struggled with the way his mother took the life out of his sister and friend for the rest of his life. In trying to come to terms with the tragedy, he incorporated his sister in many of his plays.
Tennessee Williams's largest fear was that he would experience a mental breakdown. He had not only witnessed his sister's downfall from schizophrenia and psychosurgery but would later also see his mother's dementia manifest itself in hallucinations and paranoia. Williams was immersed in an unsuccessful bout in therapy at the time he was writing Suddenly Last Summer, and the emotionally fraught core and paranoia of the play are a result of his reality at the time as he attempted to explore the beauty and meaning in the confusion of living.
—Aislinn Frantz, dramaturg
[/accordion]
Media
Program
Photos
[cycloneslider id="11-12-suddenly-last-summer"]