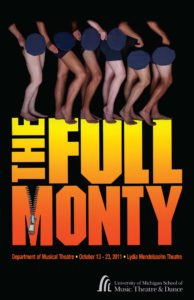 The Full Monty
Book by Terrence McNally
Music and lyrics by David Yazbek
Department of Musical Theatre
October 13-23, 2011 • Lydia Mendelssohn Theatre

The Story: Jerry and Dave, downsized steelworkers in Buffalo, NY, bemoan their inability to find a job after 18 months of searching. A young father, Jerry is particularly desperate for cash to pay overdue child support in order to retain visitation with his son. When Jerry notices Dave's wife's enthusiasm for a touring Chippendales show, he comes up with a bold plan – they will present their own strip show featuring local men to earn money. After enlisting four more of their unemployed brethren, the group starts the unnerving process of creating their show. Emboldened by deepening friendships as their tough-guy façades break down, the men find renewed self-esteem and the courage to take their scheme all the way.
Background: A sleeper British film, The Full Monty charmed millions upon its release in 1997. Director and UM Alum Jack O'Brien, together with writer Terrence McNally (Ragtime) and newcomer musical composer David Yazbek, adapted the story by transporting the setting from England to Buffalo, NY. Featuring a boisterous and witty score, the musical debuted in a sold-out run at the Old Globe Theatre in San Diego before transferring to Broadway in 2000. Ben Brantley (NY Times) called it a "rare aggressive crowd pleaser that you don't have to apologize for liking." USA TODAY declared the show "one of the most entertaining and exhilarating productions you're likely to see." Filled with honest affection and engaging melodies, The Full Monty both entertains and grabs your heart.
Artistic Staff
Director: Mark Madama
Music Director/Conductor: Cynthia Kortman Westphal
Choreographer: Mark Esposito
Scenic Designer: Bruce Brockman
Costume Designer: Jessica Hahn
Lighting Designer: Rob Murphy
Sound Designer: Jim Lillie
Stage Manager: Emily Stromberg
Cast
Georgie Bukatinsky, Dave's wife: Chelsea Wilson
Buddy "Keno" Walsh, a male stripper: Conor Ryan
Reg Willoughby, Union boss: Ryan Vasquez
Jerry Lukowski, an unemployed mill worker: Joe Carroll
Dave Bukatinsky, an unemployed mill worker: Danny Romeo
Malcolm MacGregor, an unemployed mill worker: Colin Hartman
Ethan Girard, an unemployed mill worker: Sam Lips
Nathan Lukowski, Jerry's young son: Milo Tucker-Meyer
Susan Hershey, a friend of Pam and Georgie: Casey Low
Joanie Lish, another friend of Pam and Georgie: Gabriella DeLuca
Estelle Genovese, Jerry's occasional girlfriend: Chelsea Burris
Pam Lukowski, Jerry's estranged wife: Mary Little
Teddy Slaughter, her live-in boyfriend: Ryan Morton
Molly MacGregor, Malcolm's ailing mom: Madison Micucci
Harold Nichols, an unemployed supervisor at the mill: Ted Stevenson
Vicki Nichols, his wife: Alex Finke
Jeanette Burmeister, a piano player of indeterminate years: Brene' Jackson
Noah "Horse" T. Simmons, a retired mill worker: Daniel Belnavis
Minister: Danny Wilfred
Police Sargeant: RJ. Brown
Tony Giordano, a Buffalo club owner: Ryan Vasquez
Ensemble: RJ. Brown, Chelsea Burris, Gabriella DeLuca, Conor Guzman, Michael Hartung, Casey Low, Madison Micucci, Ryan Vasquez, Travis Ward-Osborne, Danny Wilfred
Sponsors
The School of Music, Theatre & Dance acknowledges the generosity of McKinley Associates, Inc. whose support has helped make this production possible.
Media
Program
Photos
[cycloneslider id="11-12-full-monty"]