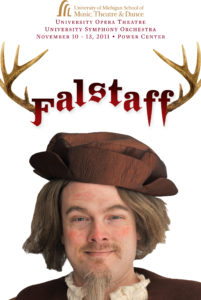 Falstaff
Music by Giuseppe Verdi
Libretto by Arrigo Boito
University Opera Theatre • University Symphony Orchestra
November 10-13, 2011 • Power Center

The Story: Down on his luck and eager to refill his purse, Sir John Falstaff devises a scheme to solve his financial woes. What could possibly go wrong when the oh-so-clever bon vivant sends identical love letters to two married ladies? Plenty, as the would-be libertine discovers when the merry wives of Windsor unite in mischief to avenge his impertinence. Add a couple of rash, jealous husbands into the mix along with two sweet young lovers and calamity ensues. The opera is filled with boisterous pranks and clever parody all the way until Falstaff gets his comeuppance – or does he get the last laugh?
Background: Giuseppe Verdi loved Shakespeare, especially the jovial character Sir John Falstaff. Verdi could not resist Arrigo Boito's expert libretto combining The Merry Wives of Windsor with elements from Henry IV in a work that celebrates the larger-than-life character. This operatic masterpiece aptly captures the delicacy and wit of Shakespeare's comedy. The opera skillfully melds words and music into a seamless whole, one of the few, true music-dramas. Falstaff is Verdi at the peak of his musical prowess, filled with razor-sharp ensembles, lilting arias, and the lyric beauty of tender love. An ensemble tour-de-force, Verdi's operatic swansong sparkles with wit and originality.
Artistic Staff
Director: Joshua Major
Conductor: Oriol Sans
Assistant Conductor: Elliot Moore
Scenic Designer: Vincent Mountain
Costume Designer: Jeff Bauer
Lighting Designer: Andrew Lott
Wig Designer: Erin Kennedy Lunsford
Italian Diction: Timothy Cheek
Chorus Master: Beverly Shangkuan
Repetiteurs: Grant Jones, Elena Lacheva
Stage Manager: Brett Finley
Cast (Thursday-Saturday/Friday-Sunday)
Sir John Falstaff: Jonathan Lasch/Scott Bearden
Ford, Alice's husband: Steven Eddy/Carl Frank
Mistress Alice: Hailey Clark/Kimwana Doner
Dame Quickly: Amanda Cantu/Emily Goodwin
Fenton: Daniel Berryman/Kevin Newell
Nannetta, daughter of Alice & Ford: Ariel Halt/Mary Martin
Mistress Meg Page: Maureen Ferguson/Sarah Davis
Dr. Caius: Justin Berkowitz/Jeff Wilkinson
Pistola: Benjamin Sieverding/Ronald Perkins Jr.
Bardolfo: Brian Giebler/Jonas Hacker
Ensemble: Elisa Amato, Alison Aquilina, Paul Brumfield, Paul Grosvenor, Lauren Jacob, Christopher Kendall, Rachel McIntosh, Meghan McLoughlin, Lindsey Meekhof, Ashley Mulcahy, Alan Nagel, Amanda O'Toole, Tessa Perez, Candace Pierce-Winters, Pavitra Ramachandran, Jonathan Schechner, Alexandra Shaw, Rhemé Sloan, Mary Claire Sullivan, Ryan Winslow
Sponsors
The School of Music, Theatre & Dance acknowledges the generosity of McKinley Associates, Inc. whose support has helped make this production possible.
Media Sponsorship by WRCJ.
Resources
[accordion title="Synopsis"]
Act I
Sir John Falstaff, a rogue knight, drinks enormous quantities of ale at the Garter Inn with his two cronies, Bardolph and Pistol. Dr. Caius accuses them of picking his pocket the night before, but they ridicule him. Falstaff, short of funds, plots to woo the wives of two wealthy men. He writes identical letters to the two women, Mistress Page and Mistress Ford. Feigning shock at such debauchery, Bardolph and Pistol refuse to deliver the letters. Falstaff throws them out of the inn and orders his page to deliver the letters. Meg Page and Alice Ford compare their love letters from Falstaff and discover they are identical. Assisted by their neighbor, Dame Quickly, and Mistress Ford's daughter Nannetta, they plan to teach Falstaff a lesson. Meanwhile, Bardolph and Pistol disclose Falstaff's treachery to Mr. Ford. Joined by Dr. Caius and Fenton, Nannetta's sweetheart, they plot revenge against the rogue knight.
Act II
At the Garter Inn, Dame Quickly tells Falstaff that Mistress Ford would like to see him that afternoon. Bardolph and Pistol, once again in Falstaff's favor, introduce a disguised Ford to the Knight as "Signor Fontana," who offers to pay Falstaff to help him win Mistress Ford's favors. Falstaff accepts and the two men leave together. Back at the Ford house, Dame Quickly tells the ladies that their revenge is under way. When Nannetta complains that her father has promised Dr. Caius her hand in marriage, the women promise to help her marry her beloved Fenton. Falstaff arrives and clumsily woos Alice. He must hide behind a screen, however, when Mr. Ford, Caius, Bardolph, and Pistol arrive to search the house for the Knight. When the men leave the room, the ladies hide Falstaff in a laundry basket full of dirty clothes. Ford returns and is incensed to hear the sound of smooching from behind the screen, but it turns out to be Nannetta and Fenton. Alice orders the servants to empty the laundry basket into the river Thames, and all assemble to laugh at the soaked and humiliated Falstaff.
Act III
Falstaff returns to the Garter Inn to drown his sorrows. But Dame Quickly convinces him that Mistress Ford indeed desires his company. The plan for Falstaff to meet Alice in the park at midnight is overheard by Ford and Dr. Caius, who arrange for Falstaff's comeuppance and Caius' marriage to Nannetta that very night. Falstaff and Alice rendezvous in the park. The knight begins his clumsy wooing, but spooky sounds in the dark interrupt him. Alice flees and Falstaff falls to the ground in terror as the entire company, disguised as supernatural creatures, tortures Falstaff until he promises to change his evil ways. Ford, revealing his true identity, blesses the union of two disguised couples, one of which he believes to be his daughter and Dr. Caius. However, unmasking reveals that Ford has actually married his daughter to her beloved Fenton, and Caius to Bardolph! Ford finally blesses the union of Nannetta and Fenton. Everyone agrees that "all the world's a jest."
— courtesy New York City Opera
[/accordion]
Media
Program
Photos
[cycloneslider id="11-12-falstaff"]