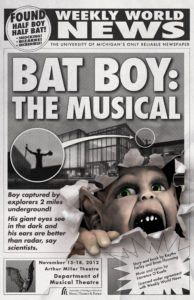 Bat Boy, The Musical
Story & Book by Keythe Farley and Brian Fleming
Music & Lyrics by Laurence O'Keefe
Department of Musical Theatre
November 15-18, 2012 • Arthur Miller Theatre

The Story: Ripped from the headlines of the Weekly World News: "Found in West Virginia Cave — a half boy, half bat!" When three spelunking teens are attacked by a mutant creature in a cave outside of Hope Falls, West Va., they drag him back to the town Sheriff. Unsure where to put him, the Sheriff delivers the bat boy to the local veterinarian Dr. Parker, whose wife takes in the bat boy to raise as her own. Renamed Edgar, the bat boy learns to speak, becomes civilized, and falls in love with the vet's daughter. Meanwhile, strange things are happening around Hope Falls and with a jealous Dr. Parker determined to undermine Edgar's hold on his family, things don't look too hopeful for Edgar. Will Edgar be able to convince the townfolk to accept him or will shocking events reveal more horrifying truths?
Background: Bat Boy: The Musical debuted in 1997 at the Actors Gang Theatre in Los Angeles. The musical, written by Keythe Farley and Brian Flemming with music by Laurence O'Keefe (Legally Blonde), moved to Off-Broadway in 2001, winning the Lucille Lortel and Outer Critics Circle Awards for Best Musical. Featuring an eclectic score that ranges from rap to gospel to classical, the show is a mix of affectionate irreverence and hilarious plot twists. The New York Times declared "It's remarkable what intelligent wit can accomplish" and Curtain Up called Bat Boy "a wacky but witty cult-in-the-making show" much like The Rocky Horror Picture Show. Dare to be spooked and laugh out loud at this surprising tale that exposes the beast lurking in all of us.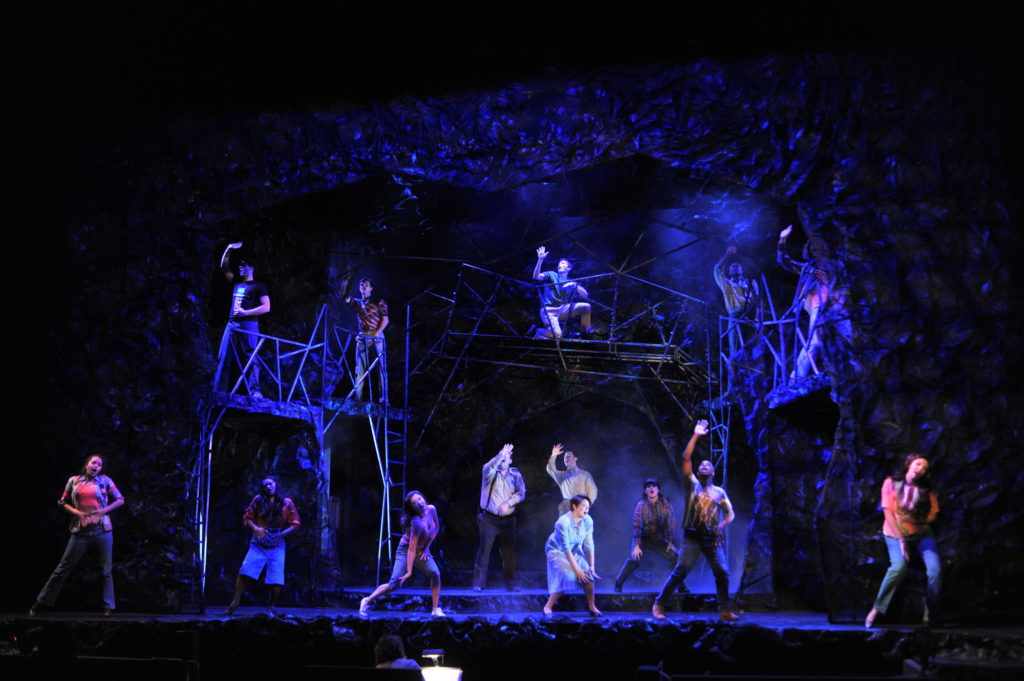 Artistic Staff
Director/Choreographer: Linda Goodrich
Music Director: Catherine Walker Adams
Scenic Designer: Andrea Bechert
Costume Designer: Jessica Hahn
Lighting Designer: Rob Murphy, Aaron Tacy
Sound Designer: Jim Lillie
Wig Stylist: Erin Kennedy Lunsford
Stage Manager: Kerry Concannon
Cast
Bat Boy: Ryan Vasquez
Dr. Thomas Parker, the local veterinarian: Zachary Thompson
Shelley Parker, his daughter: Ashley Park
Meredith Parker, his wife: Jane Bruce
The Townsfolk:
Sheriff Reynolds: Harry Katzman
Ruthie Taylor, a teenager: Paige Silvester
Rick Taylor, a teenager: Travis Ward-Osborne
Ron Taylor, a teenager: Mary Little
Mrs. Taylor, their mother: Jordan Barrow
Lorraine, a rancher's wife: Travis Ward-Osborne
Maggie, senior representative, Hope Falls Town Council: Mary Little
Daisy, a schoolteacher: Dan Tracy
Mr. Dillon, a rancher: Travis Ward-Osborne
Bud, a rancher: Dan Tracy
Ned, a rancher: Paige Silvester
Roy, a townsman: Jordan Barrow
Clem, a townsman: Mary Little
Reverend Billy Hightower: Jordan Barrow
Pan: Dan Tracy
Ensemble: Adrian Baidoo, Brian Flores, Shea Renne, Reilly Richardson, Sean Seymour
Sponsors
The School of Music, Theatre & Dance acknowledges the generosity of McKinley Associates, Inc. whose support has helped make this production possible.
Media
Program
Photos
[cycloneslider id="12-13-bat-boy"]