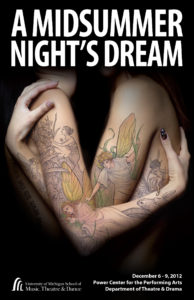 A Midsummer Night's Dream
by William Shakespeare
Department of Theatre & Drama
December 6-9, 2012 • Power Center

The Story: On the eve of a royal wedding, four as yet unmatched young lovers escape the city of Athens to pursue their passions. Beyond the walls of the city they enter the wood, a magical wilderness where the King and Queen of Fairies are having their own lovers' spat. The foursome is unsuspectingly caught in the middle, as magical potions delivered by the quicksilver spirit Puck further complicate and confuse the paths of love. When a hapless troupe of amateur actors rehearsing for the upcoming nuptials stumbles onto the scene, the mischief and confusion only multiplies. And though the course of true love never does run smooth, in the end all is mended as the moon smiles down on order restored and love everlasting.
Background: One of Shakespeare's most beloved comedies, A Midsummer Night's Dream conjures a mystical existence where chaos, love, obsession, and transformation collide. In the four worlds of the Dream, the privilege of the court, the rebellion and hormonal surge of the lovers, the magical domestic unrest of the fairies, and the boundless naïve enthusiasm of the rude mechanicals are thoroughly interwoven through Shakespeare's unparalleled lyrical poetry. Combining epiphanies, malicious tricks, spells, abandonments, betrayals, and reconciliations, A Midsummer Night's Dream leads us on an exhilarating journey through love's fire.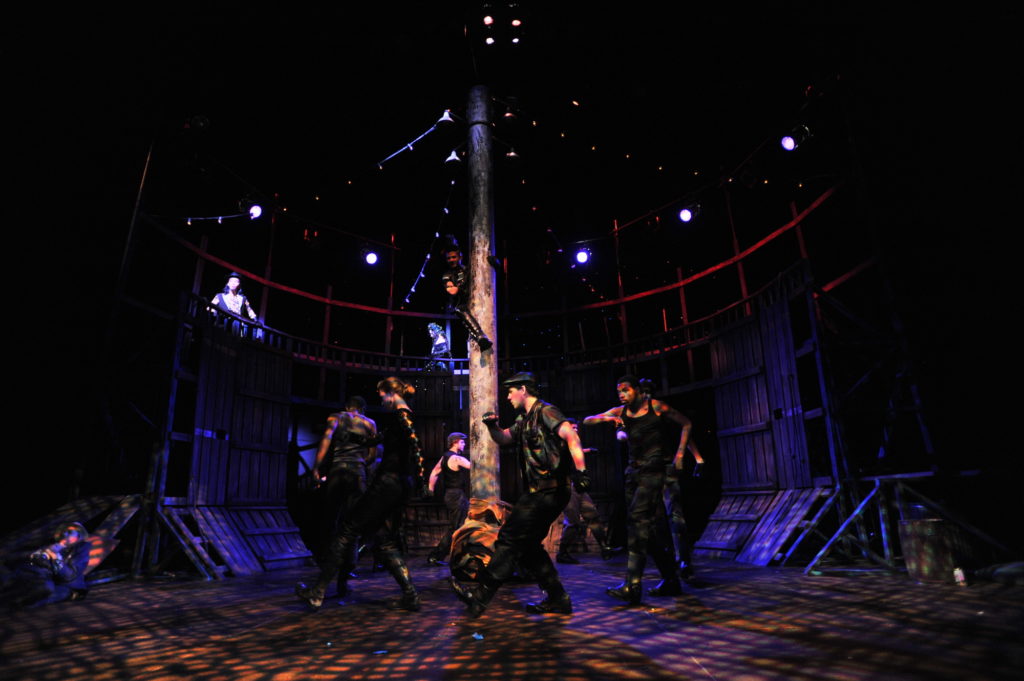 Artistic Staff
Director: Malcolm Tulip
Scenic Designer: Vincent Mountain
Costume Designer: Christianne Myers
Lighting Designer: Rob Murphy
Composers: Simon Alexander-Adams, Conor Barry
Wig & Makeup Designer: Dawn Rivard
Vocal Coach: Annette Masson
Assistant Director: Ruby Grammatico
Stage Manager: Meg Bellino
Cast
The Court
Theseus: Drew Ariana
Hippolyta: Ariel Sobel
Philostrate: Kendra Williams
Egeus: Emily Hanley
The Lovers
Hermia: Kevin Collins
Lysander: Jacqueline Rose Toboni
Demetrius: Jon Manganello
Helena: Quinn Scillian
Fairy Trio
Oberon: Caitlin Chou
Titania: Tyler Dean
Puck: Derek Joseph Tran
Mechanicals
Quince: Madeline Sharton
Bottom/Pyramus: Allison Brown
Flute/Thisbe: William Filkowski
Snout/Wall: Elizabeth Raynes
Snug/Lion: Danielle Cohn
Starveling/Moon: Joseph Dunn
Fairy/Court Ensemble: Kendall Chappell, Matt Daniels, Caleb Foote, Brian Garcia, Eric Myrick II, Robert O'Brien, Jackson Knight Pierce, Samantha Rehr
Understudies
Hermia: Samantha Rehr
Lysander: Caleb Foote
Demetrius: Jackson Knight Pierce
Helena: Kendall Chappell
Sponsors
The School of Music, Theatre & Dance acknowledges the generosity of McKinley Associates, Inc. whose support has helped make this production possible.
Resources
[accordion title="From the Director"]
What a play! It is such a joy to rediscover A Midsummer Night's Dream. The play has been in my blood since playing Bottom as a teenager. The last time that I visited it was with the Musical Theatre Department Studio production and was energized by the play's vitality. At that time we accepted the Fairies as fairies without question. Now, seven years later, I found myself wondering who, apart from the young fairy-door seekers of Ann Arbor, believe. I could not entertain the vision of our young adults "skipping hence" in diaphanous wings and pastel tights. My mind was drawn to the phenomenon of a one-week festival that since 2004 has taken place each summer in the Black Rock Desert in Nevada. Here "you experience something personal, something new to yourself, something you've never felt before. It's an epiphany, it's primal, it's newborn." Here is a place where the fairy-like act of creation still takes place. People arrive, create new living spaces, personae, puppets, statues, music, lights, performances and structures and then disappear leaving no physical trace and having transformed each other and the place. I would like to think that our work on the Dream has embodied two of the Burning Man Festival ten guiding principles:
"Radical Self-reliance – Burning Man encourages the individual to discover, exerciseand rely on his or her inner resources."
"Radical Self-expression – Radical self-expression arises from the unique gifts of theindividual. No one other than the individual or a collaborating group can determineits content. It is offered as a gift to others. In this spirit, the giver should respect therights and liberties of the recipient."
And in this spirit (and with extra special thanks to Arthur Ridley) we gift our Dream
to you.
— Malcolm Tulip, Director
[/accordion][accordion title="In Appreciation"]
Arthur Ridley, Properties Master and Adjunct Lecturer in Theatre, first joined the School of Music, Theatre & Dance in 1985 as part of a team brought in by Dean Paul Boylan to invent a unified producing division within the school to help create productions for the Departments of Theatre & Drama, Dance, the University Opera Theatre, and the newly formed Musical Theatre Program. Arthur resigned in 1988, but, after stints at Washington and Purdue Universities, he returned in 1996. Since that time, he has created properties for 180 different productions, formed a department of skilled artisans, and organized our properties stock for future generations. Also a costume and scenic designer, his SMTD productions include costumes for A Funny Thing Happened on the Way to the Forum, and scenery for Pal Joey, Sweeney Todd, Side Show, Oklahoma!, The Tavern, The Boys from Syracuse, Cosi fan tutte, Big River, Rent, and most recently, Sunday in the Park with George.
As a teacher, he is remembered fondly by the many performance students who could not see the point of having to do a lab assignment in the props shop. "Well," Arthur would tell them, "we can make the show you are acting in look good, or we can make it ugly. You choose." Guided by Arthur's wide-ranging knowledge and keen aesthetic sensibility, the students finished their lab having a solid understanding of how their acting is augmented by the physical environment created on the stage. Many future stars of Broadway built their own props under Arthur's instruction.
It must be said that Arthur's tenure was not without its tempests within teapots. Woe to the student scenic designer who had not researched when matches were first used before trying to put them into a 17th century period production. Woe to the guest designer who had been profligate in spending his props budget and who then wanted to spend more. "You have $3.82 left in your budget. You can spend that much," Arthur would retort in a production meeting to someone who did not know that his sense of humor is drier than the driest martini.
Having collaborated with Arthur since 1980, the quality that I most admire is his ability to think as long and as hard as a stage director about a way to make the words in a script come alive through actors, environment, and timing. He has always cared deeply about creating memorable theatrical experiences for all of us. We wish him all of our best. Perhaps there will yet be another act.
— Jeffrey Kuras, Director, University Productions
[/accordion]
Media
Program
Photos
[cycloneslider id="12-13-midsummer"]