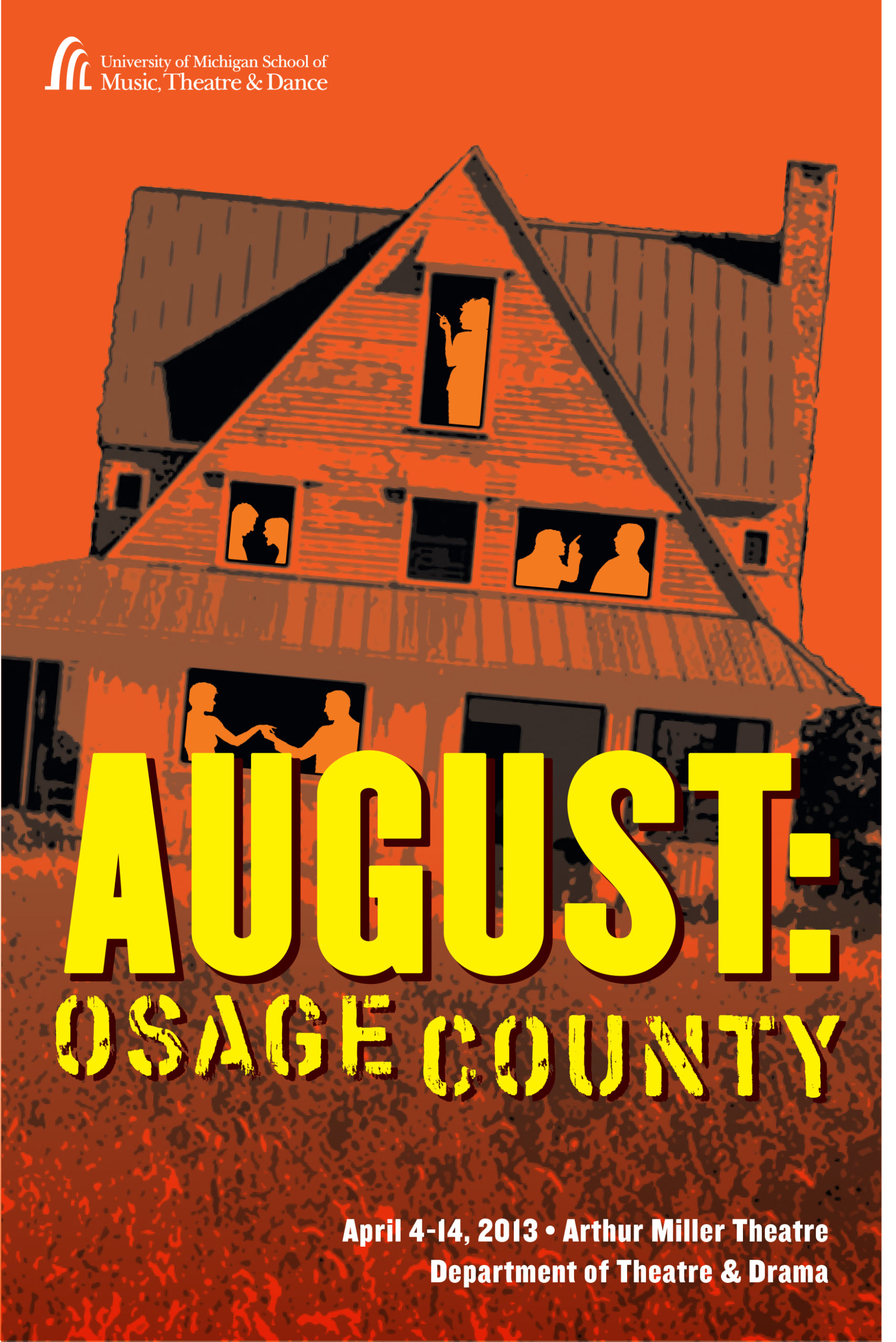 August: Osage County
a dark comedy by Tracy Letts
Department of Theatre & Drama
April 4-14, 2013 • Arthur Miller Theatre

The Story: A far-flung family comes together during a time of trouble. When the patriarch of the Weston family disappears, everyone descends on the familial home in rural Oklahoma. But just as the family comes together in times of need, the reasons that they have moved apart quickly become apparent when they gather. Barbs fly like arrows, painfully striking every family member in a heart-rending but hysterically funny way. At the center of the storm is the matriarch Violet, a pill-popping, venomous woman who lashes out at her three daughters and everyone else with impunity. Ultimately no one will leave the house unscathed, as unspoken truths and horrifying secrets are exposed in this family where each generation faces its own emotional destruction.
Background: Winner of the 2008 Tony and Drama Desk Awards for Best Play and the 2008 Pulizter Prize for Drama, August: Osage County was called "…the most exciting new American play Broadway has seen in years," by The New York Times. Playwright Tracy Letts, a member of the Steppenwolf Theatre Ensemble, wrote the work for the company, which debuted in Chicago in June 2007 and then immediately moved to Broadway, where it opened to rave acclaim. "Tracy Letts' ferociously entertaining play [is] laced with corrosive humor so darkly delicious and ghastly that you're squirming in your seat even as you're doubled over laughing. (Variety)" A raucous comedy, abundant with rich insight and brilliant humor, August: Osage County is one show that you won't want to miss.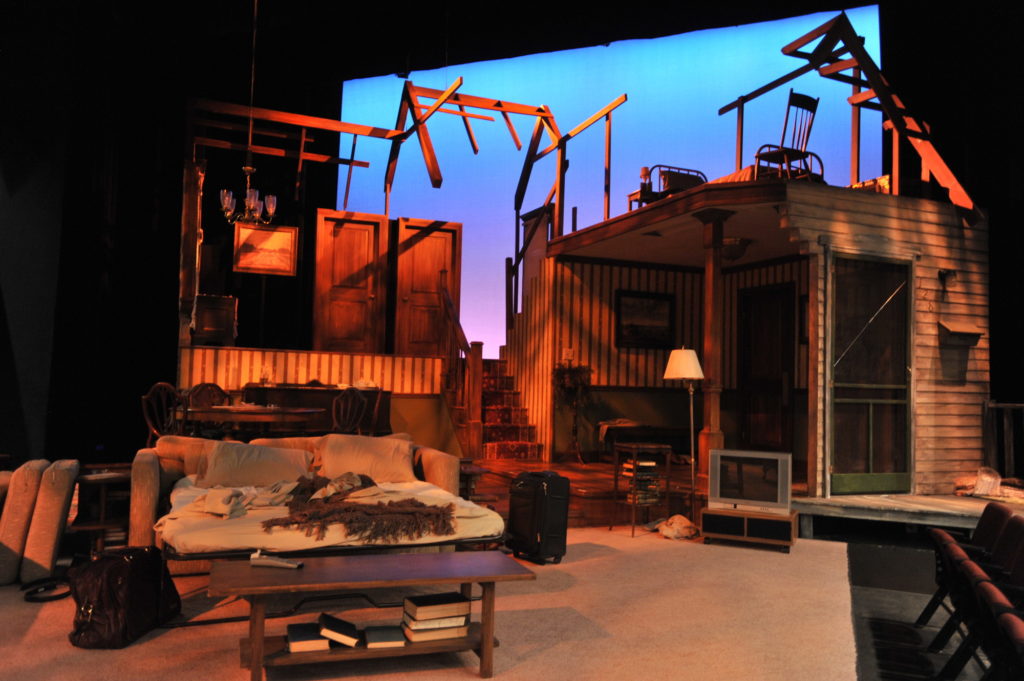 Artistic Staff
Director: John Neville-Andrews
Scenic Designer: Eli Schlatter
Costume Designer: Leslie Bates
Lighting Designer: Charles Malott
Original Music: David Singer
Sound Designer: Henry Reynolds
Wig & Makeup Designer: Dawn Rivard
Vocal Coach: Annette Masson
Fight Choreographer: Wayne David Parker
Stage Manager: Jenn Jacobs
Cast
Beverly Weston: Matthew Provenza
Johnna Monevata, a housekeeper: Samantha Rehr
Violet Weston, Bev's wife: Elly Jarvis
Ivy Weston, Bev and Violet's middle daughter: Regan Moro
Mattie Fae Aiken, Violet's sister: Emily Shimskey
Charlie Aiken, Mattie Fae's husband: Neal Kelley
Barbara Fordham, Bev and Violet's oldest daughter: Jacqueline Rose Toboni
Bill Fordham, Barbara's husband: Philip Maxwell
Jean Fordham, their daughter: Meredith Starkman
Sheriff Deon Gilbeau: Lucas Kane
Karen Weston, Bev and Violet's youngest daughter: Elana Gantman
Steve Heidebrecht, her fiancé: Ben Reitemeier
Little Charles Aiken, Charlie and Mattie Fae's son: Graham Techler
Sponsors
The School of Music, Theatre & Dance acknowledges the generosity of McKinley Associates, Inc. whose support has helped make this production possible.
Resources
[accordion title="Foreword of the Play"]
"The child comes home and the parent puts the hooks in him. The old man, or the woman, as the case may be, hasn't got anything to say to the child. All he wants is to have that child sit in a chair for a couple of hours and then go off to bed under the same roof. It's not love. I am not saying that there is not such a thing as love. I am merely pointing to something which is different from love but which sometimes goes by the name of love. It may well be that without this thing which I am talking about there would not be any love. But this thing in itself is not love. It is just something in the blood. It is a kind of blood greed, and it is the fate of a man. It is the thing which man has which distinguishes him from the happy brute creation. When you get born your father and mother lost something out of themselves, and they are going to bust a hame trying to get it back, and you are it. They know they can't get it all back but they will get as big a chunk out of you as they can. And the good old family reunion, with picnic dinner under the maples, is every much like diving into the octopus tank at the aquarium."
— Excerpt from All The King's Men, quoted by Tracy Letts
copyright 1946 and renewed 1974 by Robert Penn Warren, reprinted by the permission of the Houghton Mifflin Harcourt Publishing Company.
[/accordion]
Media
Program
Photos
[cycloneslider id="12-13-august-osage-county"]