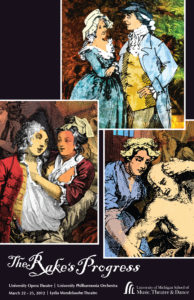 The Rake's Progress
Music by Igor Stravinsky
Libretto by W.H. Auden and Chester Kallman
University Opera Theatre • University Philharmonia Orchestra
March 22-25, 2012 • Lydia Mendelssohn Theatre

The Story: A callow young man, Tom Rakewell, is convinced that good fortune will simply come his way. His loving fiancée Anne Trulove stands by him, but her father is not so easily swayed. When a mysterious stranger, Nick Shadow, announces that Tom has inherited a fortune from an unknown relative, Tom willfully abandons Anne and sets off to London. Once there, the gullible Tom is lured by Shadow into a life of debauchery. As each incident leads to increased unhappiness and deepening humiliation, Tom is unable to bring himself to return to Anne, even though she attempts to save him. When the devilish Shadow offers him a way out, Tom finds himself in a game of chance with extraordinarily high stakes.
Background: Igor Stravinsky is considered to be one of the most influential composers of 20th century music. His only full-length opera, The Rake's Progress, which premiered in 1951, was inspired by a series of engravings by English painter William Hogarth. Collaborating with poets W.H. Auden and Chester Kallman, Stravinksy infused the score with his own signature neo-classical approach while paying homage to the works of Mozart, Handel, and Verdi. Musicologist Gunther Schuller described the opera as "an extraordinary love affair with harmony… ravishingly beautiful sounds, filtered and savored by one of the greatest musical ears of all time." Featuring a melodic score paired with a witty libretto The Rake's Progress is a cautionary tale about a life of indulgence.
Artistic Staff
Director: Robert Swedberg
Conductor/Music Director: Martin Katz
Assistant Conductor: Yaniv Segal
Scenic Designer: Russ Jones
Projection Designer: Lisa Buck
Costume Designer: Christianne Myers
Lighting Designer: Charles Malott
Wig Designer: Erin Kennedy Lunsford
Diction: Timothy Cheek
Chorus Master: George Case
Repetiteurs/Harpsichord: Sahar Nouri, Kathryn Tremills
Stage Manager: Kelsy Durkin
Cast (Thursday-Saturday/Friday-Sunday)
Father Trulove: Benjamin Sieverding/Ben Brady
Anne Trulove, his daughter: Hailey Clark/Anne Jennifer Nash
Tom Rakewell, her sweetheart: Kevin Newell/Jonas Hacker
Nick Shadow: Isaac Droscha/Steven Eddy
Mother Goose, a brothel-keeper: Jayme Kelmigian/Amanda O'Toole
Baba the Turk, bearded lady: Sarah Davis/Stephanie Schoenhofer
Sellem, an auctioneer: Alan Nagel/Justin Berkowitz
Ensemble: Stephanie Aboukasm, Nora Burgard, Bradley Goad, Zachary Goldman, Paul Grosvenor, Jordan Harris, Glenn Healy, Lauren Jacob, Imani Mchunu, Pavitra Ramachandran, Francesco Salpietro, Jonathan Schechner, James Schmid, Alexandra Shaw, Alexandria Strother, Jillianne Tucker
Sponsors
The School of Music, Theatre & Dance acknowledges the generosity of McKinley Associates, Inc. whose support has helped make this production possible.
Media Sponsorship by WRCJ.
Resources
[accordion title="Synopsis"]
Setting: 18th-century England
Act I
Tom Rakewell is courting Anne Trulove outside her father's house in the country. Trulove has doubts about his daughter's proposed marriage and tries to arrange a regular job for Tom; but he resists the idea and, left on his own, declares his intention to "live by my wits and trust to my luck". When Tom expresses his wish for money, Nick Shadow appears and tells him that an unknown uncle has left him a substantial fortune. He then invites Tom to employ him as a servant and go with him to London to sort out his inheritance. The second scene, set in Mother Goose's brothel, shows Shadow introducing his new master to the sleazy aspects of London life. But Tom is uneasy and laments his betrayal of love, yet accepts Mother Goose's invitation to spend the night with her. Meanwhile, back in the country, Anne wonders why she has not heard from Tom. She decides to go and look for him.
Act II
Tom is bored with his dissolute life. He utters his second crucial wish, for happiness, whereupon Nick makes the odd suggestion that he demonstrate his freedom by marrying Baba the Turk, the bearded lady at a fair. Soon afterwards Anne finds Tom's London house, only to see him emerge from a sedan chair which also contains Baba, whom he has just married. Tom tells Anne to leave, yet genuinely regrets what has happened. In the next scene Tom is clearly finding his eccentric marriage intolerable, as Baba is a chatterbox with a fiery temper. He silences her, then falls asleep. Waking from a strange dream, he sees Nick making the dream come true by setting up a "fantastic baroque machine" to turn stones into bread – hinting that if such machines were mass-produced Tom could become a savior of mankind.
Act III
The plan has failed – the act starts with the auction of the ruined Tom's property. The objects for sale include Baba, who has remained immobile since being silenced months earlier. When unwrapped, she resumes her tantrum, but calms down when Anne enters. Baba advises her to find Tom and "set him right", then returns to her life in the fairground. In a graveyard, Nick reveals his identity and demands Tom's payment – with his soul – for a year and a day of service; but as midnight strikes, Nick offers him an escape in the form of a game of cards, which Tom wins, thanks to the benign influence of thoughts of Anne. Defeated, Nick sinks into the ground, condemning Tom to insanity as he goes. Consigned to Bedlam, Tom believes he is Adonis. Anne ("Venus") visits him, sings him to sleep, then quietly leaves him. When he realizes she has gone, he dies. Five characters point the simple moral: that the Devil finds work for idle hands.
— Courtesy San Francisco Opera
[/accordion]
Media
Program
Photos
[cycloneslider id="11-12-rakes-progress"]