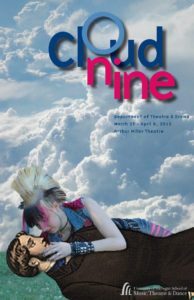 Cloud 9
a drama by Caryl Churchill
Department of Theatre & Drama
March 29-April 8, 2012 • Arthur Miller Theatre

The Story: Cloud Nine begins in 1880 colonial Africa where a British expatriate family struggles to maintain the sexual mores of the Victorian era. In a place where the natives are restless in more ways than one, the family and friends engage in a non-stop round robin of sexual liaisons. Act II jumps ahead a century to 1980 London – where the sexual revolution is in full swing. In an unusual twist, the gender and race-bending characters only age 25 years. Exploring, defining and re-defining every aspect of sexual identity, Cloud Nine is a thought-provoking, outrageous comedy.
Background: Described as "the least predictable of contemporary playwrights" by The Daily Telegraph, English dramatist Caryl Churchill is one of the most respected woman writers of her generation. Her best-known works, Cloud Nine, Top Girls, Serious Money, Far Away, and A Number, are remarkably varied in both structure and topic. Combining "a vivid, darkly funny theatrical imagination" (NY Times) with a strong political viewpoint, Churchill has "created some of the most iconic moments in contemporary British theatre…[with an] ability to continually reinvent the form [through] a constant search for new kinds of language and theatrical structures (The Guardian)." Join us for a rare glimpse of this exciting and vibrant playwright with her landmark work that The New York Times called "an evening of inspired lunacy."
Artistic Staff
Director: Tim Ocel
Scenic Designer: Catherine Cornell
Lighting Designer: Rachael D. Albert
Costume Designer: Rachel Laritz
Sound Designer: Henry Reynolds
Composer: Gregg Coffin
Wig & Makeup Design: Dawn Rivard
Vocal Coach: Annette Masson
Assistant Director: Emily Lyon
Fight Choreographer: Jesse Peri
Stage Manager: Michael Barbour
Cast
Act I – Africa, 1880
Clive: Neal Kelley
Betty: Andrew Whipple
Joshua: Dan Rubens
Edward: Emma Berdie Donson
Victoria: As herself
Maud: Emily Berman
Ellen/Mrs. Saunders: Carrie Royce Fisk
Harry Bagley: Kris Reilly
Act II — London, 1980 … but for the characters it is only 25 years later
Betty: Emma Berdie Donson
Edward: Andrew Whipple
Victoria: Carrie Royce Fisk
Martin: Kris Reilly
Lin: Emily Berman
Cathy/Bill: Neal Kelley
Gerry: Dan Rubens
Sponsors
The School of Music, Theatre & Dance acknowledges the generosity of McKinley Associates, Inc. whose support has helped make this production possible.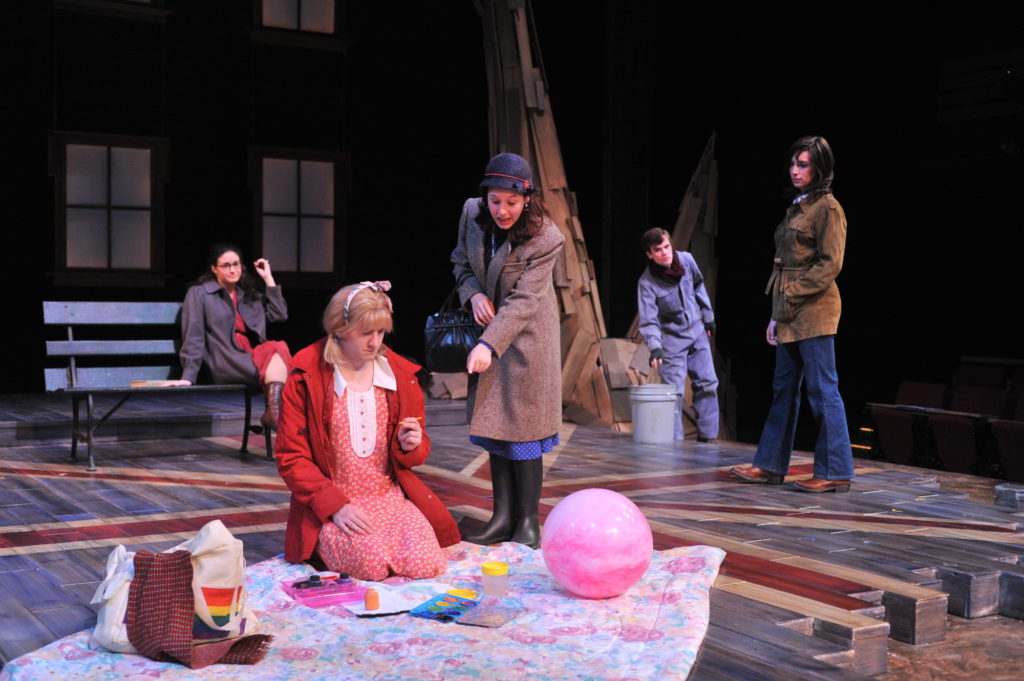 Resources
[accordion title="A Man of the Theatre – Ralph P. Beebe"]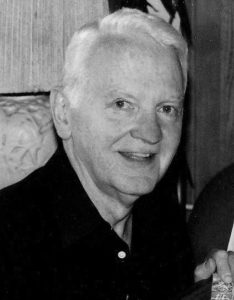 December 19, 1928 – November 17, 2011
UM Dept. of Theatre & Drama Alumnus (MA, 1966)
Actor, Amateur Historian, Theatre House Manager (1973 – 1996)
With a quick smile and ready wit, Ralph Beebe welcomed many a patron and artist to the various U-M venues during his 23 years as House Manager. When he wasn't at the theatre for work or pleasure, Ralph was active in a number of Ann Arbor cultural organizations, including the Ann Arbor Historical Foundation, as a longtime Board Member of the Washtenaw County Historical Society, and the Downtown Ann Arbor Historical Street Exhibit Program. Ralph was also a docent at the Michigan League, co-authoring the "Decade of the 1920s" in The Origins and History of the MI League. Ralph last performed with the Department of Theatre & Drama in the role of Bailey during their production of The Skin of Our Teeth at the Power Center in 1987:
"After experience had taught me that the common occurrences of daily life are vain and futile; and I saw that all the objects of my desire and fear were in themselves nothing good or bad save insofar as the mind was affected by them; I at length determined to search out whether there was something truly good and communicable to man." — Bailey, The Skin of Our Teeth
Ralph's legacy of support to the Department of Theatre & Drama ensures that students will continue to communicate the good of the arts for years to come.
[/accordion][accordion title="From the Playwright"]
Cloud Nine was written for Joint Stock Theatre Group in 1978-79. The company's usual work method is to set up a workshop in which the writer, director and actors research a particular subject. The writer then goes away to write the play, before returning to the company for a rehearsal and rewrite period. In the case of Cloud Nine the workshop lasted for three weeks, the writing period for twelve, and the rehearsal for six.
The workshop for Cloud Nine was about sexual politics. This meant that the starting point for the research was to talk about ourselves and to share our very different attitudes and experiences. We also explored stereotypes and role reversals in games and improvisations, read books and talked to other people. Though the play's situations and characters were not developed in the workshop, it draws deeply on this material, and I wouldn't have written the same play without it.
When I came to write the play, I returned to an idea that had been touched on briefly in the workshop – the parallel between colonial and sexual oppression, which Genet calls 'the colonial or feminine mentality of interiorized repression'. So the first act of Cloud Nine takes place in Victorian Africa, where Clive, the white man, imposes his ideals on his family and the natives. Betty, Clive's wife, is played by a man because she wants to be what men want her to be, and, in the same way, Joshua, the black servant, is played by a white man because he wants to be what whites want him to be. Betty does not value herself as a woman, nor does Joshua value himself as a black…
The second act is set in London in 1980 – this is where I wanted the play to end up, in the changing sexuality of our own time. Betty is middle-aged, Edward and Victoria have grown up. A hundred years have passed, but for the characters only twenty-five years. There are two reasons for this. I felt the first act would be stronger set in Victorian times, at the height of colonialism, rather than in Africa during the 1950s. And when the company talked about their childhoods and the attitudes to sex and marriage that they had been given when they were young, everyone felt that they had received very conventional, almost Victorian expectations and that they had made great changes and discoveries in their lifetimes.
The first act, like the society it shows, is male dominated and firmly structured. In the second act, more energy comes from the women and the gays. The uncertainties and changes of society, and a more feminine and less authoritarian feeling, are reflected in the looser structure of the act…
— Caryl Churchill, 1983
[/accordion]
Media
Program
Photos
[cycloneslider id="11-12-cloud-9″]