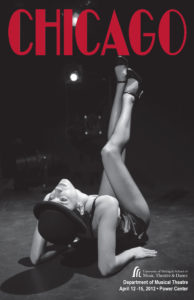 Chicago
Book by Fred Ebb and Bob Fosse
Lyrics by Fred Ebb
Music by John Kander
Department of Musical Theatre
April 12-15, 2012 • Power Center

The Story: Based on a 1926 play that chronicled actual events during the decadence of the Roaring Twenties, Chicago is the tale of chorus girl Roxie Hart who murders her lover, sets up her husband, and manipulates her way into stardom with the assistance of a slick criminal lawyer who transforms her crime into sensational headlines. Roxie vies with her rival cellmate and fellow murderess Velma Kelly to become the darlings of the media and stage sensations.
Background: Premiering on Broadway in 1975, Chicago garnered ten Tony Award-nominations. However, it was the 1996 revival that really gave the musical its legs – winning six Tony's and five Drama Desk Awards. In March 2011, already the longest running revival on Broadway, the show became the fifth longest running production in Broadway history, having played for over 5,960 performances. Kander and Ebb's score features some of their best-known songs, including "All That Jazz," "Mr. Cellophane," "Cell Block Tango," and "Razzle Dazzle." Full of murderous mayhem, sharp-edged satire about our society's fascination with criminal celebrities, and stylized dance, Chicago is so entertaining that it is almost criminal.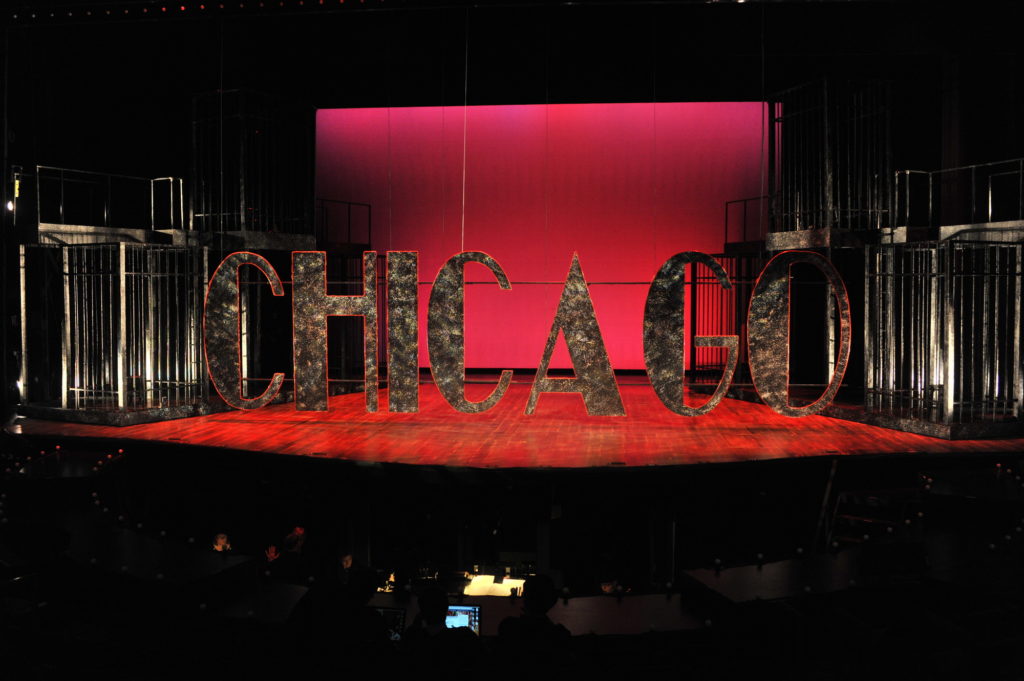 Artistic Staff
Director/Choreographer: Linda Goodrich
Music Director/Conductor: Cynthia Kortman Westphal
Scenic Designer: Andrea Bechert
Costume Designer: Jessica Hahn
Lighting Designers: Mary Blake-Booth, Rob Murphy
Sound Designer: Jim Lillie
Wig & Makeup Designer: Philip Plowman
Stage Manager: Carolyn Reich
Cast
Master of Ceremonies: Trevor St. John-Gilbert
Velma Kelly, a Vaudeville performer and an alleged murderess: Casey Low
Roxie Hart, an aspiring performer: Grace Morgan
Fred Casely, her lover: Travis Ward-Osborne
Sergeant Fogarty, a policeman: Ryan Morton
Amos Hart, Roxie's husband: Harry Katzman
Liz, an alleged murderess: Mary Little
Annie, an alleged murderess: Alex Finke
June, an alleged murderess: Bre Jackson
Hunyak, an alleged murderess: Carlye Tamaren
Mona, an alleged murderess: Gabriella DeLuca
Martin Harrison, the prosecuting attorney: Dan Tracy
Mama Morton, a prison matron: Katherine Thomas
Billy Flynn, a lawyer: Conor McGiffin
Mary Sunshine, a reporter: Ted Stevenson
Go-To-Hell-Kitty, an alleged murderess: Ashley Park
Harry, her lover: Sam Lips
Aaron, Hunyak's lawyer: Joe Carroll
Babies: Sam Lips, Travis Ward-Osborne
Court Clerk: Dereck Seay
Ensemble: Meg Aldridge, RJ Brown, Joe Carroll, Gabriella DeLuca, Daniel Estrella, Alex Finke, Jordana Grolnick, Michael Hartung, Brené Jackson, Logan Jones, Mary Little, Sam Lips, Isabelle McCalla, Ryan Morton, Ashley Park, Devon Perry, Dereck Seay, Paige Silvester, Trevor St. John-Gilbert, Carlye Tamaren, Dan Tracy, Karl Skyler Urban, Travis Ward-Osborne
Understudy/Swings
Roxie/Velma Understudy: Whitney Brandt
Swings: Whitney Brandt, Sean Seymour
Sponsors
The School of Music, Theatre & Dance acknowledges the generosity of McKinley Associates, Inc. whose support has helped make this production possible.
Media
Program
Photos
[cycloneslider id="11-12-chicago"]