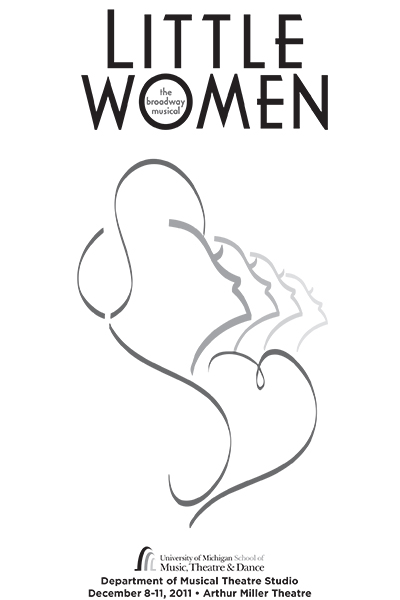 Little Women: the Musical
Book by Allan Knee
Lyrics by Mindi Dickstein
Music by Jason Howland
Based on the novel by Louisa May Alcott
Department of Musical Theatre Studio Production
December 8-11, 2011 • Arthur Miller Theatre

Based on Louisa May Alcott's beloved novel, Little Women follows the adventures of Jo, Meg, Beth and Amy March as they grow up in Civil War America. The powerful score soars with heartache and hope as Jo and her family discover what has meaning to them, and with whom they want to share their lives. Directing this studio production is Musical-Theatre-Department alumnus Danny Gurwin, who originated the role of Laurie in Little Women on Broadway.
Artistic Staff
Director: Danny Gurwin
Music Director: Catherine Walker Adams
Visual Coordinator: Arthur Ridley
Lighting Designer: Andrew Lott
Costume Designer: Katie Rouse
Sound Support: Mark Gordon
Stage Manager: Kelsy Durkin
Cast
Professor Bhaer: Trevor St. John-Gilbert
Jo March: Jane Bruce
Amy March: Ali Gordon
Meg March: Samantha Massell
Beth March: Paige Silvester
Marmee: Katherine Thomas
Mr. Laurence: Harry Katzman
Laurie: Joel Sparks
Aunt March: Olivia Hernandez
John Brooke: Dan Tracy
Mrs. Kirk: Grace Morgan
Sponsors
Funding for the guest director made possible by generous support from the Benard L. Maas Foundation.
Resources
[accordion title="From the Director"]
It is a true privilege to be back at U-M with Brent Wagner and the Department of Musical Theatre, a program that has given me so much since I had the honor of graduating back in '94. It is doubly special as this musical adaptation of Little Women is a work in which I had a central role in creating through numerous readings and workshops as "Laurie" beginning in 2002, through to the Broadway opening in 2005. It is such a pleasure to not only pass along the legacy of what I hope you will find to be a charmingly powerful show, but also my own experiences within the industry since I tapped and sang my way through Pal Joey, Quilt, and so many of the other transforming experiences I've had here onstage at Michigan. A tremendous nod to the show's original director, Susan H. Schulman, and choreographer, Michael Lichtefeld, as well as the writers for creating such a beautiful, rich, and wonderfully broad canvas on which to build this production. And most of all to my wonderfully gifted colleagues, student designers & stage managers, and cast – a huge thank you for your commitment, energy, care, skill, and brimming heart.
— Danny Gurwin, Director
[/accordion]
Media
Program
Photos
[cycloneslider id="11-12-little-women"]