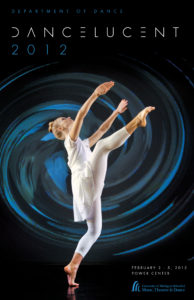 Dancelucent 2012
Choreography by guest Lucinda Childs with faculty Bill DeYoung, Peter Sparling, and Robin Wilson
Department of Dance
February 2-5, 2012 • Power Center

The University Dance Company celebrates Dancelucent 2012, an evening of modern dance featuring four innovative works. Highlighting the evening is Dance #1, the twenty-minute first section of Dance, guest artist Lucinda Child's ground breaking 1979 work. Featuring music by Philip Glass, Dance #1 creates an evocative juxtaposition of past and present, weaving repetitive motion into complex patterns in a minimalist style that remains as vibrant and edgy as when it first premiered. Childs created Dance #1 after collaborating with Glass and Robert Wilson on the 1976 opera, Einstein on the Beach. She will be in Ann Arbor working with Glass and Wilson on a revival of Einstein on the Beach under UMS's auspices in January 2012. Peter Sparling utilizes the interplay between video and live dance in his new work, Forest Through the Trees, an exploration of how one sees a group of dancers through the juxtaposition of their individual danced video signatures. The work invokes Gertrude Stein's extended ode to repetition and identity in The Making of Americans. Robin Wilson creates a new dance that explores the metaphysical concept of light. A work from faculty Bill DeYoung rounds out the program.
Artistic Staff
Artistic Director: Judy Rice
Costume Designer: Suzanne Young
Lighting Designer: Mary Cole
Stage Manager: Emily Stromberg

Repertoire & Performers
[accordion title="Been a Long Time (2008)"]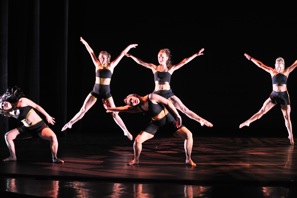 Choreography by Bill DeYoung
Premiered by the Eisenhower Dance Ensemble at the Macomb Center for the Arts, April 2008
I. The Way I Feel Inside
Music by Rod Argent
Featuring Kula Batangan and Ensemble
II. Been A Long Time
Music: "Rock and Roll" by Led Zeppelin
Featuring Allie Harris, Kula Batangan, Katie Muth, and Ensemble
III. Fever
Music: "Jazz from Hell" by Frank Zappa
Featuring Allie Harris and Kula Batangan
IV. I Love Rock N' Roll
Music by Jake Hooker and Alan Merrill
Featuring Michaela Wood, Katie Muth, Deanna Tomasetta and Ensemble
V. Stand Up and Dance
Featuring Katie Muth, Deanna Tomasetta, Kula Batangan
VI. Whiskey, Mystics and Men
Music by The Doors
Featuring Daniela Blechner and Ensemble
VII. Like There's No Tomorrow
Featuring Alison Coleman
Dancers: Kula Batangan, Daniela Blechner, Alison Coleman, Allie Harris, Lauren Morris, Katie Muth, Deanna Tomasetta, Honora Wood, Michaela Wood, Cara Zonca
Choreographer's Note:
Wide-eyed innocence got all the girls
Tumble-dried my tears with more, always more
Velocity—overdrive breathless remorse,
Danced on the volcano, vivid through the night
Wounded beast everyday 'til the beat revived me
Rock N' Roll; bet your life it's a helluva sweet ride.
[/accordion][accordion title="Forest Through the Trees (2012)"]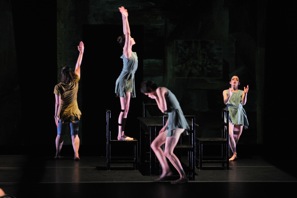 Choreography and Video by Peter Sparling
(with the assistance of the cast in the entrance to "Climate Change")
Rehearsal Assistant: Tracy Halloran Pearson
Music: "Music for Architecture" by Frank Pahl, "I'll Meet You Halfway Out In The Middle Of It All" by Thollem McDonas
Text: The Making of Americans (1903-11) by Gertrude Stein
Opening screen image: Harbor (1909) by Georges Braque
"Climate Change" sequence and video finishing by Colin Smith Fulton
Gertrude Stein: Annette Masson
Dancers: Lisa Chippi, Kristen Donovan, Emma Fath, Ellen Holme, Jillian Hopper, Jessica Trepka Hoyt, Sabrina Imamura, Ashley Manci, Madeline Rager, Hannah Schon, Parisa Shahbaz, Kalila Kingsford Smith, Nola Smith, Morgan Wallace
Understudy: R. Sumi Matsumoto
Choreographer's note: If the writer Gertrude Stein and her artist friends, Picasso and Braque, expressed the fragmentation of early 20th century life and thought in their modernist abstractions of traditional literature and painting, how do later innovations in film/video and modern dance locate the live and digitally represented human body in this radical reconfiguration of individual and collective identity – one that persists into the early 21st century? In The Making of Americans, Stein employs a language of overlapping, rhythmic repetitions to describe and mirror the forging of identity. The text provides me with frames upon which to arrange a set of variations on 14 movement signatures embodied by each dancer; these signatures 'read' differently depending on how they 'act' against Stein's text, the video projections and the musical score. The utopian experiment of early modernism ended with the outbreak of World War I and took on a greater sense of disillusionment and fragmentation. Forest Through the Trees playfully peers into this extended episode in modernism to glimpse both the big picture and the close-up – with an affectionate nod to Gertrude, a true American original.
[/accordion][accordion title="Lightmotifs (2012)"]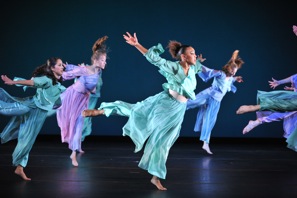 Choreography by Robin Wilson
Assistant to the Choreographer: Marly Spieser-Schneider
I. Got Light?
Music: "Flash Light"by George Clinton, Bootsy Collins and Bernie Worrell; "You Light Up My Life" by Joe Brooks
II. Walking the Light
Music: "Hawai'i 78" by Micky Ioane, Abe Keala, Cleyton Kua and David Crowley; "Shift" and "Particular Dance" by Meredith Monk
III. Celebrating Light
Music: "Let all the People Praise Him" by Mrs. C. H. Morris
Dancers: Chloe Aiello, Shanna Cruzat*, Edith Freyer, Isabella Ingels, Amber Kao*, GingerAnn Neslund, Natalie Niergarth, Jimi Ngygen, Jessica Post, Alexandra Reehorst, Molly Ross, Colleen Shaugnessy, Stefania Spadaro-Bliss (*Featured Dancer)
Bicyclists: Sammi Rosenfeld, Morgan Wallace
[/accordion][accordion title="Dance # 1″]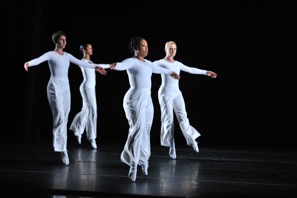 Choreography by Lucinda Childs
Staging by Ty Boomershine and Katie Dorn
Rehearsal Director: Judy Rice
Assistants to the Rehearsal Director: Jillian Hopper and Sammi Rosenfeld
Costume Design by A. Christina Giannini
Lighting Design by Beverly Emmons
Music by Philip Glass
Dancers: Lynsey Colden, Tehillah Frederick, Jessica Trepka Hoyt, Jennifer LaFreniere, Katy Telfer, Deanna Tomasetta, Alexis Turner, Morgan Wallace
Understudies: Edith Freyer (Katy Telfer), Isabella Ingels (Deanna Tomasetta),
R. Sumi Matsumoto (Jennifer LaFreniere/Jessica Trepka Hoyt; Lynsey Colden/Morgan Wallace), Jimi Nguyen (Alexis Turner), Kelli Yapp (Tehillah Frederick)
[/accordion]
Sponsors
The School of Music, Theatre & Dance acknowledges the generosity of McKinley Associates, Inc. whose support has helped make this production possible.
Resources
[accordion title="From the Artistic Director"]
Welcome, and thank you for attending Dancelucent. We open our concert with tremendous energy and athleticism with Been a Long Time by Bill DeYoung. Embodying the bold, unrestrained culture of Rock 'n' Roll, the dance takes a trip down memory lane bringing to life a reckless and defiant era that verged from innocence to rebellion. Peter Sparling premiers Forest Through the Trees, a rich, multifaceted work that brilliantly overlays video and spoken text with live dance set to music by local composer Frank Pahl and Thollem McDonas. SMTD Department of Theatre & Drama Assoc. Professor Annette Masson joins the work, portraying Gertrude Stein and reading from Stein's The Making of Americans. Lightmotifs, a premiere by Robin Wilson, is a deeply personal work inspired by the death of Wilson's mother in 2011. Incorporating her own personal spiritual traditions, Wilson plays with ideas about light as a metaphor and looks at questions about death, near death experiences and what happens afterwards. Varying from humor to the more earnest explorations of the idea of 'light,' Lightmotifs closes with a celebratory and jubilant dance of praise for the completion of the journey. Dance #1 by famed guest artist Lucinda Childs closes our evening with a mesmerizing flurry of movement to the music of Philip Glass. Restaged by Ty Boomershine and Katie Dorn from the Childs Dance Company over a period of three weeks last fall, the dance is a fascinating set of phrases that overlap to form the score of this groundbreaking work. Enjoy!
— Judy Rice, Artistic Director, Dancelucent 2012
[/accordion][accordion title="From the Chair"]
Welcome! A connecting theme across the four works comprising tonight's concert is light – the interplay of choreography, color, and stage technology to create multiple dance worlds. Instead of my usual program note, I want to elaborate on our choice of guest artist this year, Lucinda Childs, and her seminal work Dance. Our concert follows in the giant-size footsteps of Einstein on the Beach (1976). This large-scale, multi-media opera by director Robert Wilson and composer Philip Glass was reconstructed at the Power Center in January. Childs was both choreographer and leading performer in the original production and, in-between touring Dance across the globe through 2011-12 to wide critical acclaim, she teamed up again with Wilson and Glass for the reconstruction. Childs' choreography for the five-hour Einstein was the first time she had created dance movement to music. Inspired by the rhythmic pulse and clarity of Glass' score, the pair collaborated subsequently on Dance (1979). Originally conceived as a full-evening work, with black-and-white film projections of Childs' dancers by visual artist Sol LeWitt accompanying three of the five sections, over the years, Dance has been re-configured for different performance contexts. Dance #1 is drawn from the opening section of the current three-part version and is performed without LeWitt's film. Thus, live dancers become the sole focus. Dressed in simple white costumes, four consecutive couples sweep and weave across the stage in swathes of white light. As the ostinato phrases of Glass' music develop incrementally, so too does the complexity of the choreography. Described by dance critic Arlene Croce as "a maze of footpaths laid out with Euclidian geometry", Dance #1 is lucent, luminous, and a wonderful experience for our students.
— Angela Kane, Chair, Department of Dance
[/accordion]
Media
Program