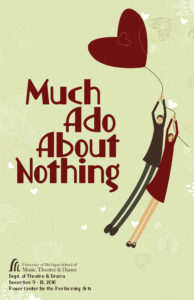 Much Ado About Nothing
a comedy by William Shakespeare
Department of Theatre & Drama
December 9-12, 2010 • Power Center

The Story:  On their way home from a war, a group of soldiering friends visits the home of Leonato and his daughter Hero and niece Beatrice. A self-proclaimed bachelor, Benedick, easily falls into a skirmish of words with his old acquaintance, the equally independent Beatrice. Meanwhile, Claudio falls instantly in love with Hero and rushes to propose. But Don John, jealous of the young lovers, plots to ruin the wedding through deceit. Will Claudio decide to trust the love in his heart or to believe what he thinks he sees? Can Beatrice and Benedick stop bickering long enough to recognize their love for each other? As passions strain, everyone learns the realities of love and the importance of second chances.
Background:  Written in 1598, Much Ado About Nothing immediately became one of Shakespeare's most popular works. Much Ado depicts the absurd behavior of men and women in love – something that hasn't changed much in the 400 years since its debut. A romantic comedy that nearly becomes a tragedy, the play is filled with wooing, misunderstandings, eavesdropping, and clever wordplay. Indeed, the merry war of wit between Beatrice and Benedick, a subplot to the main story, often steals the show – King Charles I even attempted to rename the play for the pair. An intricate tale of the various ways love is revealed and tested, Much Ado About Nothing takes two couples along different paths to the same ending.
Artistic Staff
Director: John Neville-Andrews
Scenic Designer: Gary Decker
Costume Designer: Jessica Hahn
Lighting Designer: Rob Murphy
Choreographer: Kristi Davis
Vocal Coach: Annette Masson
Wig & Make-up Designer: Dawn Rivard
Stage Manager: Emily Stromberg
Cast
Leonato's Palazzo
Leonato, Governor of Messina: Leigh Woods
Hero, his daughter: Erin Cousins
Beatrice, his niece: Alli Brown
Antonio, Leonato's brother: James Piper
Ursula, gentlewoman attending Hero: Madeline Sharton
Margaret, gentlewoman attending Hero: Brittany Uomoleale
Phoebe, gentlewoman attending Hero: Kendra Williams
Balthazar, a musician/singer: Jake McClory
The Soldiers
Don Pedro, Prince of Aragon: Paul Koch
Benedick, an officer of Don Pedro: Ben Blackman
Claudio, an officer of Don Pedro: Philip Maxwell
Don John, brother of Don Pedro: Dan Rubens
Borachio, a follower of Don John: Nick Strauss
Conrad, a follower of Don John: Josh Berkowitz
The Watch
Dogberry, master constable: Neal Kelley
Verges, a headborough: Gordon Granger
George Seacole, a watchman: Tim Markham
Hugh Oatcake, a watchman: Joey Richter
Wisecup, a watchman: Aislinn Frantz
Friar Francis: Matthew Socha
Sexton/Messenger: Jon Manganello
Sponsors
The School of Music, Theatre & Dance acknowledges the generosity of McKinley Associates, Inc. whose support has helped make this production possible.
Media
Program
Photos
[cycloneslider id="10-11-much-ado"]