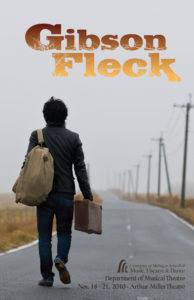 Gibson Fleck
Book by Ali Gordon
Music & lyrics by A. J. Holmes and Carlos Valdes
Department of Musical Theatre
November 18 – 21, 2010 • Arthur Miller Theatre

The Story:  Gibson Fleck follows the story of a young man, abandoned as a baby and shunted from family to family across America, who is looking for a place to call his own. At the age of twenty-two, knowing nothing of his original family or even his real name, Gibson stops wandering and begins creating his own roots in New Haven, Connecticut – with a steady job, friends, and perhaps even a relationship. But when an unexpected piece of the past beckons him to Virginia, he is driven to discover his origins and determine the meaning of "home."
Background:  Ever since the inception of the Department of Musical Theatre, its graduates have gone on not only to grace the stage, but to create works for the stage. From Andrew Lippa (The Wild Party; The Addams Family), to Nick Blaemire (Glory Days), to Jeff Marx (Avenue Q), to Pasek & Paul (Edges), MT alumni have made their mark on Broadway and in regional theatre. The Department has also regularly presented new works including See Rock City, Ella Minnow Pea, and The Pursuit of Persephone. Our production of Gibson Fleck continues these traditions in a unique way by featuring an original new work by a trio of multi-talented current undergraduates – Ali Gordon (See Rock City), A. J. Holmes (who played Tateh in Ragtime), and Carlos Valdes (composer/musician for Trafford Tanzi and Che in Evita). Featuring a score incorporating an eclectic blend of folk rock and musical theatre idioms, Gibson Fleck offers an exclusive opportunity to witness the creation of a new musical from an impressive and ambitious young team.
Artistic Staff
Director/Choreographer: Linda Goodrich
Music Director/Conductor: Catherine Walker Adams
Scenic Designer: Vincent Mountain
Costume Designer: Corey Davis
Lighting Designer: Mary Clare Blake-Booth
Sound Designer: Jim Lillie
Stage Manager: Michelle Bryan
Cast
Narrator/Ken: Danny Romeo
Narrator/Patrick: R. J. Brown
Little Gibson: Zak Kratz
Mr. Turati/Sammy/Ensemble: Ryan Morton
Mrs. Turati/Ensemble: Gabriella DeLuca
Narrator/Lisa: Ashley Park
Young Gibson: Milo Tucker-Meyer
Greentree/Jack/Ensemble: Danny Wilfred
Birdsong/Ensemble: Laura Irion
Teen Gibson: Corey Davis
Mr. Dreyfuss/Teddy/Ensemble: Travis Ward-Osborne
Mrs. Dreyfuss/Ensemble: Carlye Tamaren
Gibson: Will Burton
Ben Wright/Mr. Walker/Ensemble: Tyler Jones
Ernest: Joel Sparks
Hobo Bill/Vince/Ensemble: Tyler Brunsman
Phoebe: Alex Finke
Claire: Chelsea Wilson
Amelia: Hava Kaplan
Bob/Lucas: Collin Janich
Mr. Fleck: Ted Stevenson
Mrs. Fleck: Madeline Trumble
Jordan/Ensemble: Jane Bruce
Caroline: Holland Mariah Grossman
Sponsors
Gibson Fleck is made possible in part with financial support from The David and Joan Marshall Fund for New Works in Musical Theatre.
The School of Music, Theatre & Dance acknowledges the generosity of McKinley Associates, Inc. whose support has helped make this production possible.
Resources
[accordion title="From the Director"]
The choice of Gibson Fleck for the musical in the Arthur Miller Theatre evolved from a unique alignment of creative energies. I am committed to seeking out and developing new work for musical theatre. The writers and I were drawn together to create a work, not knowing what it would look like or where it might be performed. Gibson Fleck, the story of a young man searching to find a "home," very much parallels the creative process. Our hero, orphaned at birth, seeks to make a connection… to share with the world a story that is his own. Finding a story to tell, then risking to tell it… to live it… is perhaps our most primal instinct. It is a bold, frightening and exhilarating act. The writers and I are thankful to have found a home for this story at the Arthur Miller Theatre. It is our hope that the connectivity of this community and this theatre, coupled with the collective support of developing new works and emerging artists, will perpetuate the great American musical theatre tradition.
— Linda Goodrich
[/accordion]
Media
Program
Photos
[cycloneslider id="10-11-gibson-fleck"]