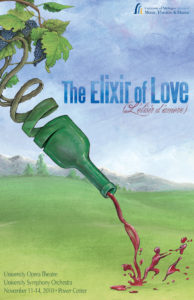 The Elixir of Love
(L'elisir d'amore)
Music by Gaetano Donizetti
Libretto by Felice Romani
University Opera Theatre • University Symphony Orchestra
November 11-14, 2010 • Power Center

The Story: The handsome young peasant Nemorino is hopelessly in love with Adina but she barely gives him a glance. In fact, she seems enamored with the head of the local garrison, Sgt. Belcore  (a rather shallow guy, but there's something about a man in uniform) – even going so far as to promise to marry him immediately. What's a desperate and lovesick Nemorino to do? Resort to "magic" of course. Dr. Dulcamara, a charming con man, guarantees to the naïve Nemorino that one drink of a mysterious elixir will make Adina fall at his feet within twenty-four hours. In order to get the elixir (actually just an ordinary Bordeaux) to work faster to prevent Adina's impending marriage, Nemorino downs the entire bottle in one gulp. In vino veritas prevails — with charming twists and turns, love blossoms in all the right places.
Background: One of the most popular works of the opera repertoire, The Elixir of Love has been an audience favorite since its debut in 1832. Composed by Donizetti in just two weeks, the opera skillfully balances comedy with poignancy, simplicity with detailed invention, in a fresh, exhilarating example of bel canto. The score is filled with delightful arias, duets, and ensembles, including two hauntingly beautiful tenor arias for Nemorino, "Una furtiva lagrima" and "Quanto è bella." The 19th century Italian equivalent of a Broadway musical, The Elixir of Love is a delightful tale about the innocence of love that is sure to make you smile.
Artistic Staff
Director: Joshua Major
Conductor: Martin Katz
Assistant Conductor: Eiki Isomura
Scenic Designer: Jeff Bauer
Costume Designer: Christianne Myers
Lighting Designer: Gary Decker
Wig Designer: Dawn Rivard
Diction Coach: Timothy Cheek
Chorus Master: Arian Khaefi
Répétiteurs: Steven McGhee, Mariah Mlynarek
Stage Manager: Michelle Elias
Cast (Thursday-Saturday/Friday-Sunday)
Adina, a rich farm owner: Amy Petrongelli/Anne Jennifer Nash
Nemorino, a young peasant: Kyle Matthew Knapp/Kyle Tomlin
Belcore, a sergeant: Steven Eddy/Brian Rosenblum
Dulcamara, a traveling 'doctor': Nicholas Ward/Benjamin Sieverding
Giannetta, a country girl: Ariel Halt/Kristen Seikaly
Dulcamara's Assistant: Alexander Brenner
Ensemble: Alison Aquilina, Lindsay Alexis, Paul Robert Brumfield, Antonina Chekhovskaya, Michael De Souza, Brad Goad,Paul Grosvenor, Kathryn Graham, Marianne Gruzwalski, Glenn Healy, Austin Hoeltzel, Lauren Jacobs, Alexandra Kahn, Imani Mchunu, Meghan McLoughlin, Jesus Murillo, Alan Nagel, Francesco Salpietro, Alexandra Shaw, Drew Smith, Olivia Thompson, Jillianne Tucker, Jeff Wilkinson
Sponsors
The School of Music, Theatre & Dance acknowledges the generosity of McKinley Associates, Inc. whose support has helped make this production possible.
Media Sponsorship by WRCJ.
Resources
[accordion title="Synopsis"]
Setting: The opera takes place in a small Italian village.
Act I
While Adina and the farm workers relax, Nemorino laments his inability to offer her anything but love. Adina chuckles at the story of Tristan, who wins Isolde's heart by drinking a magic love potion. Belcore, an arrogant sergeant, enters with his soldiers and courts Adina. Left alone with Adina, Nemorino proclaims his love, but she advises him to spend time with his ailing uncle and to give up on her.
A traveling salesman, Dr. Dulcamara, arrives selling a cure-all for any problem or ill for a pittance. Nemorino asks him if he has Tristan's elixir, and Dulcamara claims to possess it. Nemorino empties his wallet to buy it, though Dulcamara reminds him that it will take 24 hours for the potion to take effect. When Adina approaches Nemorino, he ignores her, believing that that she will fall for him in 24 hours. To spite Nemorino, Adina decides to marry Belcore in six days. Nemorino is not fazed until he learns that Belcore's regiment must leave the next morning. Belcore and Adina decide to marry that very day, much to Nemorino's dismay.
Act II
At a pre-wedding celebration, Dulcamara and Adina sing a song about a senator courting a humble girl. A notary arrives with the wedding contract, but Adina postpones the wedding until the evening. Nemorino, desperate, begs Dulcamara for more help. Dulcamara recommends another dose of the elixir to accelerate its effect. The penniless Nemorino is convinced by Belcore to enlist as a soldier in order to make money. Nemorino signs the necessary papers, takes the money from Belcore, and heads to Dulcamara for more elixir.
Giannetta informs her friends that Nemorino's uncle just died and left him a huge inheritance. As soon as Nemorino appears, all the girls flock to him, just as Dulcamara promised. Unaware of his inheritance, Nemorino attributes the attention solely to the elixir. Adina and Dulcamara are flabbergasted to see all the girls chasing Nemorino. Dulcamara tells Adina that Nemorino bought his elixir in order to win her love, and that he sold his freedom by enlisting as a soldier in order to pay for it. Dulcamara, sensing that Adina is in love, offers her some elixir, but Adina relies on her own devices.
Adina asks Nemorino why he enlisted, but he tells her that it was to improve his lot. Adina then tells Nemorino that she has bought back his contract from Belcore. Nemorino tells Adina that without her love, he would prefer to die a soldier's death. She relents and confesses that she loves Nemorino.
— courtesy of New York City Opera
[/accordion]
Media
Program
Photos
[cycloneslider id="10-11-elixir-of-love"]