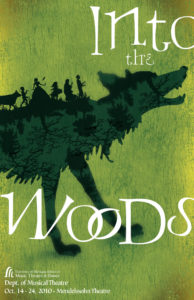 Into the Woods
Book by James Lapine
Music & lyrics by Stephen Sondheim
Department of Musical Theatre
October 14-24, 2010 • Lydia Mendelssohn Theatre

The Story:  A childless baker and his wife, cursed by the witch next door, set into the woods in pursuit of four items to break the spell. Along their way, the couple intertwines with favorites from the Brothers Grimm – Cinderella, Little Red Riding Hood, Jack (of Beanstalk fame), and Rapunzel – all on their own search for the perfect fairy tale ending. In their quests, everyone ends up using some dubious methods to get their wishes fulfilled. But 'happily ever after' proves to be the real fairy tale as everyone must soon face the reality and consequences for what happens when all their dreams come true. Faced with a terror larger than themselves, they must learn to cooperate in order to save the happiness they sought so hard to gain.
Background:  Ben Brantley of the New York Times declared Stephen Sondheim "Indisputably the best, brightest and most influential talent to emerge during the last half century." Winner of Tony Awards for Best Book and Score and the Drama Desk Award for Outstanding Musical, Into the Woods brought James Lapine and Sondheim together for their second collaboration following their success with Sunday in the Park with George. Full of wicked wit, the musical turns old fairy tales upside down and sets off multiple colliding journeys, ultimately becoming a new, moving parable the legacies parents will pass down to their children. Sondheim's dazzling score features such songs as "Agony," "Children Will Listen," and "No One Is Alone." Come celebrate Sondhiem's 80th birthday with us with this lively, complex, and irreverent fantasy.
Artistic Staff
Director: Mark Madama
Music Director: Cynthia Kortman Westphal
Scenic Designer: Bruce Brockman
Costume Designer: Shawn McCulloch
Lighting Designer: Rob Murphy
Sound Designer: Jim Lillie
Wig & Make-up Designer: Erin Kennedy Lunsford
Stage Manager: Ingrid Olson
Cast
Narrator/Mysterious Man: Trevor St. John-Gilbert
Cinderella: Olivia Hernandez
Jack: Cody Davis
Jack's Mother: Casey Low
Baker: Eric Maier
Baker's Wife: Amy Blackman
Cinderella's Stepmother: Katie Madison
Florinda: Britney Coleman
Lucinda: Grace Morgan
Cinderella's Father: Harry Katzman
Wolf/Cinderella's Prince: Andy Jones
Little Red Ridinghood: Nora Menken
Witch: Rachel Bahler
Cinderella's Mother/Granny/Giant: Alex Akin
Rapunzel: Allison McDowell
Rapunzel's Prince: Sam Lips
The Steward: Han Park
Sponsors
The School of Music, Theatre & Dance acknowledges the generosity of McKinley Associates, Inc. whose support has helped make this production possible.
Media
Program
Photos
[cycloneslider id="10-11-into-the-woods"]