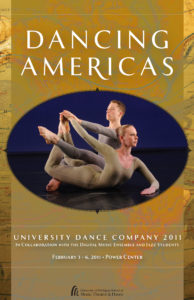 Dancing Americas
Premiere choreography by guest Dianne McIntyre and faculty Missy Beck and Sandra Torijano, and a MinEvent by Merce Cunningham
Department of Dance
February 3-6, 2011 • Power Center

The University Dance Company's 2011 concert celebrates the intertwining of music and culture throughout the Americas. Acclaimed dance artist Dianne McIntyre creates a new work set to music inspired by Bo Diddley, Eric Dolphy, and Dizzy Gillespie played by students in the UM Jazz Department. McIntyre's extensive career has stretched from performing to choreographing for modern dance, theatre, television, and film, as well as winning numerous awards, including the 2009 American Dance Festival Award for Distinguished Teaching. "One of the most engaging [dancers] you'll see anywhere…McIntyre whips together narrative, exceptionally fluid dancing, and music." (Sarah Kaufman, The Washington Post) Sandra Torijano premieres Tango con la vida, a work examining the deep, shared spirit underlying Latin America's rich dance and music cultures. Towards a sudden silence by Missy Beck is inspired by the poems of American poet, UM graduate, and Hopwood Award winner Marge Piercy. Rounding out the evening will be a MinEvent, presenting an uninterrupted sequence of excerpts from masterworks by Merce Cunningham, accompanied by John Cage's "Cartridge Music" played live by the Digital Music Ensemble.
Artistic Staff
Artistic Director: Judy Rice
Music Coordinator: Stephen Rush
Scenic Designer: Kasia Mrozewska
Costume Designer: Christianne Myers
Lighting Designer: Mary Cole
Stage Managers: Michelle Elias, Ingrid Olson
Repertoire & Performers
[accordion title="MinEvent"]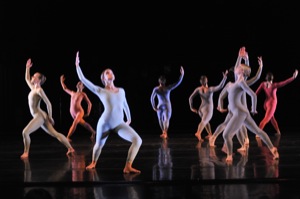 Choreography by Merce Cunningham
Staged by Jean Freebury
Rehearsal Director Judy Rice
Research Assistant Michaela Wood
Costumes by Mark Lancaster
Music: "Cartridge Music" by John Cage
Musicians: Digital Music Ensemble, directed by Stephen Rush
Michael Musick, Peter Raymond, Matthew Rose, Gabriel Saltman
Dancers: Lisa Chippi, Inae Chung, Lynsey Colden, Kelsey Connolly, Derek Crescenti, Jennifer LaFreniere, Sabrina Imamura, Katie Muth, Francesca Nieves, Parisa Shahbaz, Colleen Shaughnessy, Katy Telfer, Jessica Trepka, Michaela Wood
Understudy: Jennifer LaFreniere
Note: A leader of the American avant-garde throughout his seventy-year career, Merce Cunningham (1919-2009) is considered to be one of the most important choreographers of our time. Through much of his life, he was also one of the greatest American dancers. With an artistic career distinguished by constant innovation, Cunningham expanded the frontiers not only of dance, but also of contemporary visual and performing arts. His collaborations with artistic innovators from every creative discipline yielded an unparalleled body of American dance, music, and visual art.
Of all his collaborations, Cunningham's work with John Cage, his life partner from the 1940s until Cage's death in 1992, had the greatest influence on his practice. Together, Cunningham and Cage proposed a number of radical innovations. The most famous and controversial of these concerned the relationship between dance and music, which they concluded may occur in the same time and space, but should be created independently of one another. The two also made extensive use of chance procedures, abandoning not only musical forms, but narrative and other conventional elements of dance composition – such as cause and effect, and climax and anticlimax. For Cunningham, the subject of his dances was always dance itself.
A MinEvent is an uninterrupted sequence of excerpts drawn from the work of Merce Cunningham. Constructed and staged by Jean Freebury (MCDC 1992-2003) expressly for U-M, the material for this MinEvent was drawn from the following dances: Scramble (1967), Inlets 2 (1983), Ground Level Overlay (1995), and Pond Way (1998).
[/accordion][accordion title="Towards a sudden silence"]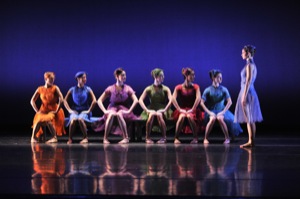 Choreography by Missy Beck
Music: "In a Lonely Place," "Only the Lonely" by Roy Orbison and Joe Melson, "In a Silent Way" by Joe Zawinul, "Goodbye" by Stephen F. Earle
I. My worst enemy is encoded in my body
II. Old punishments still smoulder like a tire dump
III. Of the patience called forth by transition
IV. Core memory
Dancers: Jillian Hopper, Sean Hoskins, Isabella Ingels, Alexandra Reehorst, Allegra Romita, Parisa Shahbaz, Julia Smith-Eppsteiner, Briana Stuart, Susie Thiel, Emily Wanserski
Choreographer's Note: Inspired by poems by American poet, University of Michigan graduate, and Hopwood Award-winner, Marge Piercy.
[/accordion][accordion title="Tango con la vida"]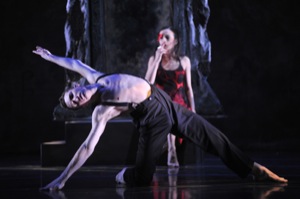 Choreography by Sandra Torijano
Asstants to the Choreographer: Francesca Nieves, Cara Zonca
Music: "Adios Nonino" and "Verano Porteno by Astor Piazzolla, "Chan Chan" by Compay Segundo. Arranged by Adrian Goizueta, on a live recording by the Latina Strings Ensemble
Dancers: Kelsey Connolly, Derek Crescenti, Rachele Donofrio, Allie Harris, Ellen Holme, Katie Muth, Francesca Nieves, Chrissy Papetti, Nola Smith, Michaela Wood, Cara Zonca
Choreographer's Note: The last piece that I created for Power Center in 2010, La Luna Nueva, was a mystical, spiritual, and transcendent choreography to embrace faith and hope, to blossom and to be alive after confronting a diagnosis of leukemia. After finishing two years of chemotherapy, now is the time to "dance with the life" – to revive the passion of living, the blessing to be present, the joy of the music, to move and dance. Tango con la vida is a celebration of life.
[/accordion][accordion title="The Summit"]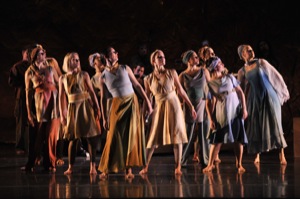 Choreography by Dianne McIntyre
Associate Rehearsal Director: Robin Wilson
Research Assistant: Samantha Parisi-Esteves
Music Direction by Woody Goss & Stephen Rush
The music for The Summit was inspired by "Spanish Guitar" by Ellas McDaniel (Bo Diddley), "You Don't Know What Love Is" by Gene de Paul, arranged by Eric Dolphy, and "Kush" by John Birks "Dizzy" Gillespie.
I. A gathering of nations
II. A sacred blending
III. An ancient divide
Dancers (Thursday-Saturday/Friday-Sunday):
She Born of Two Tribes
Briana Stuart/Allie Harris
Warrior/Hunter Nation
Leader: Logan McClendon
The Young Woman: Tehillah Frederick/Lisa Chippi
The Nation: Kelsey Connolly, Andrea Davis, Isabella Ingels/ Shanna Cruzat, Natalie Niergarth, Molly Ross
Cultivator/Gatherer Nation
Leader: Edith Freyer/Nola Smith
The Young Man: Alejandro Quintanilla
The Nation: Lynsey Colden, Tara Sheena, Kalila Kingsford Smith/Jennifer LaFreniere, Samantha Parisi-Esteves, Sadie Yarrington
Musicians/Kushites:
Julian Allen (drums), Anne Dearth (flute), Woody Goss (piano), Jordan Harris (vocalist), Ethan Manilow (guitar), Ben Rolston (bass), Stephen Rush (trombone/toys), Andy Warren (trumpet)
Choreographer's note: Inspiration for the dance comes from Dizzy Gillespie's composition "Kush" in which he recalls that ancient African civilization also known as Nubia.
[/accordion]
Sponsors
The School of Music, Theatre & Dance acknowledges the generosity of McKinley Associates, Inc. whose support has helped make this production possible.
Resources
[accordion title="From the Chair"]
A century ago, modern dance pioneer Isadora Duncan proclaimed, "I see America dancing … from the Pacific, over the Plains, over the Sierra Nevadas, over the Rocky Mountains to the Atlantic." As our 2011 concert title suggests, we envision many Americas dancing – to tango rhythms from Argentina; danzóns from Central America; jazz inspired by music of the southern United States and New York City; 1960s pop songs; and, in-keeping with Merce Cunningham's dance aesthetic, choreography co-existing in the same temporal and spatial moment as its accompaniment but independent from it. Dancing Americas celebrates a multiplicity of styles across time, continents and cultures. Our students have embodied them with gusto, embraced the concept of artistic collaboration enthusiastically, and thrived through the experience. Tonight's program is a testament to dance-music legacies being preserved through live performance and a prism through which to enjoy the rich array of talent and expertise within the School of Music, Theatre & Dance. Go dancers, musicians, and production team!
— Angela Kane, Chair, Department of Dance
[/accordion][accordion title="From the Artistic Director"]
The University Dance Company's 2011 concert, Dancing Americas, celebrates the diversity of talent, dance, music, culture, and creativity across the decades and throughout North, Central, and South America.
Our acclaimed guest artist Dianne McIntyre premieres The Summit, a new work created in collaboration with dancers from the Department of Dance, musicians from the Department of Jazz, and Professor Stephen Rush. In her tradition of creating dance set to live music and her philosophy that dance is music moving, Dianne's work honors the music of blues/rock and roll "originator" Bo Diddley, bebop master Dizzy Gillespie, and free jazz innovator Eric Dolphy, all major contributors to American and world music. Inspired by Gillespie's "Kush," McIntyre takes the music of all three artists and theatricalizes it with and through the skill and focus of the dancers and the dynamics of the costumes, sets and lighting. Associate Professor Robin Wilson, who worked with McIntyre in New York City during the late 1970s and early 1980s, is also a collaborator for this work.
Missy Beck creates Towards a sudden silence, based on poems by Marge Piercy – American poet, UM grad, and Hopwood Award-winner. Set in the late 1950s and early 1960s, the costumes and the movement connote both constraint and the struggle to break the societal restrictions of the era. Missy's choreographic vocabulary is resonant with emotional gestures and their role in the "core memory" of an individual and a community.
Sandra Torijano's passionate Tango con la vida, "Tango with the life," is set to the music of Latin American composers Astor Piazzolla and Compay Segundo performed by Latin American Grammy winners Ricardo Ramírez and Edín Solís. Choreographed after surviving two years of chemotherapy for leukemia, Sandra's emotional new work is truly a celebration of life.
The evening opens with a MinEvent by master American choreographer Merce Cunningham. A pioneer in the American avant-garde throughout his lengthy career, Cunningham is considered one of the most influential choreographers of our time. In the 1960s, Cunningham created the Event – evening-length performances consisting of fragments from dances in the company's repertory so intermingled such as to constitute a new work. Often site specific, no two Events are the same. Our shorter MinEvent (a mini Event) has been constructed and staged by Jean Freebury, a dancer in the Merce Cunningham Dance Company from 1992-2003 and now an official re-stager of Cunningham's works. It is a wonderful lead-in to the University Musical Society's presentation of the MCDC's Legacy Tour later this month.
We hope you enjoy this varied program indicative of the diversity of the Americas.
— Judy Rice, Artistic Director
[/accordion]
Media
Program