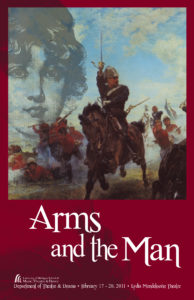 Arms and the Man
a comedy by George Bernard Shaw
Department of Theatre & Drama
February 17-20, 2011 • Lydia Mendelssohn Theatre

The Story:  At the end of the Serbo-Bulgarian War in 1885, an idealistic young Bulgarian woman, Raina, is delighted to be engaged to Sergius, a dashing but dense hero of the war. One evening she is startled to confront a soldier in her boudoir – Captain Bluntschli, a handsome Swiss mercenary fighting for Serbia – who begs for refuge. Attracted, Raina assists Bluntschli evade capture, although she views him doubly lacking in courage when he confesses that he would rather carry chocolates than bullets. Upon her fiancé's homecoming, Raina begins to find Sergius pompous and foolhardy, a distinct contrast to her sensitive 'chocolate cream soldier.' When the Captain suddenly returns and is surprisingly welcomed by Sergius, Bluntschli's presence turns Raina's ideals, household, and engagement upside down. Torn between the two men, Raina must decide who will capture her heart.
Background:  Considered the second greatest English-language playwright after Shakespeare, George Bernard Shaw was equally as prolific, writing 29 plays and countless books, essays, articles and reviews in his lifetime. After a string of stage failures, Shaw embarked on his "Plays Pleasant," for which Arms and the Man became his initial commercial success in 1894 and was the first of his works to debut in North America only five months after its London premiere. Often considered an "anti-romantic" comedy, the play deftly weaves Shaw's infamous wit with a satirical study on the illusions of both the glories of war and romantic love. Called "a firecracker of a play" by Shaw himself, Arms and the Man is social criticism wrapped in an entertaining confection.
Artistic Staff
Director: Philip Kerr
Assistant Director: Sarah-Jane Gwillim
Scenic Designer: Michael Bou-Maroun
Costume Designer: Jessica Hahn
Lighting Designer: Mary Clare Blake-Booth
Wig Designer: Dawn Rivard
Stage Manager: Kelsy Durkin
Cast
Raina Petkoff, a young Bulgarian woman: Arielle Goldman
Catherine Petkoff, Raina's mother: Margot McGrath
Louka, the Petkoffs' maid: Emily Berman
Captain Bluntschli, a Swiss mercenary in the Serbian army: Kris Reilly
Major Plechanoff, a Russian Officer: Matthew Socha
Nicola, the Petkoffs' butler: Josh Berkowitz
Major Paul Petkoff, Raina's father and a major in the Bulgarian army: Reed Campbell
Major Sergius Saranoff, a major in the Bulgarian army and Raina's fiancé: Paul Koch
Sponsors
The School of Music, Theatre & Dance acknowledges the generosity of McKinley Associates, Inc. whose support has helped make this production possible.
Resources
[accordion title="Dedicated to Jeffrey Kuras on his 25th anniversary as Director of University Productions"]
Jeffrey Kuras, Director of University Productions, came to this university twenty-five years ago to assume his current position. Since that time, the production arm of the School of Music, Theatre & Dance has grown, spaces have increased, personnel has enlarged, and new challenges have constantly arisen. His unflagging energy, skills, diplomacy, and good humor have charted a course of the highest standards for productions in a variety of disciplines and venues.
Jeffrey and his team are the engine which drives each production venture, and his patience and talents are the unsung heroes of every curtain call.
Bravo, Jeffrey! Congratulations on your Silver Anniversary, and on to the future. With wonder and thanks, this production of a sparkling comedy of wit, energy, and rational good sense is respectfully dedicated to your efforts and leadership.
— Philip Kerr, Director
[/accordion][accordion title="About the Play"]
Arms and the Man's Enduring Legacy
Arms and the Man debuted at the Avenue Theatre in London on April 21, 1894. Its title is taken from a line in Virgil's Aeneid, "Of arms and the man I sing," which was meant to glorify war, but George Bernard Shaw employed the phrase ironically as a critique of war. Although the play is set against the backdrop of the Serbo-Bulgarian War, it was not originally written with this war in mind, showing that the choice of war was not necessary to the theme. In Shaw's view, the play was a bleak criticism of daily life and the war machine, with the collision of knowledge and illusion resulting in pervasive humor. Audiences and actors, however, quickly picked up less somber tones and ran in the direction towards comedy.
The initial response to the play was divided. Arms marked Shaw's first commercial success – a Broadway production followed shortly after the English premiere along with numerous subsequent revivals on both continents – but some audiences were critical of Shaw's work. After the premiere performance, one particularly unhappy audience member expressed his dislike by booing, to which Shaw famously replied, "I assure the gentleman in the gallery that he and I are of exactly the same opinion, but what can we do against a whole house who are of the contrary opinion?"
Shaw revisited the play frequently. He was not satisfied with the original manuscript, which was written rather hastily after a commission issued by the feminist actress Florence Farr, for whom Shaw originally wrote Raina. (Farr would go on to play Louka in other productions.) Shaw revised the final line of the play three times over the course of approximately fifty years.
Arms and the Man continues to be widely produced and adapted. It is a particularly attractive play to well-established actors. In 1944, Laurence Olivier took on the role of Sergius. More recently, in 1985 John Malkovich directed a production with Kevin Kline as Bluntschli. Various film, TV, and musical adaptations have garnered impressive success. The operetta The Chocolate Soldier (1908) by Oscar Straus, which Shaw detested, ultimately outgrossed the original production of the play. Audiences' and artists' similar desire to revisit Arms and the Man speaks both to Shaw's acute social commentary and continued relevancy nearly 100 years after its first performance.
— Aislinn Frantz, Dramaturg
[/accordion]
Media
Program
Photos
[cycloneslider id="10-11-arms-and-the-man"]