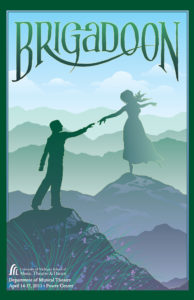 Brigadoon
Book and lyrics by Alan Jay Lerner
Music by Frederick Loewe
Department of Musical Theatre
April 14-17, 2011 • Power Center

The Story:  Having become lost in the mists of the Scottish highlands two young American travelers, Tommy and Jeff, chance upon a quaint village not on their map – Brigadoon. The two men quickly get swept up in the village's preparations for a wedding. While Tommy and the sister of the bride, Fiona, gather heather for the ceremony, their attraction grows. But as charming as Brigadoon appears, Tommy and Jeff notice anachronistic oddities about the town. The schoolmaster, Mr. Lundie, explains that Brigadoon has been blessed by God – in order to shield it from the evils of the outside world, the town awakens for only one day each century. No one may leave err the spell be broken and the town disappear forever. Strangers, if they be in love, may choose to stay. Torn between the modern world and the love growing in his heart for Fiona, Tommy must choose his path before Brigadoon disappears once again into the mists.
Artistic Significance:  Premiering in 1947, Brigadoon established the team of Alan Jay Lerner and Frederick Loewe as one of the most successful songwriting duos in the Golden Age of musical theatre. Filled with memorable songs such as "The Heather on the Hill," "Come to Me, Bend to Me," and "Almost Like Being in Love," Lerner and Loewe's whimsical musical fantasy weaves music, dance, and story into an enchanting tribute to romantic love. Winner of the 1947 New York Drama Critics Circle Award for Best Play (the first musical to win the honor), Brigadoon allows us to escape to a world where "when one loves deeply enough, anythin' is possible. Even miracles."
Artistic Staff
Director: Linda Goodrich
Music Director/Conductor: Catherine Walker Adams
Choreographer: Mark Esposito
Scenic Designer: Vincent Mountain
Costume Designer: Shawn McCulloch
Lighting Designer: Rob Murphy
Sound Designer: Jim Lillie
Hair & Make-up Designer: Erin Kennedy Lunsford
Dialect Coach: Annette Masson
Stage Manager: Becca Rothman
Cast
Tommy Albright: Joe Carroll
Jeff Douglas: Will Burton
Archie Beaton: Cody Davis
Harry Beaton: Sam Lips
Angus MacGuffie: Joel Sparks
Sandy Dean: Keith Allen
Andrew MacLaren: Collin Janich
Fiona MacLaren: Holland Mariah Grossman
Jean MacLaren: Laura Reed
Charlie Dalrymple: Dereck Seay
Kate: Nora Menken
MacGregor: Daniel Berryman
Maggie Anderson: Laura Irion
Meg Brockie: Grace Morgan
Mr. Lundie: Trevor St. John-Gilbert
Stuart Dalrymple: Tyler Brunsman
Jane Ashton: Samantha Massell
Frank: C.J. Eldred
Sword Dancers: Andy Jones, Conor McGiffin
Townspeople: Alex Akin, Jordan Barrow, R. J. Brown, Elisabeth Evans, Alejandro Fallick, Jordana Grolnick, Michael Hartung, Brene' Jackson, Andy Jones, A.J. Klopach, Taylor Louderman, Allison McDowell, Conor McGiffin, Desi Oakley, Ashley Park, Erika Peterson, Paige Silvester, Carlye Tamaren, Katherine Thomas, Karl Urban, Danny Wilfred, Chelsea Wilson
Sponsors
The School of Music, Theatre & Dance acknowledges the generosity of McKinley Associates, Inc. whose support has helped make this production possible.
Media
Program
Photos
[cycloneslider id="10-11-brigadoon"]