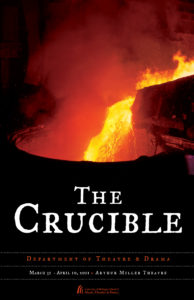 The Crucible
a drama by Arthur Miller
Department of Theatre & Drama
March 31-April 10, 2011 • Arthur Miller Theatre

The Story:  In the rigid Puritan society of Salem, Massachusetts, a group of teenage girls is stricken by a mysterious illness. When no earthly cause can be found, the girls rock the village with accusations of witchcraft against their neighbors. Hysteria quickly consumes the town bringing more and more charges – even singling out the most pious members of the church. As a few residents try to stem the loss of reason, some exploit the fear for their own gain, while others get caught up in the politics of maintaining religious and societal control. In the midst of the madness, the accused struggle to maintain integrity of their souls while determining if they must conform in order to survive.
The Background:  Initially written in response to the hearings of the House Committee on Un-American Activities in the 1950s, The Crucible touches on the Miller's unique artistic vision – theater about ethics, morals, religion, political issues, and the consequences of history. The work is Miller's most frequently performed work at home and around the world. Miller perhaps put it best, "The play seems to present the same primeval structure of human sacrifice to the furies of fanaticism and paranoia that goes on repeating itself forever." A compelling, scathing indictment on the perils of religious and political extremism, The Crucible has an enduring timeliness that exposes the dark corners of human nature in the name of moral certainty.
Artistic Staff
Director: Jerald Schwiebert
Scenic & Lighting Designer: Adam McCarthy
Associate Lighting Designer: Andrew Lott
Costume Designer: Marguerite Woodward
Sound Designer: Colin Fulton
Vocal Coach: Annette Masson
Assistant Director: Doron Bloomfield
Dramaturg: Matthew Bouse
Stage Manager: Carolyn Reich
Cast
Reverend Samuel Parris: Nick Strauss
Betty Parris*, his daughter: Brittany Uomoleale
Abigail Williams*, his niece: Arielle Goldman
Tituba†, of their home: Melissa Golliday
John Proctor‡, a farmer: Jeffery Owen Freelon, Jr.
Elizabeth Proctor†, his wife: Devin Lytle
Mary Warren*, of their home: Shannon Eagen
Giles Corey‡, a farmer: Josh Berkowitz
Voice of Martha Corey‡, his wife: Carrie Fisk
Francis Nurse, a farmer: Jesse Peri
Rebecca Nurse‡, his wife: Anna Robinson
Thomas Putnam, a landowner: Brian Rosenthal
Ann Putnam, his wife: Erin Cousins
Mercy Lewis*, of their home: Alli Brown
Sarah Good‡, a widow: Kendra Williams
Susanna Wallcott*: Elly Jarvis
Reverend John Hale, of Beverly: Casey Hanley
Deputy-Governor Danforth: Reed Campbell
Judge Hathorne: Kris Reilly
Ezekiel Cheever, a clerk: Philip Maxwell
Marshal Herrick: Nathan Magyar
* "afflicted", † accused, ‡ accused and executed
Sponsors
The School of Music, Theatre & Dance acknowledges the generosity of McKinley Associates, Inc. whose support has helped make this production possible.
Resources
[accordion title="About the Play"]
The Crucible exists in three times. First is the time of John Proctor: 1692, Puritan America, a world where spirits and witches exist, and where the devil waits to cast his shadow over the unprotected, fertile land. Second is the time of Arthur Miller: 1953, a world where rampant fear and politically minded accusations can destroy a man's life and livelihood. Third is our time: 2011, a world where last October a U.S. congressional candidate announces that she is not, in fact, a witch, amid a political and social backdrop that still runs rampant with panic and mudslinging. In all three eras, these character attacks are fueled by greed, vengeance, and petty grievances. Likewise, in each case being called a witch, a communist, or the popular epithets of today can have lasting, dramatic consequences.
The heart of this play is not its colonial setting but the timeless essences of humanity that run through Miller's scenes. In fact, Miller deviates from the historical record at several points. Abigail Williams, for example, would have been only eleven years old when the witchcraft delusions struck Salem; there is no indication of an affair with the much older, historical John Proctor. Miller's aberrations are intentional. He thoroughly researched the real events of Salem Village, and the aberrations serve to highlight the profound sense of guilt he saw pervading the community. Many accusers call out "witch" to distract from their own misdeeds, and many accused knew themselves innocent of witchcraft but guilty of some other sin. Through John and Abigail, Miller also draws attention to the vengeance and vindictiveness that prompted many accusers. Many alleged witches were the targets of spite, greed, and revenge. Old rivalries and heartbreaks quickly returned with the strength to put a woman to death. When viewing the play from these human angles, the historical setting of Salem becomes less important. This was the case in Arthur Miller's own arrangement when he redirected the original Broadway production six months into the run. Miller put the actors in simple black costumes in front of bare stage drapes. The playwright's intention here was to privilege the material's white-hot humanity over the icy chill of history.
It is easy to be drawn into The Crucible's presentation of Massachusetts' history, and many stagings approach the play as an Early American caricature: astutely dressed pilgrims falling into hysterics in log cabins. In the playwright's own words The Crucible is "more theatrical" than his earlier Death of a Salesman. It is through this theatrical quality that Miller may emphasize the essences of human circumstance without sinking in historical minutia. The highly polarized sense of morality depicted in Puritan Salem remains a timeless human problem and lingers in any human society. The Crucible presents Puritan Salem as the essence of this problem, theatrically. The characters on stage, however, as they struggle and play out this conflict, are truthful, and very much alive.
— Matthew Bouse, Dramaturg, and Doron Bloomfield, Assistant Director
[/accordion]
Media
Program
Photos
[cycloneslider id="10-11-the-crucible"]