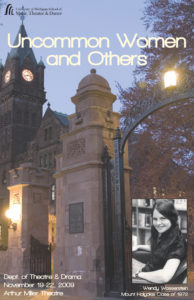 Uncommon Women and Others
By Wendy Wasserstein
Department of Theatre & Drama
November 19-22, 2009 • Arthur Miller Theatre

The Story: In a New York restaurant around 1977, five college friends from Mount Holyoke College reunite to catch up. As they bring each other up to date, they revisit, in flashbacks, episodes from their senior year at college. Caught between traditionalist notions of womanhood and the novel feminist idea of unlimited opportunity, graduation forced each woman to make a choice that would determine their role in the world. Now six years later, with humorous banter and sober apprehension, the friends wonder if they have met their youthful expectations to be "uncommon" and where their lives as friends and individuals will take them.
Artistic Significance: Written in 1977 as her graduate thesis for The Yale School of Drama, Uncommon Women and Others would launch Wendy Wasserstein as one of the most influential, sharply comedic, and successful woman playwrights of our time. Before her untimely death in 2006, Wasserstein continued to write wryly-observant plays about the lives of contemporary women in The Heidi Chronicles (1989 Tony Award, Pulitzer Prize for Drama), The Sisters Rosenzweig, and An American Daughter. Uncommon Women, which made its debut at the Pheonix Theatre Off Broadway and was later filmed for PBS, featured actresses who would become stars of their generation – Glenn Close, Swoozie Kurtz, Jill Eikenberry, and Meryl Streep. Full of wit, optimism, frank sexual expression (considered shocking for the time), and insight, Uncommon Women and Others tackles the excitement and anxiety of having overwhelming choices.
Artistic Staff
Director: John Neville-Andrews
Scenic Designer: Janine Woods Thoma
Costume Designer: Jessica Hahn
Lighting and Video Designer: Adam McCarthy
Sound Designers: John Bell, Charlotte Campbell
Vocal Coach: Annette Masson
Assistant Director: Louis King
Stage Manager: Michelle Elias
Cast
Narrator: Ray Rabidoux
Kate Quin: Emily Berman
Samantha Stewart: Quinn Scillian
Holly Kaplan: Laura Lapidus
Muffet Di Nicola: Bridget Coyne Gabbe
Rita Altabel: Elly Jarvis
Mrs. Plumm: Janet Maylie
Susie Friend: Bonnie Gruesen
Carter: Stephanie Williams
Leilah: Devin Lytle
Sponsors
The School of Music, Theatre & Dance acknowledges the generosity of McKinley Associates, Inc. whose support has helped make this production possible.
Resources
[accordion title="The Female Voice of a Generation"]
Wendy Wasserstein (1950-2006) was among the handful of Baby Boomers to have written plays that won wide attention for drawing on the feminism that sprang up in the 1970s and 1980s. Her plays, along with those of her fellow Pulitzer winners Beth Henley, Marsha Norman, and Paula Vogel, explore serious concerns in ways that are often enlivened by humor – though in her vision, and in theirs, and in the UM's School of Art & Design's Holly Hughes's, prospects for the future sometimes turn darker.
Born into a well-heeled Jewish-American family in New York City, Wasserstein earned degrees from Mt. Holyoke College, the City University of New York, and the Yale School of Drama. Her thesis play at CUNY, Any Woman Can't, was produced not long before she began the studies that generated her MFA thesis play at Yale. This piece, Uncommon Women and Others, marked her first success off-Broadway before it was filmed for PBS. The cast of the 1977 stage production included Swoosie Kurtz and Glenn Close playing two among the group of Mt. Holyoke students who carry on their friendships after graduating, and the video version substituted Meryl Streep for Close when the latter actress ran into a conflict. More of Wasserstein's plays would feature rich roles that attracted other noted actresses to playing characters who grapple with the range of choices women face in a feminist and post-feminist world.
The most conspicuous part of Wasserstein's career came in 1989 when The Heidi Chronicles,
with its mini-history of second-wave feminism, earned her the Pulitzer and the Tony Award for Best Play and was later filmed with Jamie Lee Curtis in the leading role. The play was also prophetic for ending with its art-historian heroine's becoming a single mother. The playwright left an account of her own tortuous pregnancy, achieved when she was 48, in a moving essay written for the New Yorker and anthologized in Wasserstein's second book of collected essays, Shiksa Goddess (2001). Her mock self-help book, Sloth (2005) was commissioned as part of a series on the seven deadly sins, and it laid out a regimen for laziness that could hardly have stood at greater odds with the playwright's busy life.
Among her other plays are Isn't It Romantic (1983), her first commercial success and, in her view, her most autobiographical play, The Sisters Rosensweig (1992), an homage to Anton Chekhov that offered Wasserstein's take on life as herself the youngest of three sisters, An American Daughter (1997), about the controversial nomination of a successful physician to a key position in an administration much like Bill Clinton's, and Old Money (2000), a time-traveling treatment of the effects of fortune-hunting on a self-satisfied American aristocracy. In a remark that belied the effervescence in all of her plays, Wasserstein wrote in her introduction to Old Money that she always hoped that her plays would "reflect how a group of people live at a certain time."
This evocative power is evident in Uncommon Women and Others. For men like me who were young at the time our female friends, girlfriends, and future wives were making their pathbreaking ways through the world, the play raises issues we all too often were barely aware of. The same manly self-absorption was in force during my own contact with Wendy, when I played a character she told me was based on her brother for the premiere of Any Woman Can't at New York's Playwrights Horizons in 1973. This "Markie" was unfailingly cheerful, spectacularly unquestioning, and as I see it more clearly now, blithe in his absolute sense of entitlement.
I remember Wendy, full of anticipation and glee, tap-dancing her way into our rehearsals. Her early death robbed the American stage of one of its leading lights and most joyous craftspersons. Her daughter, produced by a perilous pregnancy that led to the motherhood she had looked forward to for so long, must have mattered to the playwright as much as her highwire career did.
— Leigh Woods, Professor of Theatre & Drama, School of Music, Theatre & Dance
Reprinted from Backstage at the UM School of Music, Theatre & Dance, Fall 2009
[/accordion]
Media
Program
Photos
[cycloneslider id="09-10-uncommon-women"]