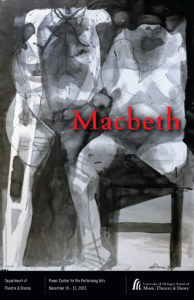 Macbeth
By William Shakespeare
Department of Theatre & Drama
December 10-13, 2009 • Power Center

The Story: How far would an ambitious person go to manipulate their future? Told a prophecy that he will someday rule, Scottish general Macbeth briefly contemplates regicide, but his errant thoughts cannot overcome his nobility until he is emboldened by his equally ambitious and manipulative wife. The aftermath of their scheming takes them onto a ruthless, spiraling path as one atrocity leads to another in order to preserve their rule. As corrosive guilt and fear invades their minds, the pair is driven further into a nightmare of their own making. Loosely based on historical events, Macbeth powerfully explores one couple's descent into evil in pursuit of absolute power.
Artistic Significance: The shortest and bloodiest of the Shakespearean tragedies, "the Scottish play" has fascinated audiences since it was written in 1606. Noted biographer Park Honan declared Macbeth "the quintessence of Shakespeare's career." Philip Kerr, who directed the department's presentations of Romeo & Juliet, Hamlet and The Tempest, sets the production in a military hospital during the early 20th century. Filled with damaged minds and bodies, Macbeth is a chilling look at the corruption of the soul.
Artistic Staff
Director: Philip Kerr
Assistant Director: Sarah-Jane Gwillim
Scenic Designer: Vincent Mountain
Costume Designer: Rachel Jahn
Lighting Designer: Rob Murphy
Sound Designers: Henry Reynolds, Matt Glenn, Lena Thompson
Stage Manager: Becca Rothman
Cast
Duncan, King of Scotland: Paul Koch
Malcolm, Duncan's son and heir to the throne: Jesse Peri
Donalbain, Duncan's second son: Casey Hanley
Macbeth, Thane of Glamis and commander in the Scottish army: Tom Wolfson
Lady Macbeth, his wife and a nurse: Anna Robinson
Banquo, A nobleman and commander in the Scottish army: Joey Richter
Fleance, Banquo's son: Sango Tajima
Macduff, Thane of Fife and a surgeon: Mckean Rand
Lady Macduff, his wife: Erin Cousins
Little Macduff, his son: Isaac Scobey-Thal
Angus, A Thane of Scotland and a military chaplin: Max Kaufman
Caithness, A Thane of Scotland: Kris Reilly
Lennox, A Thane of Scotland: Dan Rubens
Menteith, A Thane of Scotland: Matt Socha
Ross, A Thane of Scotland and a doctor: Reed Campbell
Seyton, an orderly: Josh Berkowitz
Porter, an orderly: Seon Britton
James, a soldier: David Kaplinsky
Nuns: Myles Mershman, Tedra Millan, Charlotte Raines
Macleod, a soldier: Andrew Whipple
Sergeant: Max Artsis
Doctor: John Samela
1st Murderer, an orderly: Nicholas Joseph Strauss-Matathia
2nd Murderer, an orderly: Gordon Granger
Tommey, a soldier: David Moosman
Ian, a Thane of Scotland: David Cone
Gentlewoman, a caretaker: Tiffany Williams
Bagpiper: Herm Steinman
Understudy
Women's Roles: Margot McGrath
Sponsors
The School of Music, Theatre & Dance acknowledges the generosity of McKinley Associates, Inc. whose support has helped make this production possible.
Media
Program
Photos
[cycloneslider id="09-10-macbeth"]