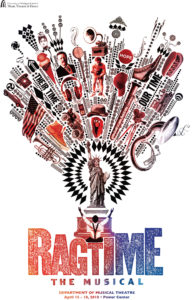 Ragtime
Music by Stephen Flaherty
Lyrics by Lynne Ahrens
Book by Terrence McNally
Based on the novel by E. L. Doctorow
Department of Musical Theatre
April 15-18, 2010 • Power Center

The Story: It is 1906 in America, the land of opportunity. Three diverse groups in New York City – a protestant, white, middle-class family, a Jewish immigrant and his daughter, and an African American musician and his girlfriend – are experiencing dizzying changes in American society. Industrial expansion with the burgeoning labor movement, waves of immigration, newfound freedom for blacks, and woman's rights are affecting them in dramatic ways. As their lives unexpectedly intertwine with each other and with historical personalities of the era such as J.P. Morgan, Harry Houdini, Evelyn Nesbit, and Booker T. Washington, some embrace the changes with new hope while others bear the bitter realization that promised opportunities may still be out of their reach.
Artistic Significance: Written by the musical team of Stephen Flaherty and Lynn Ahrens (Seussical) with a book by Terrence McNally (Kiss of the Spider Woman), Ragtime is based on the 1975 award-winning novel by E. L. Doctorow. The diverse score incorporates Jewish folk songs, vaudeville, jazz, and, of course, ragtime, featuring such songs as "Wheels of a Dream," "Your Daddy's Son," "Make Them Hear You," and the rousing opening title number. The show garnered 13 Tony nominations in 1998, winning for Best Score, Book, and Orchestrations (losing the top honor to The Lion King). The New Yorker declared the show "a powerful musical experience." Filled with heartbreak and hope, Ragtime is a dazzling panorama depicting the strength of America.
Artistic Staff
Director: Mark Madama
Music Director: Cynthia Kortman Westphal
Choreographer: Lyndy Franklin Smith
Scenic & Lighting Designer: David Neville
Costume Designer: Jessica Hahn
Sound Designer: Jim Lillie
Wig and Make-up Designer: Dawn Rivard
Stage Manager: Mitchell B. Hodges
Cast
The Little Boy: Milo Tucker-Meyer
Father: Tyler Brunsman
Mother: Amanda Choate
Younger Brother: Joe Carroll
Grandfather: Danny Romeo
Coalhouse Walker, Jr.: Kent Overshown
Sarah: Britney Coleman
Booker T. Washington: Dan Belnavis
Tateh: A. J. Holmes
The Little Girl: Hava Kaplan
Harry Houdini: Kevin Munhall
J.P. Morgan: Daniel Berryman
Henry Ford: Will Burton
Emma Goldman: Marken Greenwood
Evelyn Nesbit: Alle-Faye Monka
Sarah's Friend: Brene' Jackson
Willie Conklin: Gavriel Savit
Young Coalhouse: Matéo Hunter
Ensemble: Alex Akin, Adrian Baidoo, Jordan Barrow, Daniel Berryman, Amy Blackman, R. J. Brown, Will Burton, Michael De Souza, Melissa Golliday, Holly Grossman, Olivia Hernandez, Andrés Holder, Laura Irion, Brene' Jackson, Collin Janich, Andy Jones, Sam Lips, Katie Madison, Samantha Massell, Allison McDowell, Nora Menken, Desi Oakley, Gavriel Savit, Dereck Seay, Trevor St. John-Gilbert, Katherine Thomas, James Tolbert, Travis Ward-Osborne
Sponsors
The School of Music, Theatre & Dance acknowledges the generosity of McKinley Associates, Inc. whose support has helped make this production possible.
Media
Program
Photos
[cycloneslider id="09-10-ragtime"]