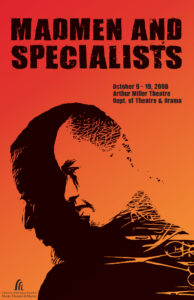 Madmen and Specialists
By Wole Soyinka
Department of Theatre & Drama
October 9-19, 2008 • Arthur Miller Theatre

The Story: Written in 1971, Madmen and Specialists is a tragic satire of humankind immersed in war, although war is barely mentioned. Doctor Bero is a medical specialist whose talents have been perverted by his activities and power lust during the war. Sickened by the depth of his son's corruption, his physician father goes to harrowing lengths to get his son to face the reality of what he has become. In turn Bero imprisons the old man and posts Mendicants, physically injured and psychologically damaged by the war and whom his father once treated, as his guards. As Bero attempts to extract the secret of the old man's continued influence on the Mendicants, the two men confront each other on an amoral terrain where everything is permissible.
Artistic Significance:  Winner of the 1986 Nobel Prize for Literature, Wole Soyinka is considered Africa's greatest living playwright whose work includes Death and the King's Horseman, The Trials of Brother Jero and The Lion and the Jewel. Madmen and Specialists stems from his 22-month detention during the Biafra civil war in Nigeria, much of which was spent in solitary confinement. The work combines Yoruba rituals of song and chant with sharp parody, creating deft plays-on-words that distorts their meaning while accentuating the potency of language. The New York Times described Soyinka's drama as having "an almost Shakespearean soar…marvelous to listen to…[The play] forces, and deserves, attention." A strong criticism of abuse of any type of power, Madmen chillingly explores the sequels of the spiritual, psychic, physical and symbolic devastation of humanity during war times.
Artistic Staff
Director: Mbala Nkanga
Scenic Design: Justin N. Lang
Costume Design: Jessica Hahn
Lighting Design: Mary Cole
Composer/Musician: Kofi Ameyaw
Musician: Ai Yumiba
Vocal Coach: Annette Masson
Stage Manager: Andrés Holder
Cast
Aafaa: Corey Dorris
Cripple: Joseph Moses
Goyi: Seth Moore
Blindman: Joseph Walker
Si Bero: Kelli Rasmus
Iya Mate: Meredith Stepien
Iya Agba: Laura Lapidus
Dr. Bero: Dylan Saunders
Priest: Jonathan Christopher
The Old Man: Mckean Scheu
Sponsors
The School of Music, Theatre & Dance acknowledges the generosity of McKinley Associates, Inc. whose support has helped make this production possible.
Resources
[accordion title="Director's Notes"]
Somebody asked me recently why I chose to direct Wole Soyinka's Madmen and Specialists. I quickly responded by "why not?" Wole Soyinka deserves to be produced at the University of Michigan because of the classicism of his craft. Yes! Classicism. And humanism too. Very often African plays are perceived like works presenting the exotic face of African life. So, my friend had thought that this play was no different from that perception. He was convinced, without having read the script, that it portrayed the wild side of African "mad-people" with ritualistic healing ceremonies full of songs and dances, and other wild behaviors. "That's what African theatre is all about," he added forgetting the likes of Athol Fuggard, Bernard Dadié, Sony Labou Tansi, Ama Ata Aidoo, and many more whose works expose the contemporaneity of social and political crises in Africa.
Wole Soyinka is a classic. His efforts to theorize and aestheticize, rather humanize, the notions of Yoruba divinities and their confrontation with the living world can be compared to Euripides'. He matches the weaknesses of humans with the traditionally known foibles of the gods. He clearly places any misfortune on the individual's lack of responsibility and bad choices, and not a result of mistreatment of humans in the hands of the gods. Like this Greek tragedian, Soyinka sees the individual as responsible for all the calamities provoked by selfishness and stupidity. Dictatorial regimes in Africa are similar to any other dictatorial in the world. Wars in Africa have the same devastating consequences on humanity as anywhere in the world.
The challenge in directing a play by any African playwright in a Euro-American environment consists in making the right choices between exoticism and classicism, between local and universal. I chose to direct Madmen and Specialists because of its classicism and universality. A challenge this group of actors embraced with joy and enthusiasm.
— Mbala Nkanga
[/accordion]
Media
Program
Photos
[cycloneslider id="08-09-madmen-and-specialists"]