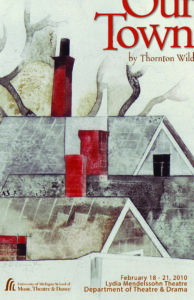 Our Town
By Thornton Wilder
Department of Theatre & Drama
February 18-21, 2010 • Lydia Mendelssohn Theatre

The Story: Set in mythical Grover's Corner, New Hampshire, Our Town chronicles the mundane events of daily life, from first love to marriage and on to death, by tracing the lives of next-door neighbors Emily Webb and George Gibb. Presiding over the action is the Stage Manager, who provides commentary and background on the lives and futures of the townsfolk. Through plain-spoken poetry and moving eloquence, the people of Our Town show that life is both precious and ordinary.
Artistic Significance: An American classic for over seventy years, Our Town was considered radically innovative upon its debut on Broadway in 1938. The absence of scenery, direct speaking to the audience, and kaleidoscopic treatment of time was a sharp break from the realistic drawing-room dramas of the period. Wilder's insistence on this theatrical form accentuates the play's complex and universal message to live each day to its fullest. Reviewing the premiere, Brooks Atkinson of the New York Times wrote: "One of the finest achievements of the current stage. Mr. Wilder has transmuted the simple events of a human life into universal reverie. Our Town has escaped from the formal barrier of the modern theatre into the quintessence of acting, thought, and speculation. A hauntingly beautiful play." Winner of the 1938 Pulitzer Prize, Our Town continues to resonate as each generation finds new meaning in its "attempt to find a value above all price for the smallest events in our daily life."
Artistic Staff
Director: Jerald Schwiebert
Scenic Designer: Gary Decker
Costume Designer: Christianne Myers
Lighting Designer: Andrés Holder
Choir Master: Ken Sieloff
Assistant Director: Roman Micevic
Stage Manager: Michelle Bryan
Cast
Stage Manager: Joey Richter
Doctor Gibbs: Paul Koch
Joe/Si Crowell: Nick Skardarasy
Howie Newsome: Josh Berkowitz
Mrs. Gibbs: Laura Lapidus
Mrs. Webb: Bridget Gabbe
George Gibbs: Casey Hanley
Rebecca Gibbs: Shannon Eagen
Wally Webb: Derek Joseph Tran
Emily Webb: Carrie Fisk
Professor Willard: Max Artsis
Mr. Webb: John Samela
Simon Stimson: Myles Mershman
Mrs. Soames: Tedra Millan
Constable Warren: Seon Britton
Assistant Stage Managers: Jeffery Freelon, David Kaplinsky, Brian Rosenthal, Matt Socha
Sam Craig: Jordan Rochelson
Joe Stoddard: Jesse Peri
People of the Town: Emma Donson, April Moreau, Allison Stock, Brittany Uomoleale
Sponsors
The School of Music, Theatre & Dance acknowledges the generosity of McKinley Associates, Inc. whose support has helped make this production possible.
Resources
[accordion title="From the Director"]
In the fall of 2009 my youngest, my daughter, left my home to go to college and in so doing closed a chapter in my and my wife's life. In my office there is a picture of my directing mentor Alan Schneider and Thornton Wilder aboard an ocean liner bound for Europe.
Alan is gone and now in a different way also is my daughter. It was in this context that I began my preparation to direct Our Town.
Wilder found solace in these cycles of life, from the basement of time, to the Greeks, to now and to the eternal. For Wilder, there is something human that endures, and it is found in the little passages of existence. As Mrs. Gibbs says to Emily, "take the least important day of your life, that will be important enough."
The Stage Manager tells us that the play is being produced by the University of Michigan and all the actors are students in the BFA Theatre program. The characters that the students portray are not just the characters of the play but symbols of the roles we all play.
In casting the play, I decided to cast all the roles young and old with our students. If I was going to ask some of our students to play older, it seemed only fair also to ask others to play the younger roles (it is customary to use children in these roles).
You will not see young people made-up to look like old people in this production. You will see our actors playing the roles they've been assigned, letting their actions and the words they speak create their characters with simple truth.
Welcome to Grover's Corners, Sutton County, New Hampshire, the United States of America, Continent of North America, Western Hemisphere, the Earth, the Solar System, the Universe, the Mind of God.
— Jerald Schwiebert
[/accordion]
Media
Program
Photos
[cycloneslider id="09-10-our-town"]