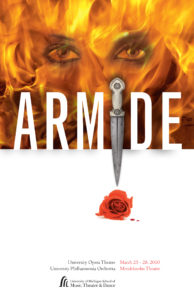 Armide
Music by Christoph Willibald Gluck
Heroic drama in five acts by Philippe Quinault
University Opera Theatre • University Philharmonia Orchestra
March 25-28, 2010 • Lydia Mendelssohn Theatre

The Story: Set during the Crusades, a beautiful pagan enchantress named Armide is determined to ensnare the enemy leader, Renaud, who is the only knight who has been able to resist her charms. She finally succeeds in ensnaring Renaud only to fall in love while trying to kill him. Whisking him away, Armide casts a spell to make him love her while she grapples to understand her torn emotions. Sorcery, passion, and hatred ensue as Armide struggles to hang on to her beloved amid the war.
Artistic Significance: Composed in 1777, Armide is based on an episode in Torquato Tasso's epic poem Jerusalem Delivered. Gluck caused a minor scandal when he lifted the libretto straight from Lully's celebrated opera of the same name, which was universally considered the perfect expression of French operatic tradition at the time. Armide's score is filled with sensuous, lyrical music of great eloquence. Don't miss this rarely performed gem.
Artistic Staff
Director: Joshua Major
Conductor: Douglas Kinney Frost
Assistant Conductor: Yaniv Dinur
Scenic Designer: Vincent Mountain
Costume Designer: Rachel Jahn
Lighting Designer: Rob Murphy
Wig Designer: Erin Kennedy Lunsford
Diction Coach: Timothy Cheek
Chorus Master: Reed Criddle
Répétiteurs: Chi-hui Lai, Chris Turbessi
Choreographer: Amy Cova
Stage Manager: Brett Finley
Cast (Thursday-Saturday/Friday-Sunday)
Phénice, Armide's friend: Mary Martin
Sidonie, Armide's friend: Nicole Greenidge/Amy Petrongelli
Armide, a pagan sorceress: Anne Jennifer Nash/Kristin Eder
Hidraot, King of Damascus, Armide's Uncle: Joseph Roberts/Brandon Grimes
Aronte, a Damascene soldier: Nicholas Ward/Brian Rosenblum
Artémidore, a Christian knight: José García/Michael Martin
Renaud, a Christian knight: Kyle Matthew Knapp/Willis Berne D. Bote
La Naïade/Un Plaisir, a naiad/a pleasure: Jennifer McKenzie/Sarah Nicole Batts
Coryphée/Lucinde, a luminary/a demon: Alexandria Clark/Elise Turner
Coryphée/Mélisse, a luminary/a demon: Kate Wakefield/Audrey Kline
Une Bergère, a shepherd: Catherine Nix/Claire DiVizio
La Haine, Hatred: Monica Sciaky/Monique Holmes
Ubalde, a Christian soldier: Jesse Enderle/Jonathan Christopher
Le Chevalier Danois, a Christian soldier: Kyle Tomlin/Kyle Stegall
Ensemble: Camila Ballario, Tyler Clouse, Sarah Fox, Brad Goad, Kathryn Graham, Robert Harris, Ariel Halt, Austin Hoeltzel, Jayme Kelmigian, Heidi Madagame, Alan Nagel, Matt Peckham, Ronald Perkins, Jr., Kate Spear, Katy Vaitkevicius-Wyner, Ryan Winslow
Sponsors
The School of Music, Theatre & Dance acknowledges the generosity of McKinley Associates, Inc. whose support has helped make this production possible.
Media Sponsorship by WRCJ.
Resources
[accordion title="Synopsis"]
Act I
Armide, a warrior princess and sorceress, is praised by her confidantes Phénice and Sidonie for her victory over the Crusaders whom she has taken captive. However, Armide expresses her anger and frustration because she has not been able to prevail over Renaud, the most valiant of the Christian knights. Armide's uncle, Hidraot, urges his niece to choose a husband, but she declares that were she to yield to love she would only consider someone who could conquer Renaud. Amidst the celebration of Armide's victory, Aronte, who was guarding the prisoners, enters and announces the prisoners' rescue by Renaud. Armide and Hidroat swear that such an enemy will not escape their vengeance.
Act II
Artémidore, one of the knights rescued by Renaud, praises his rescuer and asks him to flee the place where Armide rules. Renaud assures Artémidore that his heart is safe from Armide's enchantment. Hidraot and Armide conjure up demons to capture Renaud and put him to sleep. The hero admires his surroundings and sits down to rest. The demons, in the shape of nymphs and shepherds, weave their spells over Renaud. Armide enters, intending to kill Renaud as he sleeps. Instead, she is overcome by love for him, and decides that her triumph, thanks to her spells, would be to bring Renaud into her power and have him love her. She asks the demons to transform themselves into zephyrs to carry her and Renaud far away.
Act III
Armide deplores the conquest of her heart by Renaud. Phénice and Sidonie urge Armide to abandon herself to love, but Armide is troubled because, while she is in love with him, he is bound to her only by her spells. Armide invokes the spirit of Hate to rescue her from her love for Renaud. Hate and her followers perform a powerful invocation, but Armide cannot give up Renaud, and she sends Hate away. Hate curses Armide, condemning her to the punishment of endless love.
Act IV
Two of Renaud's companions, Ubalde and the Danish Knight, are searching for their hero to rescue him from Armide. They manage to resist the temptations and dangerous delights set in their path by Armide.
Act V
Armide and Renaud declare their passion but Armide is haunted by a dark foreboding, and wishes to consult the Underworld. She retires and leaves the Pleasures to amuse Renaud. In her absence, Ubalde and the Danish Knight discover Renaud and break Armide's spell. She returns in time to confront Renaud as he leaves, imploring him to take her with him as a captive if he will not remain as her lover. For Renaud, Duty and Glory demand that he leave her, but he pities her fate. Armide, left alone, laments her love and the horror of her torment, and declares that the hope of vengeance is all that remains to her.
— Courtesy Opera Lafayette
[/accordion][accordion title="From the Director"]
I love this opera and its central character's fierce struggle to protect herself from Love's miseries. The opera is simply one long conversation about the nature of love and its ability to undermine valor. Armide tries everything to rid herself of her feelings for Renaud. She tries to kill him, she tries to hate him, she casts a spell over him, but despite her best efforts, her love for Renaud cannot be extinguished. At the end of Act III, in despair, she finally gives herself over to love and this proves to be her ultimate downfall. The journey of a self-confident, controlling, victorious leader to a shamed victim of love is at the root of this stunning masterpiece.
— Joshua Major
[/accordion]
Media
Program
Photos
[cycloneslider id="09-10-armide"]