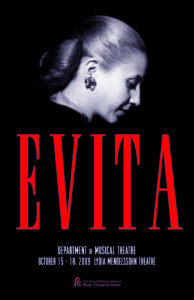 Evita
Music by Andrew Lloyd Webber
Lyrics by Tim Rice
Department of Musical Theatre
October 15-18, 2009 • Lydia Mendelssohn Theatre

The Story: Illegitimate and impoverished, fifteen-year old Eva Duarte escaped rural Argentina to seek fame as an actress in Buenos Aires. Combining unfettered ambition and shrewd manipulation with astonishing charisma, Eva worked her way up the social ladder through theatre, movies, radio, and men, ultimately meeting Colonel Juan Perón – a rising star in the military and political scene. Together they form a union that carries Perón to the presidency. Eva's power as First Lady would endear her to the masses, horrify established society, and effect hatred in the military. Only death could halt her meteoric rise, which brought an outpouring of public grief unseen until the death of Princess Diana. Filled with beautiful and terrible works, Eva Perón's life and death would acquire mythical status.
Artistic Significance: Fresh on the heels of their smash success Jesus Christ Superstar, Tim Rice and Andrew Lloyd Webber teamed up for what would be their final collaboration. Rice was fascinated by the (then) little known story of Eva Perón, whom Time Magazine in 1952 called "The 20th Century's most powerful woman." Fusing Latin, pop, and jazz influences with operatic chorales, Webber's music along with Rice's lyrics underscore the complexity and controversy that still surrounds Evita's legacy. From its London debut in 1978, to the movie version in 1996, and recent London revival in 2006, Evita has earned over 20 major awards including seven Tonys, three Golden Gloves, and an Oscar. A dazzling theatrical portrait, Evita is as mesmerizing and contradictory as the woman herself.
Artistic Staff
Director: Linda Goodrich
Choreographer: Mark Esposito
Music Director: Catherine Walker Adams
Scenic Designer: Tony Cisek
Costume Coordinator: Kasia Mrozewska
Lighting Designer: Rob Murphy
Sound Designer: Jim Lillie
Wig Designer: Dawn Rivard
Stage Manager: Andrés Holder
Cast
Eva Duarte: Desi Oakley
Che: Carlos Valdes
Juan Perón: Leonard Navarro
Agustin Magaldi: Daniel Berryman
Perón's Mistress: Laura Irion
Tango Dancers: Sam Lips, Mary Michael Patterson
Ensemble: Dan Belnavis, Daniel Berryman, R. J. Brown, Joe Carroll, Cody Davis, Alex Finke, Kevin Hegmann, Laura Irion, Sam Lips, Kevin Munhall, Stephanie Maloney, Samantha Massell, Allison McDowell, Nora Menken, Mary Michael Patterson, Laura Reed, Gavriel Savit, Joel Sparks, Ted Stevenson, Carlye Tamaren, James Tolbert
Children: Holland Bisson, Hudsen Bisson, Sabra Satz-Kojis
Sponsors
The School of Music, Theatre & Dance acknowledges the generosity of McKinley Associates, Inc. whose support has helped make this production possible.
Media
Program
Photos
[cycloneslider id="09-10-evita"]