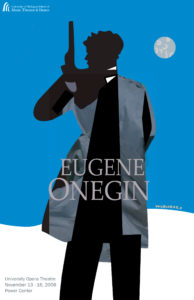 Eugene Onegin
Music by Pyotr Ilyich Tchaikovsky
Text by Konstantin Shilovsky and Pyotr Ilyich Tchaikovsky based on Aleksandr Sergeyevich Pushkin's novel in verse
University Opera Theatre • University Symphony Orchestra
November 13-16, 2008 • Power Center

The Story: In the Russian countryside, a shy, young woman is struck with love at first sight for a handsome, melancholic aristocrat from the city whose only enjoyment comes from toying with other people's emotions. When Tatyana ardently declares her love, Onegin cruelly dismisses it. Later at a ball, a bored Onegin flirts with her sister — to fatal consequences. Years later, when Onegin encounters a now radiant and sophisticated Tatyana, he realizes his missed opportunity. He tries to win her back and while she admits that she still loves him, she now has the power to weigh his own declaration of love. Will he win her back, or will she dismiss his attestation of love?
Artistic Significance: Professionally premiered at the Bolshoi Opera in 1881, Tchaikovsky's operatic version of Aleksandr Pushkin's beloved Russian novel would become his most famous opera. In setting the intimate and passionate story, Tchaikovsky created music of astonishing lyricism and psychological insight, which elegantly retained the narrative elements of Pushkin's verse. From the vibrant folksongs of the countryside and the elegant polonaise of a St. Petersburg ball to Tatyana's famous letter scene and the equally renowned Lenski's aria, the lush score is full of soaring melodies. A classic of the opera repertoire, Tchaikovsky's poignant opera of love, despair, and remorse is one of the best examples of the Romantic movement.
Artistic Staff
Director: Joshua Major
Conductor: Martin Katz
Assistant Conductor: Oriol Sans
Scenic Design: Gary Decker
Costume Design: Rachel Laritz
Lighting Design: Nancy Schertler
Wig Designer: Erin Kennedy Lunsford
Russian Diction Coach: Natalia Challis, Timothy Cheek
Chorus Master: Jason Harris
Choreographer: Linda Goodrich
Repetiteurs: Joel Ayau, Stephanie Rhodes
Stage Manager: Cassandra Flowers
Cast (Thursday-Saturday/Friday-Sunday)
Tatyana, daughter of Madam Larina: Rhea Olivaccé/Janai Brugger
Olga, her sister: Cynthian Brundage/Monique Holmes
Madame Larina, a widowed landowner: Melody Wilson/Kristin Eder
Filipievna, the family's old nurse: Amanda Cantu/Priscilla Jane Smith
Vladmir Lensky, a poet: Bernard D. Holcomb/Juan Héctor Pereira
Eugene Onegin, a friend of Lensky: Wes Mason/George Cornelius
Captain Trifnov, a guest of Madame Larina: Joseph Roberts/Brandon C. S. Hood
Monsieur Triquet, an old friend of the Larinas: José García/Austin Stewart
Zaretsky, a retired officer: Joseph Roberts/Brandon C. S. Hood
Guillot, Onegin's valet: Andrew Coniglio
Prince Gremin: Edward Hanlon/Jesse Enderle
Ensemble: Kathy Ball, Michael Bigelow, Joshua Borths, Anthony Bucci, Andrew Coniglio, Noel Franklin, Brad Goad, Margaret Grady, Brandon Grimes, Ali Hodges, Lauren Hood, Sarah Hucal, Yasas Jayawardena, Alex Kozak, Andrew Kurland, Heidi Madagame, Michael Madigan, Mary Martin, Catherine Nix, Sarah Paquet, Heather Quillen, Kelly Ritter, Elyse Smith, M. Davis Smith, Olivia Thompson, Nicholas Ward, Jeff Wilkinson
Sponsors
The School of Music, Theatre & Dance acknowledges the generosity of McKinley Associates, Inc. whose support has helped make this production possible.
Media Sponsorship by WRCJ.
Resources
[accordion title="From the Conductor"]
The first thing I said when Joshua Major invited me to conduct Eugene Onegin was a resounding "I'd love to!" The very next sentence out of my mouth was "We have to get Mrs. Challis on board or forget it!" I know that this production owes so much to this dear lady, and I'm so thrilled that she agreed to work with the singers and with me. This opera bears perhaps the most public fruit of Natalia Challis' devotion to all things Russian, but it is by no means a departure for her to become involved with our School of Music, Theatre & Dance. Ever since I arrived in Ann Arbor, she has made herself available to anyone working on Russian repertoire. She is as tireless as she is generous, and countless operatic scenes, song-cycles, and operatic arias have benefited from her expertise. This expertise is not simply in helping us to make the correct sounds; for anyone smart enough to ask for her help, Mrs. Challis re-creates the whole atmosphere of whichever Russian period and location is involved: the manners, the customs, the whole "feel" of the daily life. One understands text and music from a deeper perspective, and our imaginations begin to take wings.
Everyone on stage tonight (plus a director in the audience and a conductor in the pit) feels the same: Болшое Спасибо!, dear Natalia. Thanks for helping to make this happen.
— Martin Katz
[/accordion][accordion title="From the Director"]
Normally in these 'Director's notes' I am inclined to write something about the performance you are about to see in order to clarify my point of view, or to help you enter the spirit of the evening ahead. In this instance I find no words that the production doesn't make redundant. All of what you need to know is in front of you. This profound story of unreciprocated passion has captured the hearts of all of us who have contributed to this production.
I would like to take a moment to express my deep respect and admiration to our faculty, our production staff and most important, our students. Our instrumental teachers, our voice teachers, our conductor, our coaches, our production staff all bring a level of understanding and professionalism that is humbling. In particular, I would like to acknowledge the extraordinary work of Martin Katz, whose mastery of Russian and musical insight has been our guiding spirit.
However, the most inspiring part of this experience has been our students. Imagine at twenty-one years of age being assigned to sing a major role in a language that is completely foreign and told that in six months you will bring this before the public! They have mastered the language, the music and entered into the spirit of the production without hesitation. Their dedication, and ability to embrace this project has been awe-inspiring. It has been an honor to be guiding a project with such a superlative group of young singers. I can only hope that their efforts will cross the proscenium and stir your hearts as deeply as they have stirred mine.
—Joshua Major
[/accordion][accordion title="Synopsis"]
Act I
On the country estate of the widowed Madame Larina, the peasants return from the fields celebrating the harvest with song and dance. Madame Larina's daughter Olga teases her older sister Tatyana for avoiding the festivities; Tatyana prefers her romantic novels. Olga's suitor, the poet Lensky, arrives with his friend Eugene Onegin and declares his love for Olga. Onegin strolls through the garden with Tatyana and asks how she doesn't get bored with country life. Unnerved by the handsome and elegant stranger, Tatyana answers with difficulty.
In her bedroom, Tatyana persuades her reluctant nurse Filipievna to tell her of her first love and marriage. Tatyana admits she is in love. She sits up the entire night writing a passionate letter to Onegin. When day breaks, she gives the letter to Filipievna for her grandson to deliver.
A group of women sing as they work in the Larina's garden. Tatyana appears, nervous, followed by Onegin who asks that she hear him out patiently. He admits he was touched by her letter, but adds that he would quickly grow bored with marriage and can only offer her friendship. He coldly advises her to better control her emotions in the future, lest another man take advantage of her innocence.
Act II
Some months later, a party is underway in the Larina's house for Tatyana's name day. Onegin dances with Tatyana but is bored by the provincial ways of the country people. Annoyed with Lensky for having dragged him there, Onegin dances with Olga, who is momentarily distracted by the charming man. Monsieur Triquet, Tatyana's French tutor, serenades her with a song he has written in her honor. When the dancing resumes, Lensky jealously confronts Onegin and accuses him of flirting with Olga. Madame Larina begs the men not to quarrel, but Lensky cannot be calmed and Onegin accepts his challenge to a duel.
Lensky waits for Onegin at the appointed spot at dawn. He reflects on the folly of his brief life and imagines Olga visiting his grave. When Onegin finally arrives, he and Lensky both admit that the duel is pointless but honor must be satisfied. The duel is marked off and Onegin kills Lensky.
Act III
Several years later, at a ball in the Gremin Palace in St. Petersburg, Onegin reflects bitterly on the fact that he has traveled the world seeking some meaning in life, and all his efforts have led him to yet another dull social event. Suddenly he recognizes Tatyana across the ballroom, dressed in a beautiful gown and bearing herself with great dignity. Questioning Prince Gremin, he learns that Tatyana is now Gremin's wife. The older man explains that he married Tatyana two years previously and describes Tatyana as his life's salvation. When Gremin introduces Onegin, Tatyana maintains her composure but excuses herself after a few words of polite conversation. Onegin is stunned to realize that he is in love with Tatyana.
Tatyana is distressed when she receives an impassioned letter from Onegin. He rushes in and falls at her feet, but she maintains her control, asking him if he desires her now for her wealth and position. She recalls the days when they might have been happy, but that time has passed. Onegin repeats he is in love with her. Faltering for a moment, Tatyana admits that she still loves him, but she will not leave her husband and ruin her life. She leaves him regretting his bitter destiny.
— Metropolitan Opera
[/accordion]
Media
Program
Photos
[cycloneslider id="08-09-eugene-onegin"]