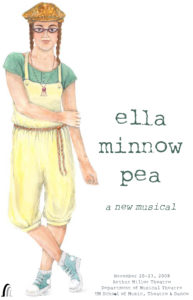 Ella Minnow Pea
Book and lyrics by Scott Burkell
Music by Paul Loesel
Based on the novel by Mark Dunn
Department of Musical Theatre
November 20-23, 2008 • Arthur Miller Theatre

The Story: On the tiny fictional island nation of Nollop off the coast of South Carolina, its citizens gather for the annual celebration of its claim to fame – Nevin Nollop – the inventor of the world's most famous pangram (a sentence that uses all the letters in the alphabet): "The quick brown fox jumps over the lazy dog." Horror strikes the crowd when the tile for the letter "z" falls from Nollop's memorial statue in the middle of the ceremony. While teenager Ella Minnow Pea muses that the glue simply gave way, the town council decrees that it was a sign from Nollop himself and declares that the use of "z" will no longer be allowed, with swift punishment for all utterances of the banned letter. As more letters fall and become banned, Ella races to create a new pangram that will restore Nollop to its former glory.
Artistic Significance: Based on the critically acclaimed, best-selling novel by Mark Dunn, Ella Minnow Pea is the second full-length musical by the team of Scott Burkell and Paul Loesel. Michigan natives, their award-winning collaboration has produced songs for some of the most celebrated performers in musical theatre including Michael Feinstein, Rebecca Luker, and Kristin Chenoweth. Ella Minnow Pea previously received a reading in New York City. The Department of Musical Theatre is honored to assist and collaborate with the writers in their development process through a workshop production of the show. For new works, readings and workshops are valuable tools in the overall process in readying a show for commercial production. Both political allegory and a linguistic tour-de-force, Ella Minnow Pea reminds us how the loss of freedom of expression can affect an entire society.
Artistic Staff
Director: Scott Burkell
Music Director: Catherine Walker Adams
Scenic Design: Rob Murphy
Costume Design: Christianne Myers
Lighting Design: Craig Kidwell
Choreographers: Kelcy Griffin, Alle-Faye Monka
Stage Manager: A. J. Dobbs
Cast
Ella Minnow Pea: Anne Markt
Gwenette Minnow Pea, her mother, a school teacher: Stephanie Maloney
Amos Minnow Pea, her father, maker of dollhouses: Ian Mazurek
Agnes Prather, the Minnow Pea's next door neighbor: Beth Kuhn
Eugenia Prather, her seven year-old daughter: Sabra Satz-Kojis
Georgeanne Towgate, a busybody: Emily Glick
Timmy Towgate, her seven year-old son: Christopher Jon Torrella
Manheim Louise, a grocer: Will Burton
Marigold Louise, his aunt, a tavern keeper: Alle-Faye Monka
Cubetta Louise, his sister, a veterinarian: Britney Coleman
Zach Pierre Creevy, a longshoreman: Mike Kelton
Mittie Creevy, a baker: Kelcy Griffin
Willy Creevy, a student: Etai Benshlomo
Houston LaGreer, High Council Member: Holly Grossman
Rederick Lyttle, High Council Member: Leonard Navarro
Harton Mangrove, High Council Member: John Rapson
Tassie Percy, a laundress: Haley Hannah
Teddy Percy, a paper boy: Etai Benshlomo
Payton Ebert, an antique store owner: Eric Maier
Cecil Ramsey, Payton's partner, a newspaper printer: Jonathan Parkey
Astrid Ebert, Payton's sister, a hairdresser: Maddy Trumble
Shubert Greenley, a mason: Max Spitulnik
Ruth Greenley, a piano teacher: Lizzie Klemperer
Creighton O'Looley, the lighthouse operator: Andrew Laudel
Nevin Nollop: Jonathan Parkey
Nathaniel Warren, a student at the Univ. of Georgia: Derek Carley
Thug-Uglies: Will Burton, Kelcy Griffin, Mike Kelton, Andrew Laudel
Sponsors
The School of Music, Theatre & Dance acknowledges the generosity of McKinley Associates, Inc. whose support has helped make this production possible.
Resources
[accordion title="From the Creators"]
When we originally read Mark Dunn's book, Ella Minnow Pea, we knew that the characters were meant to sing. The deceptively simple tale had all the elements one sees in a good musical: compelling characters, a strong, linear narrative and the heightened dramatic situations that lend themselves so well to song. Like all good parables Ella speaks to us on many levels. What happens when our ability to make individual choice is compromised? What do we do when rules we don't agree with are exacted upon us? What are the repercussions when those with power misuse that endowment and mistake their opinion with absolute truth?
How appropriate that this production should happen during an election year when these very questions reverberate with such relevance in our own lives. And how blessed we have been to have this premier production take place with the protective care and abounding talent that distinguishes this University's musical theatre department. The opportunity to work with the most supportive and dedicated artists, including the designers, crew and the astounding students themselves, has made this stop in Ann Arbor a most productive one indeed. Growing up in Michigan ourselves, the "thumb" to be exact, has only contributed to the warm homecoming sense that has surrounded us since our Wolverine connection began.
So, enjoy Ella Minnow Pea, ideally our girl will inspire, amuse, and entertain as she takes her baby steps across the Arthur Miller stage. Oh, and in case you were wondering, no we didn't cheat and use illegal letters when writing the script and score (this entire program note was written without using the randomly chosen letter "F"… Give it a try! It's fun…oops, enjoyable…)
— Scott & Paul
[/accordion]
Media
Program
Photos
[cycloneslider id="08-09-ella-minnow-pea"]