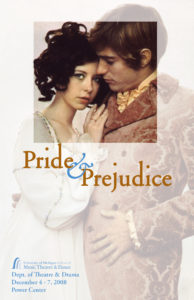 Pride & Prejudice
By Jane Austen
Original adaptation by James Maxwell
Revised by Alan Stoddard
Department of Theatre & Drama
December 4-7, 2008 • Power Center

The Story: "It is a truth universally acknowledged that a single man in possession of a good fortune must be in want of a wife." With five daughters of marriageable age, Mr., and especially Mrs., Bennett are thrilled when an eligible bachelor and his friends move into the neighborhood. In the rarified and socially strict atmosphere of Regency England, the lack of dowry and lower social standing may be a detriment to the girls' success, particularly when the second eldest, Elizabeth, takes an immediate disdain to the most eligible of the bachelors, Mr. Darcy. Will Elizabeth's independence and pride ruin not only her own chances but also those of her sisters? In a complex world where wealth usually dictates relationships, Elizabeth and Mr. Darcy tread down a dangerous road to love unfettered by mercenary motives.
Artistic Significance: Jane Austen's beloved novel has raptured over 20 million readers and has never been out of print since its debut in 1813. Adapted for stage and film numerous times, this adaptation by James Maxwell for the Gate Theatre in Dublin remains faithful to Austin's novel with rich characterization and witty repartee. This version has played to great success in the U.S. at the Spoletto Festival, the Guthrie Theatre, Indiana Repertory Theatre, and most recently at The Cleveland Playhouse. The Dublin Sunday Independent stated "It's wonderful, enchanting, affectionate and silly…true to the original in line, attitude, balance, respect, and laughter."
Artistic Staff
Director: Timothy Douglas
Scenic Designer: Vincent Mountain
Costume Designer: Jessica Hahn
Lighting Designer: Justin N. Lang
Sound Designer: Henry Reynolds
Wig Designer: Dawn Rivard
Choreographer: Robert Hartwell
Stage Manager: Mitchell B. Hodges
Cast
Elizabeth Bennet: Kaylin Tavolacci
Mrs. Bennet: Maggie Ferguson-Wagstaffe
Mr. Bennet: Dylan Saunders
Jane Bennet: Devin Lytle
Lydia Bennet: Tedra Millan
Kitty Bennet: Lily Rose Marks
Mary Bennet: Meredith Stepien
Sir William Lucas:  John Samela
Caroline Bingley: Sarah Ashley
Charlotte Lucas: Anna Robinson
Mr. Charles Bingley: Lee Tyler
Mr. Fitzwilliam Darcy: Mckean Scheu
Mr. Denny: Corey Dorris
Mr. Wickham: Darren Criss
Mr. Collins: Torrey Wigfield
Lady Catherine de Bourgh: Jessica Ann Maynard
Anne de Bourgh: Emily Cohn
Colonel Fitzwilliam: Gordon Granger
Mrs. Reynolds: Kelli Rasmus
Miss Jenkinson/Lady Lucas: Julia Albain
Sponsors
The School of Music, Theatre & Dance acknowledges the generosity of McKinley Associates, Inc. whose support has helped make this production possible.
Resources
[accordion title="From the Director"]
Your Dreams Are Waiting For You To Come True…
In the presence of true love, all conspicuous clichés must fall. This paradigm was powerfully demonstrated here on the campus of University of Michigan on election night, where I witnessed seemingly impenetrable old-thought forms crumble, and in its place the revelatory geyser of self-actualization erupt in each individual's outpouring of love. In the midst of that mass unbridled celebration I was reminded that all groups are primarily a collection of individuals, and it only takes one's self-actualization to turn the proverbial tide.
For many of us it is the awareness of the anti-war, flower-power movement of the late sixties that pushed so many young people over the edge of their own calcified customs – based on outdated privileged traditions, right into the depths of their own true selves. And at the same time in England it was the pressure cooker of the free love movement in London that served as the catalyst for unleashing the mores inflicted upon the young for privileged countryside dwellers. It is within this cultural/political setting where our Elizabeth and Darcy are inspired to come true to themselves and each other … Enjoy.
— Timothy Douglas
[/accordion]
Media
Program
Photos
[cycloneslider id="08-09-pride-and-prejudice"]