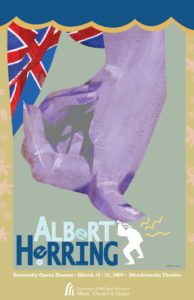 Albert Herring
A comic opera in three acts
Music by Benjamin Britten
Libretto by Eric Crozier
Adapted from Le Rosier de Madame Husson by Guy de Maupassant
University Opera Theatre • University Philharmonia Orchestra
March 19-22, 2009 • Lydia Mendelssohn Theatre

The Story: In the small English town of Loxford, a self-appointed May Festival committee meets to elect a May Queen. Alas, to the dismay of the committee, no young woman meets their exacting standards for chastity. The local police superintendent suggests a radical choice, Albert Herring, an irreproachable young man tightly tied to his mother's apron strings. The committee informs Albert of the honor and his mother (enticed by the £25 prize) railroads his acceptance despite his reluctance. At his crowning, Albert is repeatedly toasted for his virtue by the town – not knowing his friends Sid and Nancy have spiked his lemonade. Under the influence Albert finally gains the courage to taste what the world has to offer. When his mother discovers him missing the next morning, everyone assumes the worst and begins to mourn, only to have Albert triumphantly return from his wild night on the town.
Artistic Significance: Albert Herring was the first opera written by Benjamin Britten for his newly formed company called the English Opera Group. Debuting at Glydenbourne in 1947, Herring combined Britten's humor and gift for parody in an opera that is quintessentially British. His complicated and challenging score for virtuosic chamber orchestra is filled with arresting rhythms and witty musical invention; especially the threnody (hymn of morning) for nine voices in Act III. A poignant and hilarious coming of age tale, Albert Herring is Britten at his comic finest.
Artistic Staff
Director: Robert Swedberg
Conductor: Israel Gursky
Assistant Conductor: Yaniv Dinur
Scenic Designer: Peter Harrison
Costume Designer: Taran Muller
Lighting Designer: Rob Murphy
Wig Designer: Dawn Rivard
Diction Coach: Timothy Cheek
Repetiteurs: Ashley Anderson, Matthew Thompson
Stage Manager: Brett Finley
Cast (Thursday-Saturday/Friday-Sunday)
Lady Billows, an autocrat: Cari McAskill/Jody Doktor
Florence Pike, her housekeeper: Kristin Eder/Monique Holmes
Miss Wordsworth, a schoolmistress: Jennifer Rossetti/Elizabeth Stoner
Vicar Gedge, the vicar: Branden C. S. Hood/Joseph Roberts
Mayor Upfold, the mayor: Juan Héctor Pereira/Brian Tanner
Superintendent Budd: Edward Hanlon/Jonathan Christopher
Sid, a butcher's assistant: Jesse Enderle/Wes Mason
Albert Herring: Steven Tompkins/Willis Berne D. Bote
Nancy, from the bakery: Courtney Miller/Priscilla Jane Smith
Mrs. Herring, Albert's mother: Cynthian Brundage/Amanda Cantu
Emmy: Jung Hee Koo/Catherine Wethington
Cis: Audrey Kline/Mary Martin
Harry: Charles Berofsky/John Bradford
Sponsors
The School of Music, Theatre & Dance acknowledges the generosity of McKinley Associates, Inc. whose support has helped make this production possible.
Resources
[accordion title="Synopsis"]
In a small English market town, Vicar Gedge, Police Superintendent Budd, Mayor Upfold, and the local head teacher Miss Wordsworth meet at the home of Lady Billows to appoint, at her behest, a May Queen as an encouragement to local chastity. As they review the list of possible choices, Lady Billows's housekeeper Florence Pike, armed with reports of unworthy behavior, condemns each and every girl. Eventually none is left, and instead a May King is proposed. Albert Herring – blameless son of a widowed shopkeeper – is chosen. The group informs Albert and his mother at their shop – though the shy young man tries unsuccessfully to refuse. At the ceremony in the vicarage garden, the butcher's assistant Sid laces Albert's lemonade with rum, so that his contribution to the occasion consists largely of hiccups and silence. Later, back in the shop, Albert casts envious glances at the affectionate relationship between Sid and his girlfriend Nancy and, armed with his prize money, sets off in search of a little adventure of his own. By the following afternoon, concern is growing at his disappearance. The police are called in. Eventually the hasty villagers decide that he must have come to a bad end, and begin to mourn him. Up turns Albert, however, to face a telling off for going absent without leave and shocked reactions from all when his carousing in public houses is revealed. Albert, of course, is unashamed, and celebrates his new-found independence by inviting three local kids into the greengrocers to share some peaches, tossing his May King's orange blossom wreath away as a final gesture.
— Courtesy Boosey & Hawkes
[/accordion][accordion title="From the Director"]
Composer Benjamin Britten lived under the controlling hand of his mum until her death when he was 24, and he identified very much with the title character as he joyfully penned Albert Herring, a work that celebrates liberation and "finding" oneself. But while this unusual comedy may need to be set in the Victorian era to support the premise of celebrating virginal virtue, we do have recent instances of what happens when a committee, or even an entire people, apply possibly hypocritical expectations too rigidly to an anointed individual. Is the committee that selected Sarah Palin (when no male seemed virtuous enough) much different from Albert's selection committee? She also appeared to need to find her way to liberation… And how much might Michael Phelps' oppressive regimen, expectations of his committee of sponsors and controlling mum had to do with his need to break out? Reaction from some today to his "debauchery" may be similar to the committee's reaction to Albert's night of sin.
The best drama is timeless, and there are many characters and situations in Albert Herring that touch us as amusing today, seen as they are through knowing tears of recognition.
It is a joyful pleasure to be able to share this gem, so skillfully produced by these wonderful students, as my first offering to the community here at University of Michigan. Cheers!
— Robert Swedberg
[/accordion]
Media
Program
Photos
[cycloneslider id="08-09-albert-herring"]