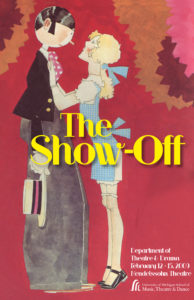 The Show-Off
By George Kelly
Department of Theatre & Drama
February 12-15, 2009 • Lydia Mendelssohn Theatre

The Story: We all know an Aubrey Piper – a perennial self-deluding, yet endearing show-off who bends the truth to make a good impression. Likewise we recognize Mrs. Fisher, a narrow-minded woman both practical and wise who knows how to stretch a dollar and who speaks her mind. When her spendthrift daughter Amy falls for Aubrey, Mrs. Fisher warns Amy against getting too involved, as he'll never be able to support her on what he actually makes. But love makes one blind and Amy marries Aubrey to the distress of her family. Reality soon sets in and, to the horror of Mrs. Fisher, the pair may have to move into the family home due to financial difficulties. When tragedy strikes, will Aubrey's blathering lead to a showdown, or will his fast-talking prove to be an unexpected advantage?
Artistic Significance: Scandalously passed over for the 1924 Pulitzer Prize for drama, The Show-Off was the biggest critical and popular success for American playwright and director George Kelly. A member of the famed Philadelphia Kellys and the uncle of Princess Grace, Kelly's other Broadway triumphs include The Torch-Bearers and Craig's Wife. A master of writing speech to fit his characters, Kelly's works combine wry humor with amusing dialogue underscored with serious themes and social commentary. Playwright Wendy Wasserstein declared The Show-Off "a comic masterpiece, an airtight manipulation of domestic values and the outside world's estimation of economic success." The play has been adapted for film and television featuring actors Spencer Tracy, Red Skelton, and Jackie Gleason as Piper. A brilliant satire on the American notion of progress, don't miss this work by one of the best yet least known playwrights of the golden age of American theatre.
Artistic Staff
Director: Philip Kerr
Assistant Director: Sarah-Jane Gwillim
Scenic Designer: Gary Decker
Costume Designer: Christianne Myers
Lighting Designer: Adam McCarthy
Stage Manager: Lindsey Parrott
Cast
Clara Fisher Hyland: Laura Lapidus
Mrs. Fisher: Julia Albain
Amy Fisher: Jaime Lyn Beatty
Frank Hyland: Joseph Walker
Mr. Fisher: Paul Koch
Joe Fisher: Lee Tyler
Aubrey Piper: Joey Richter
Mr. Gill: Max Artsis
Mr. Rogers: Corey Dorris
Sponsors
The School of Music, Theatre & Dance acknowledges the generosity of McKinley Associates, Inc., whose support has helped make this production possible.
Media
Program
Photos
[cycloneslider id="08-09-the-show-off"]