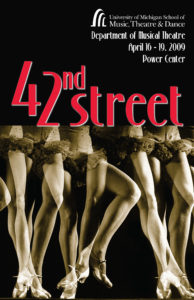 42nd Street
Music by Harry Warren
Lyrics by Al Dubin
Book by Michael Stewart and Mark Bramble
Department of Musical Theatre
April 16-19, 2009 • Power Center

The Story: Young aspiring actress Peggy Sawyer moves to New York City to make her mark and lands her first job as a chorus girl in famed director Julian Marsh's newest project "Pretty Lady." But Marsh isn't having an easy time producing a large-scale musical in the midst of the Great Depression – especially given the temperamental nature of the show's star. When the star breaks her ankle, Peggy is suddenly pushed center stage. With only 36-hours to learn her lines and ten dance numbers, can she save the show and become a star? A heartwarming tale about the search for stardom, 42nd Street captures the hopes of everyone pursuing a dream.
Artistic Significance: Originally a 1933 film with choreography by the famed Busby Berkeley, 42nd Street made its way to Broadway in 1980 and became one of the longest running shows in Broadway history, as well as winning two Tony Awards. The show features such memorable songs as "We're in the Money," "Shuffle off to Buffalo," "Lullaby of Broadway," and the infectious title number. When the Department of Musical Theatre performed 42nd Street in 1995, the four performances sold out quickly. Don't miss your chance to enjoy this exhilarating backstage comedy.
Artistic Staff
Director & Choreographer: Linda Goodrich
Music Director & Conductor: Catherine Walker Adams
Scenic Designer: Bruce Brockman
Costume Designer: George Bacon
Lighting Designer: Mark Allen Berg
Sound Designer: Jim Lillie
Ballet Choreographer: Jon Engstrom
Dance Captains: Kelcy Griffin, Robert Hartwell
Wig Designers: Regan Noble, Matthew Campbell
Stage Manager: Angela F. Kiessel
Cast
Dorothy Brock, an established Broadway star: Marken Greenwood
Peggy Sawyer, young, talented, and hopeful: Mary Michael Patterson
Maggie Jones, co-author of Pretty Lady: Beth Kuhn
Annie Reilly, chorus girl, sub-principal of Pretty Lady: Ashley Blanchet
Phyllis Dale, chorus girl: Alle-Faye Monka
Lorraine Flemming, chorus girl: Kelcy Griffin
Gladys, chorus girl: Lizzie Klemperer
Diane Lorimer, chorus girl: Emily Glick
Ethel, chorus girl: Stephanie Maloney
Julian Marsh, Broadway show director: Max Spitulnik
Bert Barry, co-author of Pretty Lady: Etai BenShlomo
Billy Lawlor, juvenile lead, Pretty Lady: Bryan Langlitz
Andy Lee, dance director: Andrew Laudel
Oscar, rehearsal pianist: Han Park
Mac, stage manager: Alex Kip
Pat Denning, former vaudeville partner of Dorothy: Ian Mazurek
Abner Dillon, "Angel" for Pretty Lady: Brant Cox
Production Tenor: Jonathan Parkey
Ensemble: R.J. Brown, Will Burton, Derek Carley, Cody Davis, Haley Hannah, Robert Hartwell, Erik Heitz, Laura Irion, Andy Jones, Sam Lips, Casey Low, Anne Markt, Allison McDowell, Kevin Munhall, Desi Oakley, Jonathan Parkey, Alex Puette, Carlye Tamaren, Cary Tedder, Maddy Trumble, James Tolbert, Julie Wallace
Sponsors
This production is sponsored in part by generous support from the University of Michigan Credit Union. The School of Music, Theatre & Dance also acknowledges the generosity of McKinley Associates, Inc. whose support has helped make this production possible.
Resources
[accordion title="The History of 42nd Street"]
Producer David Merrick took a huge gamble with his $3 million production based on the 1933 Warner Brothers film musical 42nd Street; only one other show had made the transfer from original movie musical to the stage – Gigi, a flop in 1974. The score helped itself to the songs written for the film by Harry Warren and Al Dubin, two of the most acclaimed film composers of the 1930s, and also borrowed liberally from their catalogue. Merrick also hedged his bets by hiring the director/choreographer Gower Champion, whose instinct for showstoppers made him an ideal choice for the dozen production numbers in 42nd Street. Unlike the show itself, the real event did not have a happy ending – Champion died on opening night in August 1980, leaving behind a stunned theater community and the greatest hit of his career. It was the final curtain for one era on Broadway and the overture for another. Although 42nd Street would move out of the Winter Garden within two years (for the larger Majestic and St. James Theatres), the show would be the last American musical to play at the Winter Garden for the next 25 years; it would also be the only American musical to play close to 3,500 performances for the next 22 years.
— PBS.org
[/accordion]
Media
Program
Photos
[cycloneslider id="08-09-42nd-street"]