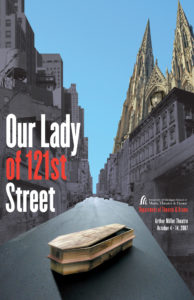 Our Lady of 121st Street
By Stephen Adly Guirgis
Department of Theatre & Drama
October 4-14, 2007 • Arthur Miller Theatre

The Story: Mourners have gathered at a Harlem funeral home to pay their respects to a beloved and feared childhood teacher, Sister Rose. There's only one problem – someone's stolen the body. In a series of sharp vignettes, old friends and new reminisce about the past, and face the reality of whom they've become. As memories are unearthed, vivid shouting matches, explosive rants, and surprisingly touching moments of hope reveal a group of broken souls and the rough, tumbled neighborhood that formed them. Raw, gritty, and rancorously funny, Our Lady of 121st Street is a deeply human character study of people in an elusive search for redemption.
Artistic Significance: When his third work, Our Lady of 121st Street, debuted in 2002, the New York Times stated Stephen Adly Guirgis "…may be the best American playwright under 40." The Department presented his In Arabia We'd All be Kings in October, 2004 to popular acclaim. Bleak and darkly funny, Guirgis utilizes raw, expletive-charged language and often harrowing situations to present a realistic, unrepentant, yet humane look at people on the streets and universal struggle between dreams and reality. In Our Lady… the Houston Press declared, "Guirgis has conjured a world full of heartbreaking characters and low-down lyrical language that blazes so hot and wild it threatens to scorch your soul – that is if you don't die laughing first." Join us for another work by this immensely gifted playwright.
Artistic Staff
Director: John Neville-Andrews
Scenic Design: Gary Decker
Costume Design: Liz Moore
Lighting Design: Jennifer Gazdecki
Sound Design: Kathryn Edwards
Wig & Makeup Design: Brandalyn Fulton
Vocal and Dialect Coach: Annette Masson
Stage Manager: Cassandra Flowers
Cast
Victor: John Samela
Balthazar: Sharif Nasr
Rooftop: Corey Dorris
Father Lux: J. Patrick Rourke
Flip: Jonathan Christopher
Gail: John Jarboe
Inez: Kelli Rasmus
Norca: Katie Johnston
Edwin: Mckean Scheu
Pinky: Seth Moore
Marcia: Brittany Connors
Sonia: Tiffany Williams
Sponsors
The School of Music, Theatre & Dance acknowledges the generosity of McKinley Associates, Inc. whose support has helped make this production possible.
Resources
[accordion title="Director's Notes"]
These biographical studies were compiled by the cast as a part of their characterization work for this play.
Certain people congregating for this funeral have lived lives that were, sometimes, significantly affected by Sister Rose (known as Our Lady of 121st Street); others not so much. We list their biographical data here for your interest.
Victor
Victor Trantiano is a regional sales manager for new and used Toyotas in Staten Island. He has come to Harlem to attend the funeral of Sister Rose. He and Rose had known each other since they were children. When Victor was twelve, his father died suddenly of a heart attack, leaving Victor's mother to make ends meet working in a local plastics factory. With no real adults at home, Victor's grades began to slip; it would be Rose who helped keep Victor from flunking out of middle and high school. During these years, Victor and Rose became close friends. Though Victor fell in love with her, Rose never let their friendship become anything more than a friendship. Throughout the years, Victor has gone through a string of broken relationships including two failed marriages. In the end, he would always compare each woman to Rose, whom he has always felt he had lost to God since the day she had become a nun. Now that she has passed, he has come to her funeral in the hopes of giving Rose's memory the love he could not give her in life.
Balthazar
Balthazar Ordonez was born May 2nd, 1967 in Harlem Health Center in NYC. Born to a single mother, he never knew his dad. He always thought his dad left them or was off in prison, but fearing the truth, he never looked up what really happened. Balthazar started at Our Lady in kindergarten and that is where he first met his best friend, Walter "Rooftop" Desmond. After high school Balthazar went into the police academy and after graduation accepted a job work for the NYPD in Harlem where he was a detective. He was placed in the narcotics investigation team where he was a lead officer in undercover "buy and bust." While on the force he met his wife and had his son, Juan Jose. Balthazar was more than a devoted father, Juan Jose was his life. He was the type of father who would show off baby pictures anytime he talked with anyone. Juan Jose was a very smart child, getting it from his father. Balthazar is the lead detective on the disappearance of Sister Rose's body, if he can conquer his alcoholism, and maybe he can find out who took the body.
Rooftop
The boys started callin' me Rooftop when I was in junior high. I hated Walter Desmond and it had to go! One day we was passin' around a joint and decided to come up with nick names for each other. I think Balthazar spat out Rooftop because I was always the one lookin' out for folks – the stupid ones, the smart ones, the young ones and the older ones. My dad died when I was in grade school, so I became the man of the house and I had to grow up fast. He got shot by a random drive-by when he was leaving to go to work one morning, or at least that's what the 5-0 said. If you ask me, they just didn't want to investigate. It was a drug related incident – somethin' you'd think that would keep me away from drugs. But naw, the only thing that became better to me than crack and a joint was women. And sometimes they didn't even do the trick! Then Inez came along. That girl could make a man do things he never thought he could do. When she walked into a room she was the center of my attention. We dated all throughout high school and got married after graduation. When my radio joint started gettin' recognition, I started to stray a little bit. Soon, Inez divorced me, but that's alright 'cause women were flocking to me like flies on…well, you know.
Father Lux
Father Lux was born Timothy Edward Lux in the small industrial town of Fitchburg, MA. He served in the Korean War for 3 years and has been serving as a priest for 46 years. Father Lux has moved throughout the northeast, serving many different parishes. Lux has faced many trials and tribulations throughout his life's journey, continually looking to God for support. Though Father Lux has seen some of the churches darker days, he pushes forward in his efforts find meaning in his life of worship.
Flip
Sister Rose's death gives Robert "Flip" Johnson an opportunity to unite his past and present. He lost touch with all of his friends and relatives in Harlem when he took a Greyhound bus to Madison, Wisconsin, the day after his high school graduation. He went to university there, and is now living a seemingly comfortable life practicing law and supporting his partner of two years, Gail Saunders. Sister Rose once told Flip "God will lead you in the right direction if you have faith in Him." Which is the right direction for Flip: ruining his reputation in Harlem by telling his friends he's gay, or ruining an already awkward relationship with Gail, whilst remaining closeted to the assumingly homophobic Harlemites?
Gail
My name is Gail Saunders. I am thirty-seven years old. I live in Kohler, Wisconsin, and I am an actor. I am versed in all styles of acting, from Ibsen to children's theatre, and my favorite actress is Shelly Winters. I came out to my parents when I was twenty-five. My parents said, "Oh," and stared at me for a long time; then, they said something like, "We still love you," and went on eating their cereal. Only after this ordeal did I start to have a series of failed relationships with the three other gay men, all under forty-five, in Kohler, Wisconsin. I generally like to focus on my acting career, but, occasionally, I have to work in other fields. While doing a temp job at a local law firm, I met my current partner Robert. He and I have been partners for almost two years now, and we currently live together. I am hoping that this trip to New York will prove to Robert that we are ready for the next step in our relationship.
Inez
I grew up in New York (Bed-Stuy), and if you know Bed-Stuy then, well, you can imagine growing up. At the age of fifteen I was very promiscuous, for lack of a raunchier word. Men were my forte. Sometimes I seduced them for a little change and sometimes just for the hell, or well attention. Sister Rose, the lady who practically was the only religious figure in my life was always there for me. Sister Rose knew what I was up to in the streets and told that a woman has to keep something special for herself. I had one friend: Norca. Norca was so many things. She was an ignorant, loud-mouth, defensive, selfish whore, but she was my best friend. We did everything together and almost everybody. Roaming the streets was a 7-day job. There was only one man in my life who had my vulnerability on lock: Walter. Walter had me hooked. He was tall and funny, and on top of that he had swagger. We grew up together and when we weren't together I carried his spirit around. Our relationship was bittersweet. He got the sweet end of the deal and I'm just bitter. I can't stand the bastard. Now I live with my new husband, a man who genuinely loves me. I have a great job I just wish I could enjoy life and him. I'm here at the funeral first to pay respect to Sister Rose. And most importantly to allow Rooftop to see what a good women he ruined.
Norca
My name is Norca Janisa Torres-Vidal. I was born in San Juan, Puerto Rico, but grew up in the South Bronx with my mother Adelaida, my Obuela Lucia, my brother Carlos and all my sisters. All of my family is messed up and crazy. I was with my grandmother Lucia at Creedmore right until she died, when none of my other sisters was around, and my mother was too messed up and fat to give a s**t. I got some kids, and my little Marco is a really smart boy. Vinnie's a screwed-up already, but that's his own damn fault. I tried to get custody of Marco but that *itch at the Secretary States says I can't get my license renewed so I can't have my kid. So I f***in bit her, because this is a goddamned free country so don't tell me I can't have my own damn kid. When the cops came they found I was carrying marijuana and some other pills. That's why I'm still working through this parole crap. I'm not too excited about this funeral. Everybody likes that Sister Rose, but I don't know what she ever did that was good for me. Now I gotta see all those people who I useta know, and who pissed me off, and f***ed me over, and didn't stick up for me when I was bein kicked outa school, didn't help me out when I couldn't make rent and had to turn to the streets, but I got a f***in job now, and I don't need them anyway. So I'm gonna go see them bitches, and say an Ave Maria for Sister Rose, and see if they still got good blow on 121st St.
Edwin
In school and life, Sister Rose would not let me get away with anything. In class she would always say, "Edwin Velasquez, have you lost your mind daydreaming again? Pray to Saint Anthony that you get it back so that you can answer the question on the board please." Now as I look back, years later, I am glad she never let up. With both my parents no longer with us, my brother Pinky to watch over, and an apartment complex to supervise, I thank God everyday for Sister Rose, for she taught me to stand on my two feet and face each day as is comes. When asked if I would give the eulogy for Sister Rose's funeral I said yes right away with no hesitation. I may not be the smartest guy on the block or the best speech giver, but I think I speak for all of us who grew up around 121st when sayin, "We pray to Saint Anthony, Saint of lost things, to help our Sister Rose to find her way back to us. May her soul forever rest in peace, here, on 121st Street."
Pinky
Hello. My name is Stephan Roberto Velasquez. I am almost thirty years old. My mom called me Stephan and my dad called me Roberto. Edwin is my favorite brother. He calls me by my real name which is Pinky. Which is what everybody calls me. Edwin says that he calls me Pinky because when I was born I wasn't no bigger than his small fingers. When my dad died when I was fifteen and three quarters Edwin said that I would have to go to a special school if I didn't learn fast and become smart like the other kids. So I went to the church everyday after school and Sister Rose showed me how to write good and do math better and how to act polite to girls. Sister Rose would watch me when Edwin would go to dates with girls. Which was a lot, so I got to know her very well. She was a nice lady an' would give me cookies and bread and butter. An' when I was old, she would give me little sips of her scotch. An' she told me I wasn't dumb an' I didn't go to no special school, so I guess she fixed me. But now she's dead like mom and dad, which means that she won't come round no more and won't breath. Edwin pretends that I don't know what it means. But I know. I am sad that she's gone because she loved me and because I loved her an' she taught me how to be a man when my mom couldn't. An' because she helped Edwin be nice to me.
Marcia
We've got a tradition in my family. The men are all pigs, but the women have hearts like lions. My Mom and Aunt were Gods … demi-gods or something. In my eyes they were tall, and beautiful, and gentle, but strong too. I was 12 when Mom died. Sister Rose took me in. We weren't a dynamic trio any more. Just a sad little duo that couldn't even sing. It was easier to just pretend that I secretly hated her ever since then. Its been easier to pretend that I hate everyone since then.
Sonia
My name is Sonia Montgomery. I was born in a small town in Connecticut, and live there currently in an apartment a few blocks from my parents' house. My father Charles Montgomery is a prominent lawyer and because of his success I have been lucky enough to live a very indulgent lifestyle. When I was growing up my father worked a lot, but still made sure that he had time for his family. He used to take my mom and I somewhere special every weekend. Sometimes we would go to Florida when the weather was cold, but most often we would go to New York City and see the sights. Because I was with my parents every weekend, I didn't have that many friends. At school I would sit by myself at lunch and watch the other kids. I think it's fascinating to watch people. Surprisingly I didn't mind eating alone. I still don't. As long as there are other people around that I can watch while I eat I'm happy. When I left for college though, I decided to try to make some actual friends. Unfortunately I do get rather overwhelmed in social situations and I tend to say things that I shouldn't, or do things that I shouldn't. It's strange. Even though I consider myself a very friendly person I always seem to end up alone. Because of my social shortcomings I mainly just spent time with my roommate, Marcia. Even though Marcia comes from a different background and sometimes is a little intense she is a dear friend of mine. When she told me that her aunt died I told her I would meet up with her in Harlem and go with her to the funeral. I am a little apprehensive about going to Harlem, but I think it's important to support Marcia. I just hope I don't get too overwhelmed.
[/accordion]
Media
Program
Photos
[cycloneslider id="07-08-our-lady"]