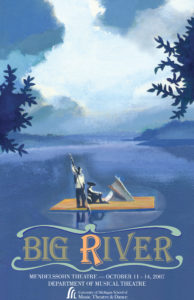 Big River
The Adventures of Huckleberry Finn
Book by William Hauptman
Music and Lyrics by Roger Miller
Adopted from the novel by Mark Twain
Department of Musical Theatre
October 11-14, 2007 • Lydia Mendelssohn Theatre

The Story: A big-hearted American saga of self-discovery and friendship set in the 1840s, Big River is the tale of the irrepressible Huck Finn and Jim, a slave. The two join forces to embark on an epic journey on a raft down the Mississippi River in search of freedom. Their exploits on the river are a series of outlandish episodes that bring them into contact with the some of Twain's most colorful characters including the scalawags King and Duke. As the journey progresses, the friendship between Huck and Jim deepens as Huck recognizes their common humanity despite their differences in status. A heart-warming coming of age story, Big River captures the nobility of man and the spirit of life on the big river.
Artistic Significance:Acclaimed and controversial since its first printing in 1885, Mark Twain's The Adventures of Huckleberry Finn captured the sense of adventure of every young boy's dreams. One hundred years later, producer Rocco Landesman would approach country and pop superstar Roger Miller ("King of the Road") to write the score for a musical version of the work – a hard sell since Miller had not only never written a musical, he hadn't even seen one. Miller's award-winning music and lyrics are a blend of country, bluegrass, blues, gospel, humor, and morality that blends perfectly with Twain's. Big River won 7 Tony Awards and 7 Drama Desk Awards including Best Musical and Score. The musical was revived on Broadway in 2003 in a ground-breaking production featuring deaf and speaking performers. Join us on the Mississippi.
Artistic Staff
Director: Mark Madama
Music Direction: Catherine Walker Adams
Scenic Design: Arthur Ridley
Costume Design: Lena Sands
Lighting Design: Jeff Davis
Sound Design: Jim Lillie
Wig, Hair & Make-up Design: Dawn Rivard
Choreographer: Shina Ann Morris
Stage Manager: Christina M. Hagan
Cast
Huck Finn: Andy Mientus
Jim: Max Kumangai-McGee
Tom Sawyer: Derek Krantz
Widow Douglas: Marken Greenwood
Miss Watson: Talia Corren
Judge Thatcher: Alex Puette
Ben, Lafe: Garen McRoberts
Jo, Hank: Jonathan Parkey
Simon, Sheriff Bell, Silas Phelps: Andrew Laudel
Dick, Harvey Wilkes: Paul Louis Lessard
Sid, Counselor Robinson: Benton Whitley
Pap Finn: John Rapson
Strange Woman: Beth Kuhn
Crossing Soloist: Corbin Reid
The King: Zach Barnes
The Duke: Peter Gosik
Andy: Brant Cox
Townsperson: Emily Glick
Young Fool: Jacob McGlaun
Mary Jane Wilkes: Demi Fragale
Susan Wilkes: Elizabeth Klemperer
Joanna Wilkes: Julia Myer
Alice's Daughter: Ashley Williams
Alice: Kelcy Griffin
Servants: Robert Hartwell, Shina Ann Morris, Kent Overshown
Sally Phelps: Lauren Holmes
Sponsors
The School of Music, Theatre & Dance acknowledges the generosity of McKinley Associates, Inc. whose support has helped make this production possible.
Media
Program
Photos
[cycloneslider id="07-08-big-river"]