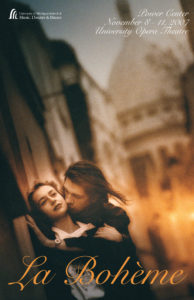 La Bohème
Music by Giacomo Puccini
Libretto by Giuseppe Giacosa and Luigi Illica
Based on Scènes de la vie de Bohème by Henry Mürger
University Opera Theatre • University Symphony Orchestra
November 8-11, 2007 • Power Center

The Story: What could be more magical than to fall in love in Paris? In one of the most touching romances ever imagined, a poor poet of the Latin Quarter meets his charming young neighbor by accident and both become completely smitten with each other. The youthful gaiety and optimism of their Bohemian lives does not endure forever when jealousy and serious illness wrench the lovers apart. Filled with tenderness and pathos, La Bohème captures the enthusiasm of youth and the joy of true love.
Artistic Significance: La Bohème has won the hearts of audiences since its premiere in 1896. It features such exquisite and favorite arias such as "Mi chiammano Mimi," "Che gelida manina," and the flirtatious waltz "Quando m'en vo." The New York Times declared Bohème "the world's most popular opera." Bohème has even twice appeared on Broadway – updated in the Tony Award-winning Rent and an operatic version directed by Baz Luhrmann in 2002 to great acclaim. Whether this is your first experience or your tenth, La Bohème's spirited music and universal tale is sure to capture both your imagination and heart.
Artistic Staff
Director: Kay Walker Castaldo
Conductor: Martin Katz
Assistant Conductor: Clinton Smith
Scenic Design: Peter Harrison
Costume Design: Meghann O'Malley Powell
Lighting Design: Judith M. Daitsman
Wig & Makeup Design: Erin Kennedy Lunsford
Chorus Master: Carole Ott
Children's Chorus Master: Bonnie Kidd
Italian Diction: Timothy Cheek
Repetiteurs: Matthew Gemmill, Patrick Harvey
Stage Manager: Brett Finley
Cast (Thursday-Saturday/Friday-Sunday)
Marcello, a painter: Wes Mason/Jonathan Bryan Smith
Rodolfo, a poet: Steven Tompkins/Bernard D. Holcomb
Colline, a philosopher: Andrew Harris/Edward Hanlon
Schaunard, a musician: Joseph Roberts/Jeremiah Butterfield
Benoit, landlord/Alcindoro, Counselor: George Shirley
Mimi, a dress designer: Rhea Olivaccé/Amita Prakash
Parpignol, a performance artist: Austin Stewart
Musetta, a chanteuse: Amanda Opuszynski/Nicole Greenidge
Ensemble: Miles Betts, Andrew Bollinger, Austin Chrzanowski, Alexandria Clark, Natalie Cochran, Andrew Coniglio, Corey Davis, Tyler Devos, Jody Doktor, Joshua Glassman, Matthew Glenn, Brandon Grimes, Sarah Hucal, Sam Laing, Paige Lucas, Michael Madigan, Mary Martin, Shawn McCullough, Jennifer McKenzie, Carrie Reid-Knox, Joshua Sanchez, Davis Smith, Elyse Smith, Michael De Souza, Laura Swierzbin, Jesse Thomson, Laura Vandersteen, Nicholas Ward, Catherine Wethington, Sara Zeglevski
Children's Ensemble: Jillian Davis, Grace Jackson, Madeleine Karpiuk, Samuel Kidd, Emma Machcinski, Cassidy Moravy-Penchansky, Madeleine Polovick, Kathryn Randolph, Lily Uribe
Banda: Flora Alexander, Matthew Bloomfield, Thomas Bowden, Mary Clark, Patrick Duffy, Peter Pirotte, Mackenzie Slottow, Anne Sullivan
Sponsors
The School of Music, Theatre & Dance acknowledges the generosity of McKinley Associates, Inc. whose support has helped make this production possible.
Media Sponsorship by WRCJ.
Resources
[accordion title="Synopsis"]
Act I
It is Christmas Eve in Paris. Two poverty-stricken young bohemians, Marcello, a painter, and Rodolfo, a poet, attempt unsuccessfully to work in their freezing garret; in desperation, they burn one of Rodolfo's dramas to keep warm. Their two roommates, Colline, a philosopher, and Schaunard, a musician, return home. Even though Schaunard has brought home some food, the bohemians decide to take their holiday dinner in the Latin Quarter. Just then, Benoit, their landlord, arrives to demand his overdue rent. The men ply him with drink, and when he boasts of marital indiscretions, they throw him out with feigned indignation. Marcello, Colline, and Schaunard leave for the Latin Quarter. Rodolfo promises to join them after finishing some work, but a knock at the door interrupts him. Mimi, a young neighbor, enters, wishing to relight her candle. Obviously ill, she nearly faints, and drops her room key. Rodolfo is instantly attracted to her and manages to detain her by concealing her key after he secretly finds it. He also snuffs out his own candle, and as the two search in the darkness for her key, their hands touch. Spontaneously, they pour out their love for one another.
Act II
A festive crowd celebrates Christmas Eve in the Latin Quarter. At the Café Momus, Rodolfo introduces Mimi to his roommates. Their carefree mood changes abruptly when Musetta, Marcello's former lover, appears with Alcindoro, her elderly paramour, in tow. Musetta attempts to attract the attention of Marcello, who deliberately ignores her, but then finally succumbs to her magic. Musetta shrewdly gets rid of Alcindoro, and instructs the waiter to give him all of their bills. She and the bohemians escape through the crowd.
Act III
Early one snowy February morning at the Barriere d'Enfer, a security point in Paris, Mimi arrives seeking Marcello, who is painting a mural at a local tavern. She tells him that she and Rodolfo have separated, driven apart by his jealousy. Earlier that morning, Rodolfo had arrived at the inn himself, and when he now emerges to speak with Marcello, Mimi conceals herself and overhears their conversation. Rodolfo tells Marcello that he wants to leave Mimi because of her flirtatious behavior. Finally, he confesses that she is mortally ill and admits his guilty feelings; he knows that the harsh conditions of their life together have undoubtedly worsened her health. Hearing Mimi's coughing, Rodolfo suddenly realizes that she has overheard everything. The two lovers pledge to stay together until spring, while Marcello and Musetta argue viciously and separate.
Act IV
Rodolfo and Marcello, now separated from Mimi and Musetta, again attempt to work in their garret. Schaunard and Colline arrive with supper, and the four fantasize about attending a fancy ball and then enact a mock duel. Suddenly, Musetta enters with Mimi, who is near death and wants to be with Rodolfo. Musetta and Marcello leave to sell some of their possessions in order to buy Mimi medicine and a muff, and to summon a doctor. Colline also departs to sell his coat for needed money. Left alone for a few moments, Mimi and Rodolfo reminisce about their first meeting and their love. The others return, but before the doctor can arrive, Mimi dies.
— New York City Opera
[/accordion][accordion title="A Lifetime Love Affair in a Paris Garrett"]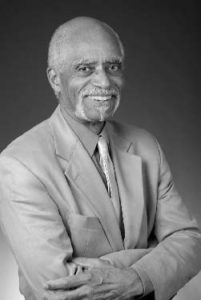 Professor Emeritus George Shirley, Joseph Edgar Maddy Distinguished Professor of Voice and Director of the Vocal Arts Division, retired in May 2007, after twenty years on the faculty of the School of Music, Theatre & Dance.
Shirley's career has been marked by notable firsts. After finishing his bachelor's degree at Wayne State University, Shirley taught music in Detroit, the first African-American to be appointed to a high school teaching post in music in that city. In 1956, he was drafted into the military where he became the first African-American member of the U.S. Army Chorus. Upon discharge, he auditioned with the Metropolitan Opera, making him the first African-American tenor and only the second African-American male to sing leading roles with the Met. He was the first black man many audiences saw in romantic tenor roles.
Shirley began singing with his musical parents, performing in churches in and around Indianapolis where he was born. The family moved to Detroit when he was six where he continued to sing, study piano, and work on his vocal repertoire with his piano teacher. He began voice studies in earnest at Detroit's Northern High School.
Shirley made his opera debut with a small company in Woodstock, NY, as Eisenstein in a production of Die Fledermaus. During that summer, he sang five roles, including Rodolfo in La Bohème and Belmonte in the Abduction from the Seraglio. Then it was on to Italy for his European debut, again in the role of Rodolfo. In 1961, he won the Metropolitan Opera audition by singing "Nessun dorma," beginning an eleven-year association with the house.
Shirley has won international critical acclaim for his performances on the world's foremost opera stages, at the Met and beyond. He won a Grammy Award in 1968 for the role of Ferrando in the RCA recording of Così fan tutte. He has recorded for RCA, Columbia, Decca, Angel, Vanguard, CRI, and Philips, among others.
It was Shirley's love of teaching that would provide balance to the demanding career of opera singer. Before joining the faculty at Michigan, he taught at the Aspen Music Festival and School and was professor of voice at the University of Maryland. He came to Michigan in 1987 and in 1992 the Regents named him the Joseph Edgar Maddy Distinguished University Professor of Music.
You can't know what you will achieve unless you push the envelope. If you do, you'll find out whether there is going to be a barrier you can't surmount, whether there will be an impediment that you can't get around. . . . If you sit at home and do nothing but worry, there is no life.
A fitting statement for our production of La Bohème. We are thrilled to have Prof. Shirley appearing as Benoit and Alcindoro. We asked him to reminisce about his vast experiences with the opera…
---
I first met Rodolfo in 1959 when, following my decision to pursue an operatic career, I won a contract with a small company that produced a summer season in Woodstock, New York. Rodolfo and I became intimate friends on the tiny stage of a little 200-plus-seat theatre on the side of Woodstock's Byrdcliffe Mountain. The Turnau Opera Players, a company of 7 singers accompanied by 2 pianos, performed the season's repertoire in English, thank heaven, so I, a newcomer to the world of opera, didn't have to worry about negotiating the Italian language! We performed La Bohème with judicious cuts, singing the chorus when needed, and brought pleasure to the assembled masses that faithfully filled the house for every performance.
My next romance in that Paris attic took place in Milan, Italy in 1960 when I made my debut at the Teatro Nuovo and, later, in Florence at the Teatro della Pergola. Performances followed with the New York City Opera and San Francisco Opera (1961), Metropolitan Opera (1963), and in subsequent years with the Scottish National Opera, The Connecticut Opera, Central City Opera (CO), and in Tokyo, Japan. I have experienced the incredible delight of wooing 13 Mimis in my poetic life, including such magnificent seamstresses as Renata Tebaldi, Montserrat Caballé, Adele Addison, Benita Valente, Arlene Saunders, Raina Kabaiwanska, Maralin Nisk, Lucine Amara, and Miwako Matsumoto. Now I find myself up to the same old tricks with certain unknown ladies at the Café Momus, and with the renowned chanteuse known as… Musetta!
Ma cosa vuoi di più? Che vita bella!
– George Shirley
[/accordion]
Media
Program
Photos
[cycloneslider id="07-08-la-boheme"]