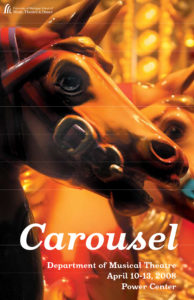 Carousel
Music by Richard Rodgers
Book & Lyrics by Oscar Hammerstein II
Based on Ferenc Molnar's play Liliom as adapted by Benjamin F. Glazer
Department of Musical Theatre
April 10-13, 2008 • Power Center

The Story: In a colorful Maine coastal town in 1873, naïve Julie Jordan falls for a swaggering carnival barker, Billy Bigelow. Their impulsive romance leads to a tempestuous marriage. Fired from the carousel and unable to find work, Billy becomes increasingly angry, often taking his frustration out on Julie, in spite of his love for her. When Billy learns Julie is pregnant, he takes desperate action to support his family which ends in tragedy.  Given the chance to make amends, Billy returns to his heartbroken, socially-isolated family to attempt to instill a sense of hope and dignity in both mother and child. Filled with pain, poignancy and humor, Carousel speaks to breaking the cycle of domestic violence with hope for a brighter future.
Artistic Significance: Declared the "Best Musical of the 20th Century" by Time Magazine in 1999, Carousel followed on the heels of Rodgers and Hammerstein's ground-breaking success Oklahoma! by further advancing the integration of music and story in musical theatre. Rodgers' sublime score along with Hammerstein's lyrics would incorporate elements of recitative and an unprecedented eight-minute solo by the lead character, Billy's powerful "Soliloquy." The musical features such beloved songs as the lively "June Is Bustin' Out All Over," "If I Loved You," and the uplifting "You'll Never Walk Alone." The personal favorite of Rodgers and Hammerstein, Carousel is a luminescent treatise on the saving power of hope.
Artistic Staff
Director: Brent Wagner
Choreographer: Mark Esposito
Music Director & Conductor: Ben Whiteley
Associate Music Directors: Catherine Walker Adams, Cynthia Kortman Westphal
Scenic Design: Bruce Brockman
Costume Design: George Bacon
Lighting Design: Kendall Smith
Sound Design: Aerial Sound
Wig, Hair & Make-up Design: Regan Noble
Stage Manager: Stephanie Shechter
Cast
Carrie Pipperidge: Demi Fragale
Julie Jordan: Lizzie Klemperer
Mrs. Mullins: Talia Corren
Billy Bigelow: Garen McRoberts
Mr. Bascombe: Ian Mazurek
Nettie Fowler: Kira Safan
Enoch Snow: John Rapson
Jigger Craigin: Zach Barnes
Heavenly Friend: Andrew Laudel
The Starkeeper/ Dr. Seldon: Paul Louis Lessard
Louise: Laura Irion
Carnival Boy: Amos Wolff
Enoch Snow, Jr: A.J. Shively
Dancers: Darren Biggart, Yurel Echezarreta, Kelcy Griffin, Haley Hannah, Robert Hartwell, Bryan Langlitz, Alle-Faye Monka, Mary Michael Patterson, Corbin Reid, Cary Tedder
Ensemble: Amy Blackman, Emily Glick, Derek Carley, Mike Kelton, Alex Kip, Beth Kuhn, Andrew Laudel, Paul Lessard, Katie Madison, Stephanie Maloney, Anne Markt, Andy Mientus, Julia Myer, Jonathan Parkey, Alex Puette, Jose Sepulveda, A.J. Shively, Elise Turner, Ashley Williams
Children: Sophia Jackson, Christopher Jon Torrella
Sponsors
The School of Music, Theatre & Dance acknowledges the generosity of McKinley Associates, Inc. whose support has helped make this production possible.
Media
Program
Photos
[cycloneslider id="07-08-carousel"]