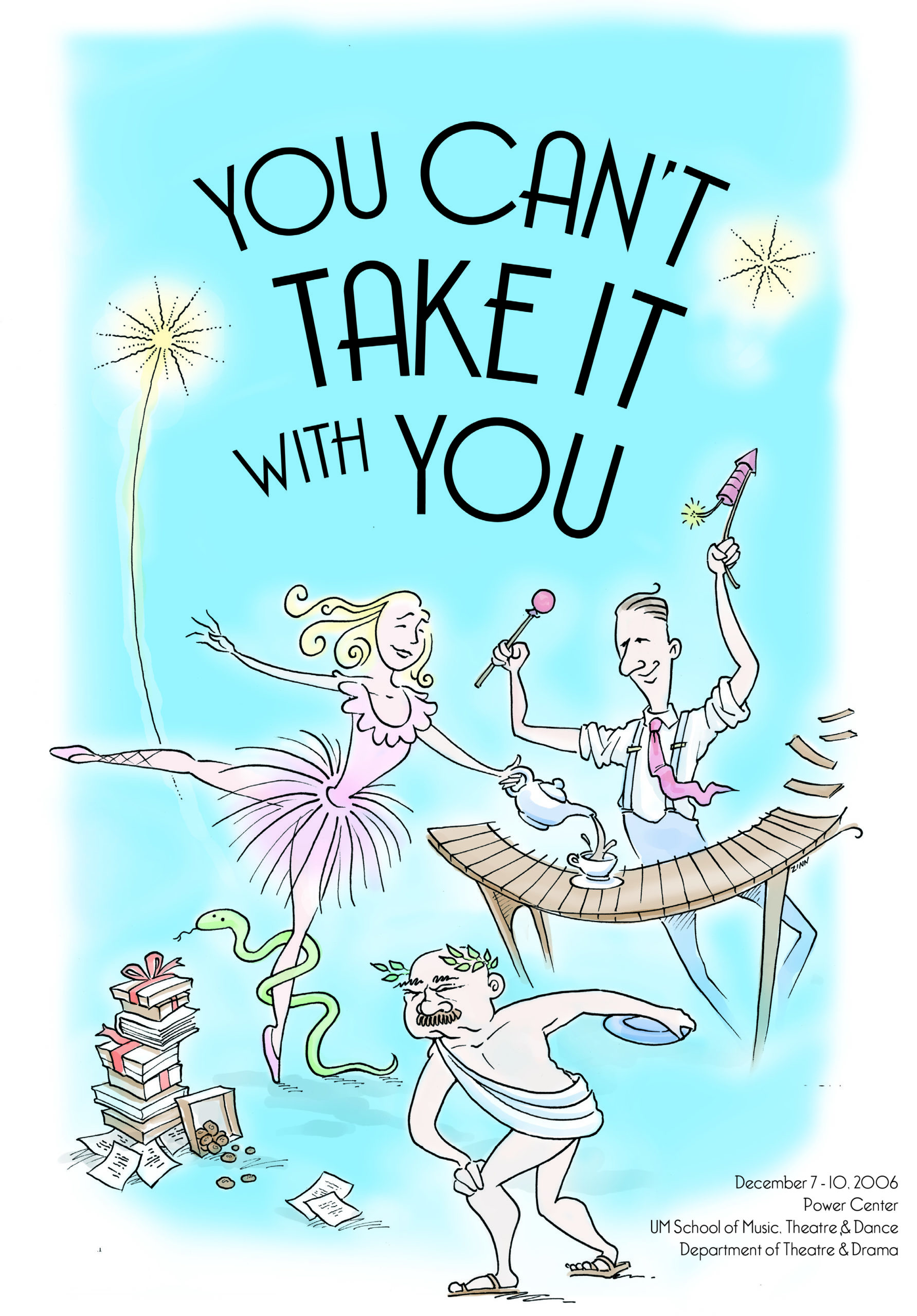 You Can't Take it With You
by George S. Kaufman and Moss Hart
Department of Theatre & Drama
December 7-10, 2006 • Power Center

The Story: The Sycamore clan of Manhattan's Upper West Side is not what one would call a typical family. A glorious collection of contented eccentrics, its members collect snakes, make fireworks, write but never finish plays, operate printing presses, and play the xylophone in their pursuit of self-fulfillment. Among this mix of zany characters is one normal daughter (and the only one with a job) who happens to be in love with her investment-banker boss's son. Upon her engagement, plans are made to carefully introduce the two families. But when her fiancé and his parents accidentally show up a day early, the collision between the quirky Sycamores and the stolid Kirbys sets off a whirlwind of hilarious absurdities and improbabilities. Engaging and wildly funny, You Can't Take it With You reminds us what is truly important in life – the wholehearted pursuit of happiness.
Artistic Significance: Opening to instant critical and popular acclaim in 1937, You Can't Take it With You was the third hit by the golden playwriting team of George Kaufman and Moss Hart. The play won the coveted Pulizter-Prize, a rarity for a comedy, and the film version the following year won the Academy Award for Best Picture. Kaufman and Hart wrote an amazing eight plays during their brief ten-year collaboration, each wildly successful including The Man Who Came to Dinner and I'd Rather Be Right. Their shows are unabashedly escapist theatre – filled with superb wit, intelligence, and perennial appeal. So forget about your troubles for a few hours, and join us for a madcap adventure. You Can't Take it With You is simply irresistible.
Artistic Staff
Director: Malcolm Tulip
Scenic Design: Vincent Mountain
Costume Design: Jessica-Eli Weiss
Lighting Designer: Andrew Fritsch
Sound Design: Henry Reynolds, Gavin Bidelman, Devin Kerr
Diction Coach: Annette Masson
Wig & Makeup Designer: Alex Michaels
Stage Manager: Christina M. Hagan
Cast
Penelope Sycamore: Alison Velasco
Essie: Kate Garfield
Rheba: Sari Goldberg
Paul Sycamore: Matt Semler
Mr. De Pinna: Seth Moore
Ed: Aaron Seeburger
Donald: Frank Maiorana
Martin Vanderhof: Pat Rourke
Alice: Beckah Gluckstein
Henderson: Daniel Kane
Tony Kirby: Marc Paskin
Boris Kolenkhov: James Wolk
Gay Wellington: Jessica Maynard
Mr. Kirby: Lee Chrisman
Mrs. Kirby: Ali Kresch
Jim: Wyatt Ewing
G-Man: Zac LeMieux
Mac: Kevin McCarthy
Olga: Zoe Palko
Sponsors
This production is sponsored in part by generous support from the University of Michigan Credit Union.
Media sponsorship by The Ann Arbor News.
The School of Music acknowledges the generosity of McKinley Associates, Inc. whose support has helped make this production possible.
Resources
[accordion title="About Kaufman & Hart"]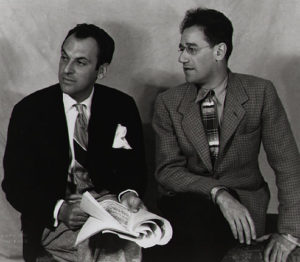 In the records of the American theatre, the Kaufman and Hart collaboration lasted only ten years, from 1930 to 1940. This, however, seems hard to believe. The popularity of their plays was so tremendous during their partnership and their plays have continued to be so popular ever since, that they seem, in the perspective of the present day, to have been "always there" – like Gilbert and Sullivan or Rodgers and Hammerstein.
The story of their first joining up together was fascinatingly told in Moss Hart's autobiography, Act I, published in 1959. Hart, at twenty-five years of age, was in 1929 a penniless, aspiring young man with one single ambition: to be a Broadway playwright. He had written a handful of plays with no success until he completed a comedy about the migration then taking place of actors from the stage to Hollywood, as the change-over from silent films to "talking pictures" put a premium on actors who could "talk." This comedy won some interest from the highly-reputed Broadway producer, Sam Harris, who offered to have the play adapted into a musical comedy. Though yearning greatly for any kind of stage production, Hart said "no." Harris then offered a production if Hart would enter into a collaboration with George S. Kaufman, who could help iron out the comedy's kinks. Since Kaufman was one of the most successful playwrights in the country, this was for Hart a wonderful opportunity which he hastened to accept.
The play he and Kaufman wrote – and rewrote and rewrote again and again – was Once in a Lifetime. On its opening in September 1930, it became one of the greatest successes of its time. Hart sprang overnight from penury to riches, from oblivion to being one of the brightest stars of the inner circle that was known as the Algonquin Roundtable. It put Kaufman and Hart as a team on a pedestal in the theatrical hall of fame.
Over the next ten years they wrote seven other shows together. All of them won the most enthusiastic attention – the opening of each was a major event. Four of them were long-run hits, and the other three were successes that would have been consider major accomplishments from any other playwrights than these two from whom only fifty-megaton smashes were now expected. The seven were Merrily We Roll Along (1934), You Can't Take It with You (1936), I'd Rather Be Right (1937), The Fabulous Invalid (1938), The American Way (1939), The Man Who Came to Dinner (1939), and George Washington Slept Here (1940).
After 1940 the two did not work together again – not because they had a falling-out, as was the case with Gilbert and Sullivan, but because Hart had a psychological need to prove that his success was not due to a dependence on Kaufman. He had to prove to himself that he could work alone. He did it brilliantly for the next seventeen years, and Kaufman's career also continued to thrive. During this time Hart wrote Lady in the Dark, Winged Victory, Christopher Blake, Light Up the Sky, and The Climate of Eden. In addition, he wrote many screenplays that were produced in Hollywood, including the 1954 version of A Star Is Born. His most notable screenplay was Gentleman's Agreement, which won an Academy Award.
Before and after working with Hart, Kaufman wrote such hits as The Butter and Egg Man, The Coconuts, and Strike Up the Band (all as a solo playwright); The Royal Family and Dinner at Eight (with Edna Ferber); The Dark Tower (with Alexander Woollcott); Animal Crackers (with Morris Ryskind); Park Avenue (with Nunnally Johnson); and The Solid Gold Cadillac (with Howard Teichman).
The two men remained the best of friends. Hart's autobiography was regarded by many in 1959 as being largely an idolizing tribute to George S. Kaufman. On Kaufman's death on June 2, 1961, Hart delivered a moving address at the funeral. He himself died barely seven months later, on December 20, 1961.
— courtesy Utah Shakespearean Festival
[/accordion]
Media
Program
Photos
[cycloneslider id="06-07-you-cant-take-it-with-you"]