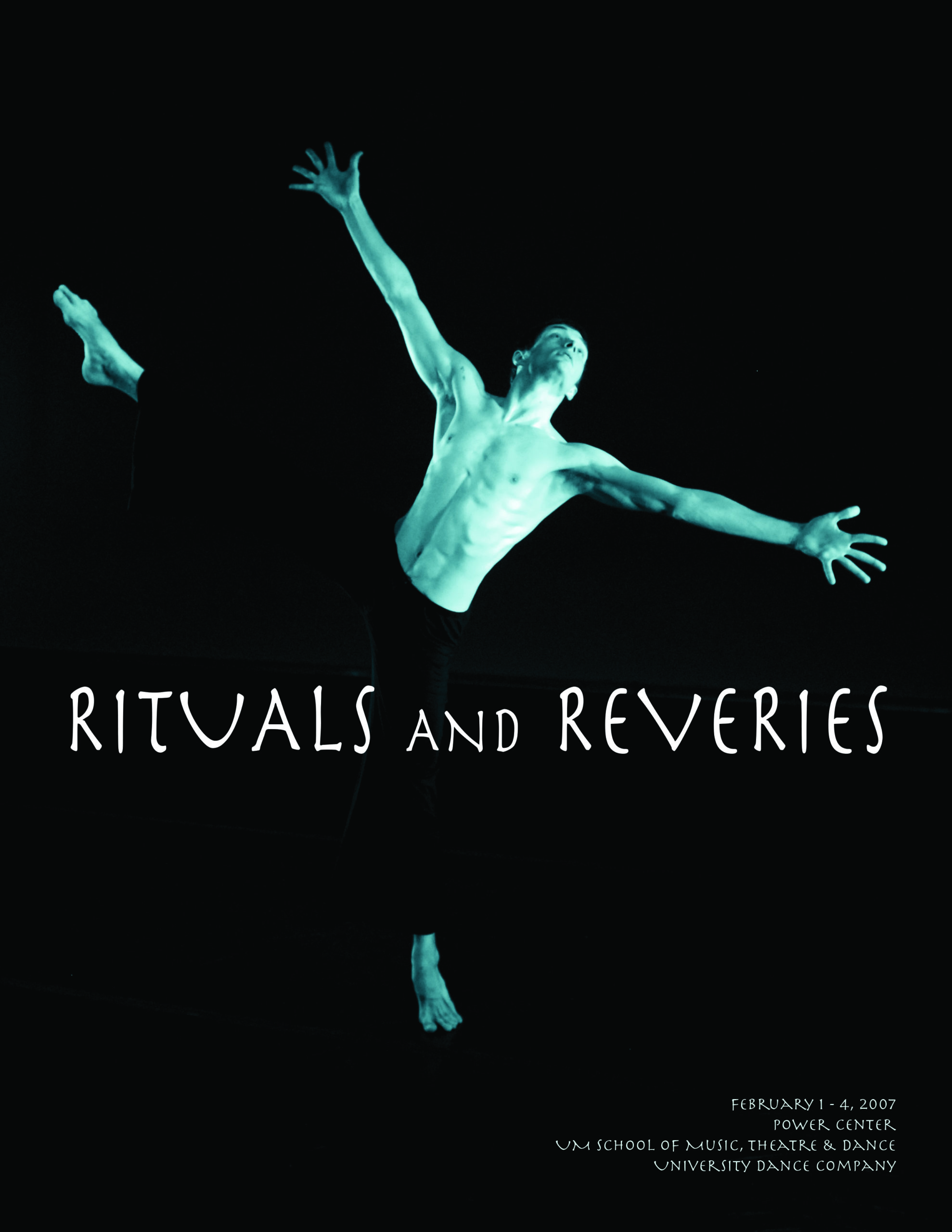 Rituals & Reveries
Choreography by Martha Graham, guest artist Leyya Tawil and faculty Amy Chavasse, Peter Sparling, Sandra Torijano, and Robin Wilson
Department of Dance
February 1-4, 2007 • Power Center

The University Dance Company explores rites of passage in Rituals & Reveries. Highlighting the evening is a re-staging of Martha Graham's seminal work for thirteen women, Primitive Mysteries, created in 1931. A masterwork of sustained dramatic tension and austere, formal structure, Primitive Mysteries is a Miracle Play in three parts evoking the rituals of Spanish and Native Americans in the American Southwest. In counterpoint to Graham's work is Peter Sparling's revival of Witness for thirteen men. Created in 1990 in response to the devastating loss of countless men to the AIDS plague in the last decades of the 20th century, Witness features music by Vincent Persichetti and Arvo Pärt. Guest faculty member Leyya Tawil, artistic director of the California based Dance Elixir, presents Raincoat Rebellion. Exploring regeneration – whether cultural, urban, or personal renewal – Raincoat Rebellion is set at the moment of exaltation when the old is shed and the new is embraced. Whether, by new faculty member Amy Chavasse, examines a replay of a disaster – wondering whether reconciliation could replace enmity between adversaries if chance and choice had played out differently. The work is set to music by Arthur Brooks and Dmitri Shostakovich. Robin Wilson creates Blank Spaces, a reflection on the effects of the loss of memory. Rounding out the evening is Amighetti, a work by Sandra Torijano which examines the cultural tradition of her native Costa Rica of community support for families in need.
Artistic Staff
Artistic Director: Bill De Young
Scenic Designer: Jeff Bauer
Lighting Designer: Mary Cole
Music Coordination: Christian Matjias
Stage Manager: Stephen Siercks
Repertoire & Performers
[accordion title="Primitive Mysteries"]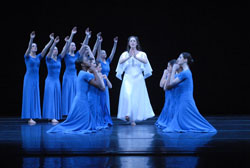 Choreography and Costume Design by Martha Graham (1931)
Music by Louis Horst
Reconstructed by Diane Gray
Lighting by Beverly Emmons (after Martha Graham)
Lighting for Reconstruction by Mary Cole
Musicians: Penny Fischer (Flute), Christian Matjias (Piano), Kristy Meretta (Oboe)
Dancers: Megan DeShong, Joyelle Fobbs, Angela Gary, Jennifer Gerhart, Natalie Griffith, Roche Janken, Maureen Kelly, Lindsay Kline (soloist), Lara Martin, Stephanie Overton, Carolina Pahde, Kristina Tate, Jenny Thomas, Abigail Zeitvogel
Understudies: Helen Bates, Kristin Lehnert, Jordan Risdon, Kathleen Wright
I. Hymn to the Virgin
II. Crucifixus
III. Hosanna
Choreographer's Notes: Primitive Mysteries has its beginnings in the adoration of the Virgin as experienced in the Southwestern Spanish-American culture. Literally, it is a celebration of the coming of age of a young girl. Spiritually it is the Madonna returned to Earth, blessed by and blessing her followers, and then returning to Heaven to comfort her soul. Primitive Mysteries premiered on February 2, 1931, at the Craig Theater in New York City. Presented by arrangement with Martha Graham Resources, a division of the Martha Graham Center of Contemporary Dance.
[/accordion][accordion title="Whether"]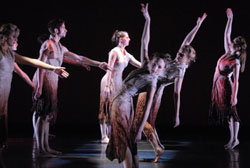 Choreography by Amy Chavasse in collaboration with the dancers
Music: "24 Preludes and Fugues Op 87, #1" by Dmitri Shostakovich and "Matrix" by Arthur Brooks
Costume Design by Rachel Arnsdorf
Dancers: Nile Baker, Betsy Busald, Abra Cohen, Marlee Cook-Parrott, Catherine Coury, Elizabeth Dugas, Samantha Goltz, Andrea Mathias, Julie Meehan, Gretchen Platt-Koch, Austin Selden, Sophie Torok, Nadia Tykulsker
[/accordion][accordion title="Blank Spaces"]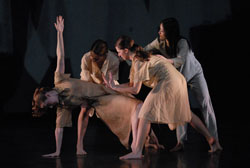 Choreography by Robin Wilson
Music: "Sonatas and Interludes for Prepared Piano" by John Cage
Costume Design by Jeff Bauer
Pianist: Stephen Rush
Video by Russ Kuhner
Dancers: Valerie Barnes, Helen Bates, Halie Bojovic, Anna Bratton, Aidan Feldman, Jennifer Harge, Shelia Klein, Kristin Lehnert, Trina Mannino, Stephanie Overton, Joseph Roth, Marly Spieser-Schneider, Tomoko Takedani, Kristina Tate
I. Fragments
II. Sisters
III. Amyloid Clusters
IV. Forgetting
Choreographer's Notes: Blank Spaces explores memory, the act of forgetting, and the empty spaces left when those who no longer can remember are no longer fully "present." Inspired by the collages of UM Professor of Art Joanne Leonard, Blank Spaces is dedicated to John Earl, Beatrice and Louise.
[/accordion][accordion title="Witness"]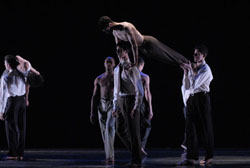 Choreography by Peter Sparling (1990)
Music: "Parable XVI for Solo Viola" by Vincent Persichetti and "Cantus in Memory of Benjamin Britten" by Arvo Pärt
Costume Design by Jeff Bauer
Violist: Megan Fergusson
Dancers: Nile Baker, Rodney Brown, Justin Cook, Jeremiah Crank, Matthew Farmer, Aidan Feldman, Joshua Hoag, Alex Kip, Joseph Roth, Gavi Savit, Austin Selden, Alexander Springer, Rotem Tashach, Jarel Waters
I. Trio —
Thursday: Matthew Farmer, Jarel Waters, Alexander Springer
Friday: Rodney Brown, Jeremiah Crank, Joseph Roth
Saturday: Matthew Farmer, Jeremiah Crank, Alexander Springer
Sunday: Rodney Brown, Jarel Waters, Aidan Feldman
II. Company
Choreographer's Notes: Witness was created for University Dance Company 17 years ago in response to the devastating loss of countless men to the AIDS plague in the last decades of the 20th century. The two-part work opens with three solos that move from a restless yearning to panic, then resignation. The second part – an extended dirge or processional – migrates in slow, steady patterns as if across an empty urban plaza or at some undefined crossroads.
[/accordion][accordion title="Suite from Amighetti"]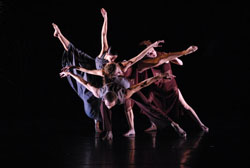 Choreography by Sandra Torijano (2003)
Music by Eddie Mora
Artwork by Francisco Amighetti
Original Set Design by Eduardo Torijano
Original Costume Design by John Schak
Additional Costume Design by Jeff Bauer
Video by Christopher Fosdick
Rehearsal Assistance by Carolina Pahde
Dancers: Cristina Calvar, Jeremiah Crank, Natalie Griffith, Lindsay Kline, Katlyn Kraus, Wei Lan, Lara Martin, Carolina Pahde, Kimberly Sable, Elizabeth Schweiger, Samantha Stone, Alison Woerner, Kathleen Wright, Abigail Zeitvogel
Notes: Francisco Amighetti is a Costa Rican engraver, painter, illustrator, draughtsman, writer and critic. One of the most prolific artists in Costa Rican history, his seventy years of creation include more than 500 works, which range from Surrealist paintings to austere and primitive xylographs. Eddie Mora is a Costa Rican composer of orchestral and chamber works that have been performed in the Americas and Europe. His honors include the national music prize Aquileo Echeverría (1997, for Escenas infantiles; 1998, for Bagatelas and Cantata; 2001, for Miniaturas; 2003, for Amighetti) and the Premio de la Asociación de Compositores y Autores Musicales in San José (2001, for Suite Ausencia).
[/accordion][accordion title="Raincoat Rebellion"]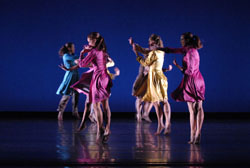 Choreography by Leyya Tawil
Music by Stephen Rush
Costume Design by Jeff Bauer
Rehearsal Assistance by Leah Ives and Raymond Robinson
Dancers: Alexandra Burley, Megan DeShong, Joyelle Fobbs, Krisilyn Tony Frazier, Daytona Frey, Angela Gary, Jenny Gerhart, Roche Janken, Maureen Kelley, Sarah Pelc, Jordan Risdon, Alexander Springer, Erika Stowall, Jenny Thomas, Jarel Waters
[/accordion]
Sponsors
The reconstruction of Primitive Mysteries was made possible by American Masterpieces: Dance, a program of the National Endowment for the Arts, which is administered by the New England Foundation for the Arts with Dance/USA.
The School of Music, Theatre & Dance acknowledges the generosity of McKinley Associates, Inc. whose support has helped make this production possible.
Resources
[accordion title="Gay Delanghe (1941-2006)"]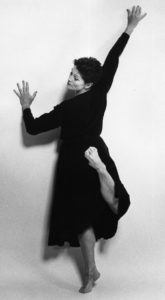 For 35 years, we had the pleasure of working with an extraordinary talent in the Department of Dance at the University of Michigan. After retiring from the University in May, Gay died in early August after a courageous battle with ovarian cancer. Choreographer, teacher, dancer and mentor, Gay Delanghe leaves us her grace, her wisdom, her strength, her truly memorable sense of humor, and her deep passion for all that can be experienced and communicated through the art of dance. In November 2006, Gay received, posthumously, the auspicious honor of the "Michigan Artist Award" from the ArtServe Michigan Governor's Awards for Arts and Culture. In a festive ceremony at the Detroit Opera House, the award was given in recognition of her masterful work as a dancer, choreographer and teacher, and her leadership in the field of modern dance in the state of Michigan and well beyond.
In her honor, the Delanghe Endowment Fund has been set up to provide scholarships to students in the Department of Dance.
[/accordion]
Media
Program