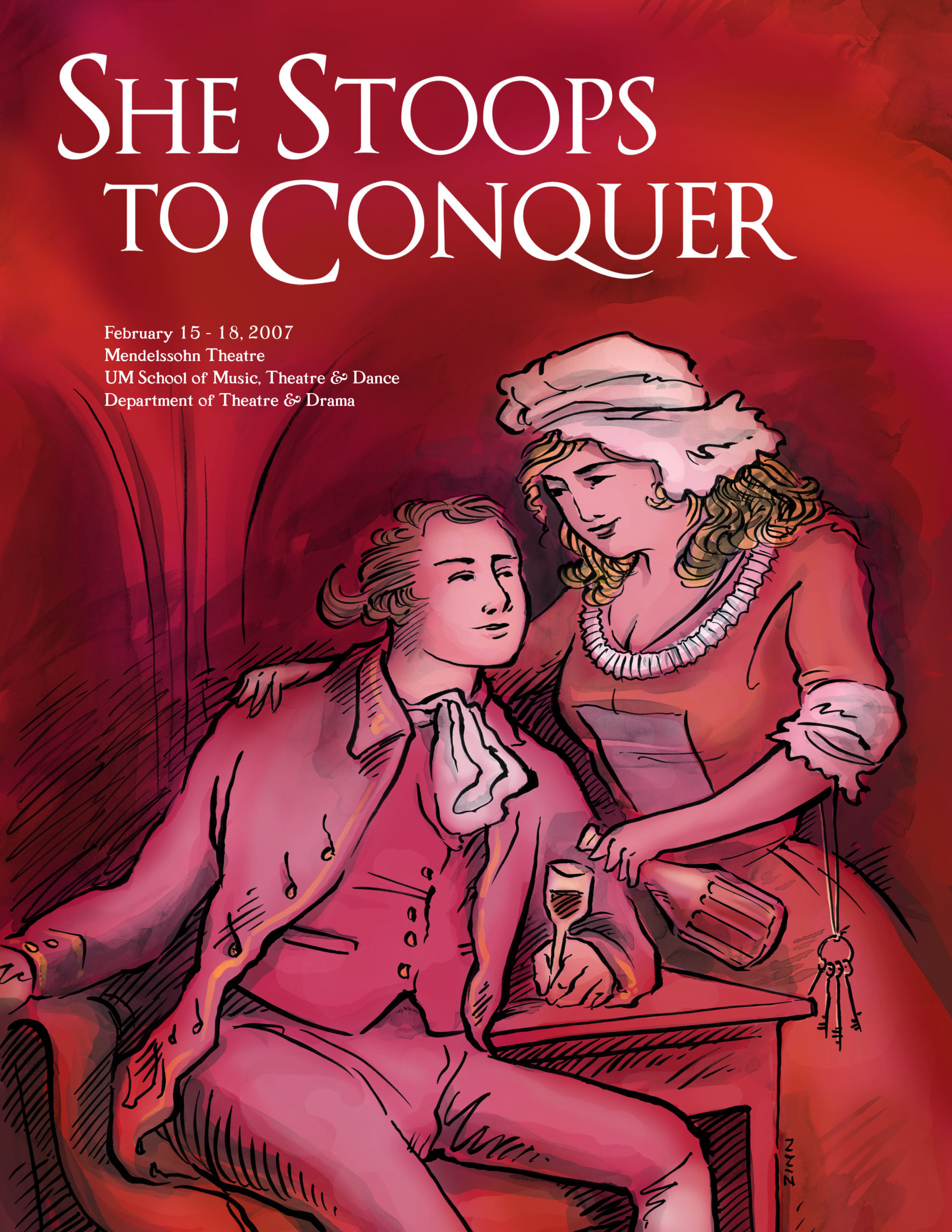 She Stoops to Conquer
by Oliver Goldsmith
Department of Theatre & Drama
February 15-18, 2007 • Lydia Mendelssohn Theatre

The Story: Young Marlow is wealthy, handsome, and single with the ability to charm a barmaid but a equally painful shyness around women of social standing. Traveling to meet his intended fiancé, the beautiful Kate Hardcastle for the first time, his chances of success are jeopardized when the rascally Tony Lumpkins, Kate's stepbrother, tricks him into believing that the family home is a local inn. Learning of Marlow's impairment and faced with her father's wrath at Marlow's impudence towards the 'innkeeper,' Kate decides takes matters into her own hands to determine the true nature of her intended and whether his love is worthy of hers. Full of practical jokes, misunderstandings, and mistaken identities, She Stoops to Conquer is witty romp sure to inspire rollicking laughter.
Artistic Significance: Oliver Goldsmith's She Stoops to Conquer is one of the most performed works of the 18th century. Declared the greatest play of its era by Samuel Johnson, She Stoops radically changed the structure of comedy, moving away from a sentimental style to one that resembles the situation comedies of today. A vagabond for most of his life, Goldsmith gained notoriety as a founding member of "The Club" and his novel The Vicar of Wakefield. Tragically dying at the brink of his theatrical success, Goldsmith's She Stoops to Conquer features brilliantly drawn characters and sparking dialogue that are deftly woven into a riotous tale of manipulation and deceit that has delighted audiences for over 300 years.
Artistic Staff
Director: John Neville-Andrews
Scenic Design: Nayna Ramey
Costume Design: Christianne Myers
Lighting Design: Elyse Handelman
Choreographer: Natalie Malotke
Composer: Lembit Beecher
Dialect/Vocal Coach: Annette Masson
Wig & Make-up Designer: Erin Kennedy Lunsford
Stage Manager: Gina Rattan
Cast
The Hardcastle House
Mr. Hardcastle: Dylan Saunders
Mrs. Hardcastle: Cara Akselrad
Miss Kate Hardcastle: Alison Velasco
Tony Lumpkin: Adam Moskal
Miss Constance Neville: Alexandra Odell
Kate's Maid: Sara Greenfield
The Londoners
Charles Marlow: John Jarboe
George Hastings: Marc Paskin
Sir Charles Marlow: Pat Rourke
Jeremy, a servant: Joseph D. Moses
The Hardcastle Servants
Diggory: Eric J. Schinzer
Bet Bouncer: Sara Greenfield
Tom Twist: Joseph D. Moses
Jack Slang: Seth Moore
Dick Muggins: Torrey Wigfield
Alison Pimple: Laura Lapidus
Stingo, an innkeeper: Pat Rourke
Sponsors
The School of Music acknowledges the generosity of McKinley Associates, Inc. whose support has helped make this production possible.
Media
Program