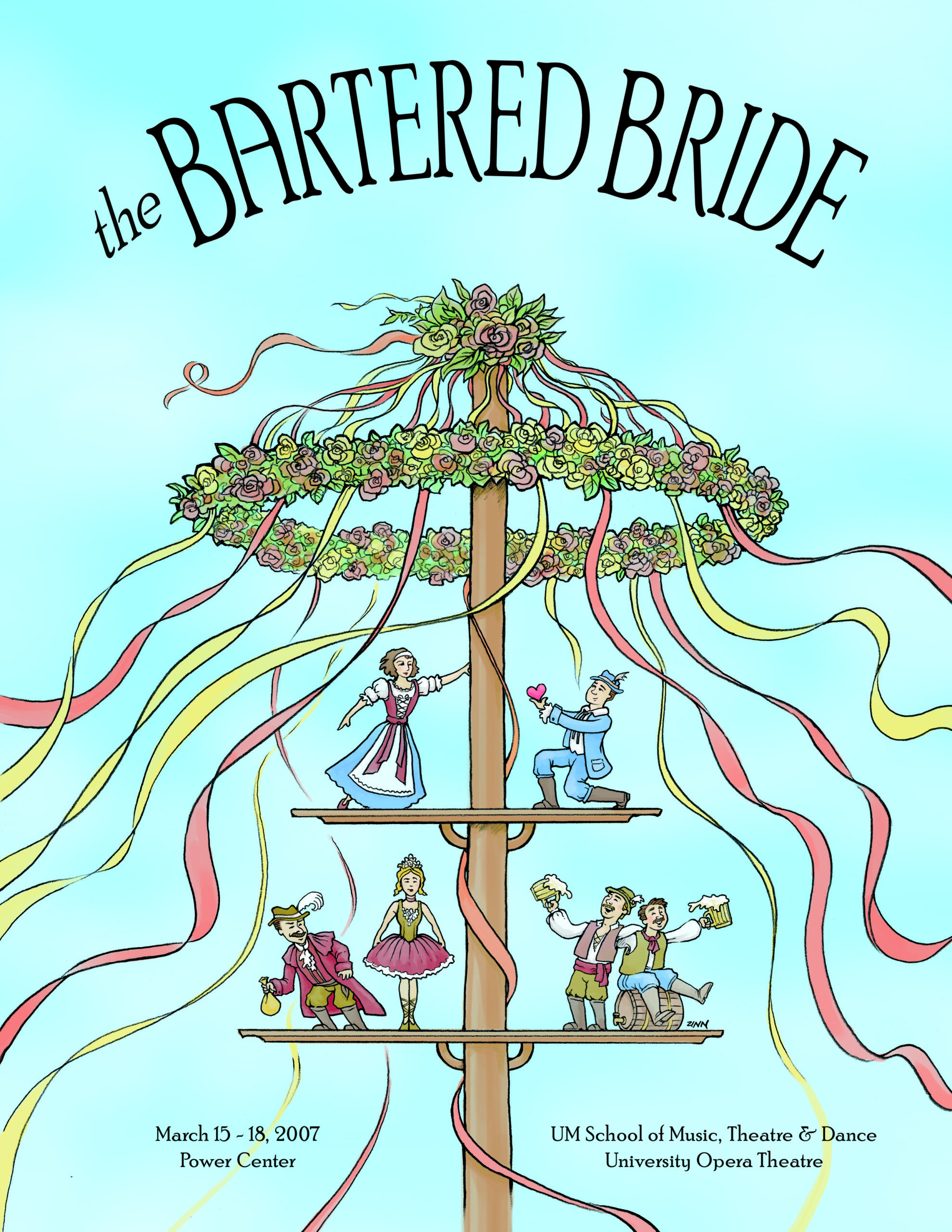 The Bartered Bride
Music by Bedřich Smetana
Libretto by Karel Sabina
University Opera Theatre • University Philharmonia Orchestra
March 15-18, 2007 • Power Center

The Story: A celebration of rural life and love, The Bartered Bride is set in a small Czech village. Young lovers Mařenka and Jeník want to marry. However, her parents have different ideas and have engaged a marriage broker to arrange her betrothal to Vašek, the son of a wealthy landowner. When Jeník unexpectedly 'barters' with the marriage broker to not contest the arrangement, he breaks Marenka's heart. But a traveling circus arriving in town brings more surprises than anyone expects. Is it possible to save true love and gain a profit?
Artistic Significance: After the warm audience response to our 2002 production of The Cunning Little Vixen, the Opera Theatre is thrilled to present another gem of Czech opera coached by Czech opera expert Timothy Cheek. The Bartered Bride has become a worldwide favorite since its 1870 premiere and is presented with almost as much frequency as Smetana's symphonic favorite "My Fatherland" ("Ma Vlast"). Composer Bedrich Smetana is considered to be the founder of Czech music, establishing the musical voice of his beautiful and romantic nation using the melodic and rhythmic colors of the Czech vernacular. From its famous fugal overture to the boisterous choruses and dazzling duets, the score mixes infectious folk rhythms and poignant characterization. An entertaining light opera, The Bartered Bride's charming melodies are sure to delight.
Artistic Staff
Director: Joshua Major
Conductor: Andrew George
Assistant Conductor: Clinton Smith
Scenic Designer: Erhard Rom
Costume Designer: Meghann O'Malley Powell
Lighting Designer: Stephen Siercks
Wig, Hair, & Makeup Designer: Dawn Rivard
Choreographer: Missy Beck Matjias
Czech Diction Coach/Supertitles Creation: Timothy Cheek
Musical Preparation: Carolyn Herrington, Tom Bandy
Chorus Master: Carole Ott
Stage Manager: Brett Finley
Cast (Thursday-Saturday/Friday-Sunday)
Mařenka, a young peasant woman (soprano): Sheena Law/Amita Prakash
Jeník, her sweetheart (tenor): Steven Tompkins/Bernard D. Holcomb
Kecal, a marriage broker (bass): Seth Mease Carico/Jeremiah Butterfield
Krušina, a farmer and Mařenka's father (baritone): Joseph Roberts/Paul Scholten
Ludmila, Mařenka's mother (soprano): Elke Riedel/Jody Doktor
Tobiás Mícha, a wealthy Bohemian landowner (bass): Andrew Harris/Edward Hanlon
Háta, Mícha's second wife (mezzo-soprano): Monique Holmes/Elizabeth Gray McGhee
Vašek, younger son of Tobiás Mícha (tenor): José García/David Wilson
The Circus Players
The Ringmaster (tenor): Dustin Scott/David Kozisek
Esmeralda, a tightrope walker (soprano): Alissa Rose/Kelly Holst
The Indian (baritone): Jonathan Bryan Smith/Scott Lindroth
Ensemble: Zerrin Agabigum, Andrew Bollinger, Austin Chrzanowski, Natalie Cochran, Andrew Coniglio, Heather Denny, Jen Hartley, Amanda Kaipio, Jenna Klein, Audrey Kline, Paige Lucas, Jennifer McKenzie, Courtney Miller, Kevin Munhall, Claudio Nuñez, Jessica Petrus, Davis Smith, Elyse Smith, Austin Stewart, Nathan Taylor, Kate Wakefield
Gymnasts: Alex Brenner, Ruthilah Graff
Juggler: Leonard Navarro
Dancers: Mark Ayesh, Stephanie Maloney, Mary Patterson, Kathleen Wright
Splits Man: Bobby Huebner
Sponsors
The School of Music, Theatre & Dance acknowledges the generosity of McKinley Associates, Inc. whose support has helped make this production possible.
Resources
[accordion title="Synopsis"]
Act I
Jeník, a young man who works on a nearby farm, and Mařenka have pledged their love to each other. As the villagers celebrate Spring, Mařenka reveals that years ago her father owed money to the landowner, Tobiás Mícha. In order to repay him, Krušina promised that his daughter would marry Mícha's son, Vašek.
Mařenka asks Jeník to tell her more about his background, but he will only say that his mother died when he was a boy. After his father remarried, Jeník was rejected and left home to live in Moravia. Now he has returned, Jeník tells Mařenka that he loves her deeply and they dream of having their own farm someday.
Kecal, the marriage broker, is trying to arrange the marriage between Mařenka and Vašek. He asks Mařenka's parents, Krušina and Ludmila, for their signature. Krušina remarks that he has always heard that Mícha has two sons, but has never met the other one. Kecal insists that Vašek is the man for Mařenka and that no one knows what happened to Mícha's eldest son. Mařenka joins them and tells her parents that she already has a sweetheart whom she has promised to wed. Kecal tries to find out who it is.
Act II
The act begins with the men extolling the three virtues – beer, love and money. Vašek enters troubled by his mother's insistence that he get married. Mařenka, desperate to avoid a marriage with Vašek, tricks him into giving her up while keeping her own identity a secret. Kecal tries to convince Jeník to marry another girl who Kecal will only describe by bragging about how rich she is. On top of this, Kecal offers Jeník money to give up Mařenka. Jeník, with his own mysterious plan, finally relents. He will take the money provided the contract reads that "Mařenka is to marry one man alone, and that man is Tobiás Mícha's son, or the contract will be cancelled." When the news comes out that Jeník has bartered Mařenka for money, the village is shocked.
Act III
A traveling circus comes to the village as part of the celebrations. The Ringmaster introduces his troupe and they offer a preview of the evening's show. Vašek notices and takes a liking to Esmeralda, whom he approaches after the dance. Suddenly the Indian runs in with the news that the man who plays the dancing bear has disappeared again. They convince Vašek to join them.
Háta and Tobiás Mícha enter with Kecal looking for Vašek so he can sign the marriage contract. Vašek refuses, telling them that a lovely girl has made him change his mind. They are confused. Meanwhile Mařenka is with her parents and learns that Jeník has given her up for 300 crowns. Kecal joins them and proves it by showing Mařenka the contract, but Mařenka still refuses to marry Vašek. Vašek and his parents appear and once he realizes that the sweet girl who charmed him earlier is Mařenka herself, he happily agrees to marry her. Mařenka requests time to think it over.
Jeník appears, but she stubbornly refuses to let him explain himself, and they quarrel. Kecal enters and asks Mařenka once more if she will marry Mícha's son. Both sets of parents and the entire village join them, when Mařenka, furious at Jeník, announces she will marry Vašek. Háta and Tobiás Mícha, seeing Jeník for the first time in many years, recognize Mícha's eldest son. Mařenka's anger turns to joy and all is sorted out.
[/accordion]
Media
Program
Photos
[cycloneslider id="06-07-bartered-bride"]