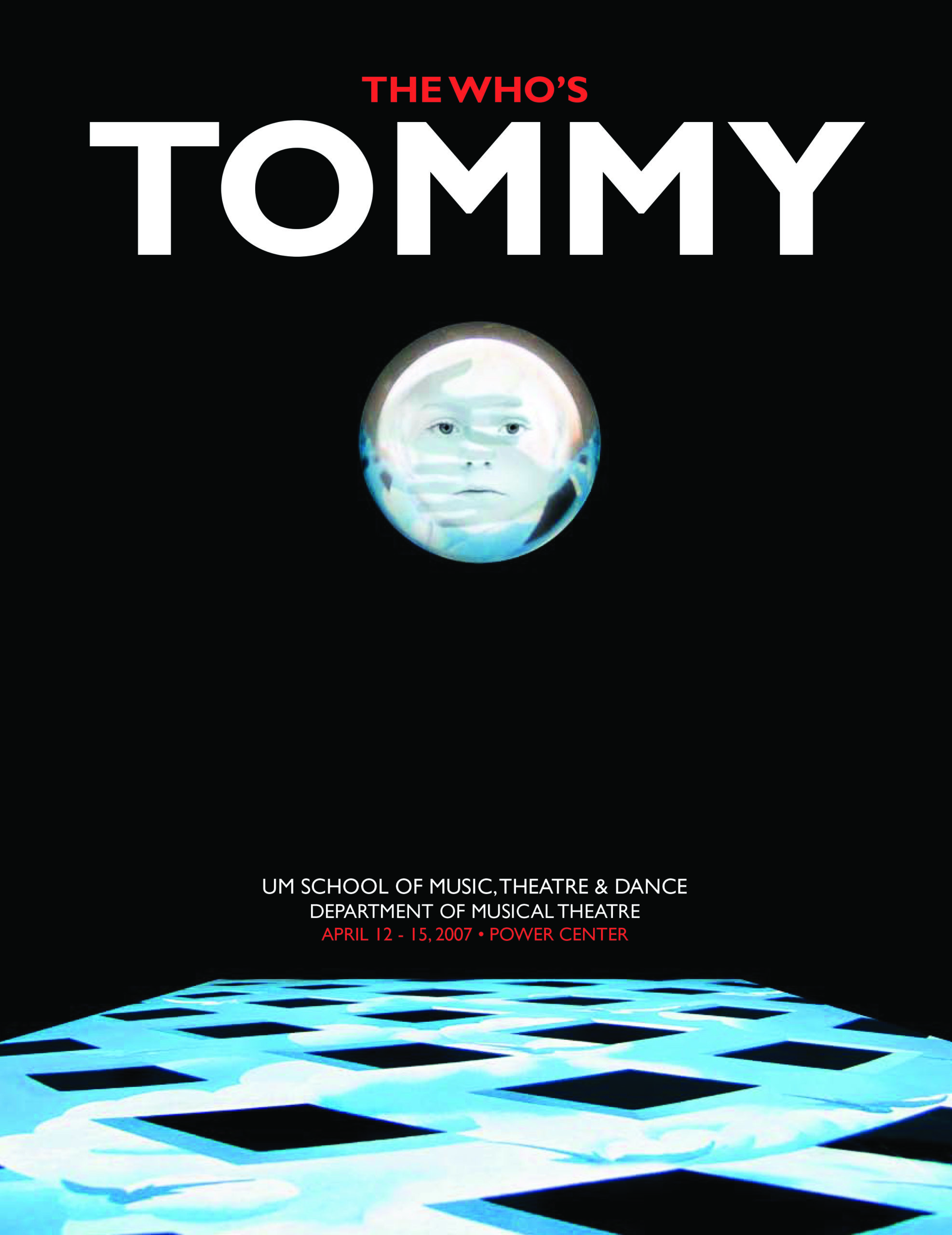 The Who's Tommy
Music and lyrics by Pete Townshend
Book by Des McAnuff
Additional lyrics by John Entwhistle and Keith Moon
Department of Musical Theatre
April 12-15, 2007 • Power Center

The Story: Tommy follows the life of Tommy Walker and his dysfunctional family in post-W.W. II England when his mind is shattered following a series of traumatic events. After witnessing his father kill a man, four-year old Tommy retreats into catatonia. He is further injured by abuse from relatives and from numerous medical attempts by his parents to cure him. By accident, Tommy finds his voice through his uncanny ability to play pinball. Idolized as a local hero, his fame grows when he is miraculously cured. But his newly found freedom only serves to highlight the exploitation and loneliness inherent in stardom. Deciding to abandon his celebrity and reconcile with his family, Tommy is finally able to begin living a normal life.
Artistic Significance: The Who's Tommy made pop history by blending a rock-n-roll sound with a slender plot that carried throughout the double album's twenty-four songs like a classical song cycle. The album's debut in 1969 rocketed the band to international stardom and was declared "the first pop masterpiece" by the New York Times. Songs such as "Amazing Journey" and "Pinball Wizard" have passed into mainstream culture as classics. In 1993, Tommy came to Broadway under the collaboration of songwriter Pete Townshend and director Des McAnuff (winner of numerous Tony Awards) with a fleshed out narrative and a new song. Earning a record breaking eleven Tony Award nominations, the musical won five including Best Score and Best Direction. Declared by Frank Rich of the New York Times as "the authentic rock musical that has eluded Broadway," Tommy combines exhilarating sights and sounds into a lively musical theatre experience.
Artistic Staff
Director and Choreographer: Linda Goodrich
Music Director: Cynthia Kortman Westphal
Scenic Design: Rob Murphy
Costume Design: Meghann O'Malley Powell
Lighting Design: Mark Allen Berg
Sound Design: Scott Stauffer
Projection Design: Wendall K. Harrington
Wig, Hair, & Makeup Design: Dawn Rivard
Associate Choreographer: David Hull
Dialect Coach: Sarah-Jane Gwillam
Stage Manager: Christina M. Hagan
Cast
Mrs. Walker: Heléne Yorke
Captain Walker: Josh Rouah
Uncle Ernie: Zach Barnes
Minister: Andrew Laudel
Officers: Robert Hartwell, Paul Louis Lessard
Nurses: Demi Fragale, Emily Glick, Laurel Harris, Ashley Williams
Allied Soldiers: Ted Ely, Jake Wilson
Lover: Jamie Cooper
Four-year-old Tommy: Nyeli Kratz
Narrator/Tommy: Alex Brumel
Judge: Dylan Saunders
Ten-year-old Tommy: Garret Weng
Cousin Kevin: David Hull
Kevin's Father: Dylan Saunders
Kevin's Mother: Demi Fragale
Minister's Wife: Lauren Holmes
Pinball Lad #1: Andrew Keenan-Bolger
Pinball Lad #2: Cary Tedder
Local Lads: Ted Ely, Robert Hartwell, Bryan Langlitz, Paul Louis Lessard, Jake Wilson
Local Lasses: Marjorie Failoni, Kelcy Griffin, Haley Hannah, Laurel Harris, Shina Ann Morris, Mara Newbery, Dani Spieler, Ashley Williams
Hawker: Kent Overshown
Harmonica Player: Mark Christine
Aisle of Dogs Dancers: Paige Wheat, Dani Spieler
The Gypsy: Kira Safan
Specialist: Michael Lowney
Specialist's Assistant: Laurel Harris
Sally Simpson: Dani Spieler
Mrs. Simpson: Ruth Pferdehirt
Mr. Simpson: Derek Krantz
Ensemble: Derek Carley, Amanda Choate, Talia Corren, Brant Cox, Ted Ely, Marjorie Failoni, Demi Fragale, Emily Glick, Kelcy Griffin, Haley Hannah, Laurel Harris, Robert Hartwell, Lauren Holmes, Andrew Keenan-Bolger, Derek Krantz, Bryan Langlitz, Andrew Laudel, Paul Louis Lessard, Michael Lowney, Shina Ann Morris, Mara Newbery, Kent Overshown, Ruth Pferdehirt, Dylan Saunders, Jose Sepulveda, Dani Spieler, Cary Tedder, Paige Wheat, Ashley Williams, Jake Wilson
Sponsors
The School of Music acknowledges the generosity of McKinley Associates, Inc. whose support has helped make this production possible.
Media
Program
Photos
[cycloneslider id="06-07-tommy"]