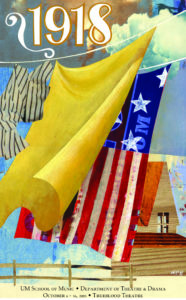 1918
By Horton Foote
Department of Theatre & Drama
October 6-16, 2005 • Trueblood Theatre

Surrounded by family and the close-knit community of Harrison, Texas, Horace Robedaux, his wife, and their infant daughter plan for a bright future in their new home. However, an unexpected and devastating scourge – influenza – threatens the town. It is a threat more deadly than the Great War overseas killing off the town's young men. 1918 weaves a poignant character study of family and community in which grim and extraordinary times are dramatized through the relentless pattern of everyday life.
Winner of Academy awards for his screenplays of "To Kill a Mockingbird" and "Tender Mercies," as well as a nomination for "The Trip to Bountiful," the works of Horton Foote are better known than the playwright himself. During his six-decade career in stage, film, and television, Foote has been awarded the William Inge Award for Lifetime Achievement, a Pulitzer Prize for his play "The Young Man from Atlanta," and membership in the American Academy of Arts and Letters. He received the National Medal of Arts in 2000. His nine-play cycle "The Orphans' Home" chronicles the life of Horace Robedaux, and is loosely based on his father and his hometown of Wharton, Texas. "1918," the seventh play of the cycle, is a genteel look at an era of innocence and community forever altered by cataclysmic events.
Artistic Staff
Director: Mark Madama
Scenic Designer: Edward Morris
Costume Designer: Christianne Myers
Lighting Designer: Stephen Siercks
Vocal Coach: Annette Masson
Stage Manager: Colin Miller
Original Music: Justin Paul
Cast
Horace Robedaux: David Abed
Sam Goldman: Sharif Nasr
Brother Baughn: Chris Allen
Elizabeth Robedaux: Erin Farrell
Bessie Stillman: Katie Johnston
Mrs. Vaughn: Zoe Palko
Mr. Vaughn: De'Lon Grant
Irma Sue: Shayna Markowtiz
Dr. Greene: Daniel Strauss
Gladys Maude: Lauren Lopez
Mrs. Boone/Woman in Mourning/Miss Ruth: Mikala Bierma
Boy: Corey Garff, Spencer MacDonald
Sponsors
The School of Music acknowledges the generosity of McKinley Associates, Inc. whose support has helped make this production possible.
Resources
[accordion title="About the Orphan's Home Saga"]
In 1918 the United States was involved in a war to end all wars as well as a flu epidemic that took more lives than that war ever would. In the small town of Harrison, Texas, as throughout the country, life was sadly affected by these events. Families were torn apart, and grieving became a common part of the American landscape. This is the story of one Texas family who bound together strongly enough to overcome all obstacles. The play 1918 is one of nine plays written by Horton Foote, considered one of America's greatest playwrights, as part of his Orphans' Home Cycle. These plays trace the quest of a man searching for a family in which he feels he belongs, and were inspired by the life of his father, Horace, who died months before Horton began writing. 1918 capture the changes in a family as well as the changes taking place within American society during this particularly turbulent and exciting time in history. Mr. Foote's words read like poerty, and the sentiments expressed resonate with every generation.
— Mark Madama
[/accordion]
Media
Program
Photos
[cycloneslider id="05-06-1918″]