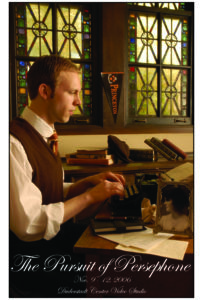 The Pursuit of Persephone
Book by Peter Mills and Cara Reichel
Music and Lyrics by Peter Mills
Department of Musical Theatre
November 9-12, 2006 • Duderstadt Center Video Studio

The Story: Adapted from his semi-autobiographical novel This Side of Paradise and newly published letters detailing their courtship, The Pursuit of Persephone is the tale of F. Scott Fitzgerald's brief, failed love affair with the beautiful and elusive debutante Ginerva King during his years at Princeton University. Knowing she was socially beyond his reach, Fitzgerald threw himself into becoming a Big Man on Campus in the hopes of being worthy of her. Their romance would spark Fitzgerald's ferocious creativity and would inspire one of the greatest novels of the 20th century, The Great Gatsby. Set in the lofty world of elite Ivy League society at Princeton and its famed Triangle Club, The Pursuit of Persephone is a tale of a writer's growth towards greatness.
Artistic Significance: Nominated for two 2006 Drama Desk Awards, The Pursuit of Persephone is the seventh collaboration of husband and wife team Peter Mills and Cara Reichel whose previous works include The Flood, Illyria, and the recent Iron Curtain. Mills's score combines ragtime, waltzes, touches of early jazz, and samples of actual Triangle show songs to evoke the collegiate atmosphere and highbrow world of Ivy League society. Michael Criscuolo of NYTheatre.com states, "Anyone interested in the future of musical theatre… should catch The Pursuit of Persephone." Don't miss this unique opportunity to see a musical by a talented and prolific team certain to light up the Great White Way.
Artistic Staff
Director: Brent Wagner
Musical Director: Brian Lewis
Choreographer: Sean McKnight
Scenic Designer: Cassidy Bloom
Lighting Designer: Elyse Handelman
Costume Designer: Christianne Myers
Stage Manager: Colin Miller
Cast
The Big Five
F. Scott Fitzgerald: Justin Paul
Edmund Wilson: John Rapson
John Peale (JP) Bishop: Joel Bauer
Ginevra King: Janine DiVita
Marie Hersey: Mara Newbery
College Boys
Ellis Griffin: Peter Gosik
Wilton Darby: AJ Shively
Tyler Pierce/Bartender: Derek Krantz
Freddy Forgan: Andrew Arrington
Tom Connett: Jamie Cooper
Trip Everett: Josh Rouah
Clive Bagby: Ted Ely
A. Hamilton Samuels: Benton Whitley
Debutantes
Emily Bottorff, Laurel Harris, Riana Nelson, Nina Sturtz
Grown-Ups
Older Scott: Michael Lowney
Dean Donegan: Alex Brumel
Mrs. King/Chanteuse: Lauren Holmes
Resources
[accordion title="Creators' Note"]
By 1937, F. Scott Fitzgerald's years of fame and fortune and jumping into the Plaza Hotel fountain with Zelda were over. He was a down-and-out screenwriter living in Hollywood, thousands of miles away from Zelda, who was institutionalized in South Carolina. Around this time Fitzgerald arranged a meeting with his old college flame, Ginevra King (recently divorced) at the Beverly Wilshire Hotel restaurant. We don't know what transpired at the meeting, only that soon afterward Fitzgerald, a reformed alcoholic, returned to his hard drinking habits.
The Pursuit of Persephone poses the question: who was Ginevra King to F. Scott Fitzgerald? What might have gone through his mind while he was waiting to meet her again after so many years? The legend of Scott and Zelda is well known. We were intrigued by the first woman in his life, who is represented fictionally in This Side of Paradise and was almost certainly the model for Daisy Buchanan in The Great Gatsby. Ginevra and Scott corresponded for two years, exchanging hundreds of letters. When the two broke up, they agreed to destroy each others' letters. Ginevra held up her end of the bargain, but Scott saved her letters, had them typed up, and used them as fodder for his stories through the years.
More than anything else, perhaps, we have tried to capture that sense of the ephemeral nature of youth and its passions. We have worked to re-create Scott's college world – the raucousness of the Triangle Club, the social context and class structure, and the musical sound of his era. However, although we did a great deal of research into the real events and people surrounding our story – many thanks to the Princeton University Library and Donald Marsden's history of The Triangle Club, The Long Kickline – The Pursuit of Persephone is still a work of fiction, inspired by F. Scott Fitzgerald's novel This Side of Paradise as well as his biography and the biographies of his contemporaries at Princeton such as John Peale Bishop and Edmund Wilson. We have tried to remain truthful to the spirit of Fitzgerald's college days, and have intended to honor his memory by connecting across the years to another once young and impressible Princeton undergrad. But of course with any work of dramatic fiction –  liberties will be taken, and facts fall victim to dramatic license! We hope that you enjoy our imagined version of real life events.
— Peter Mills and Cara Reichel
[/accordion]
Media
Program
Photos
[cycloneslider id="06-07-pursuit-of-persephone"]