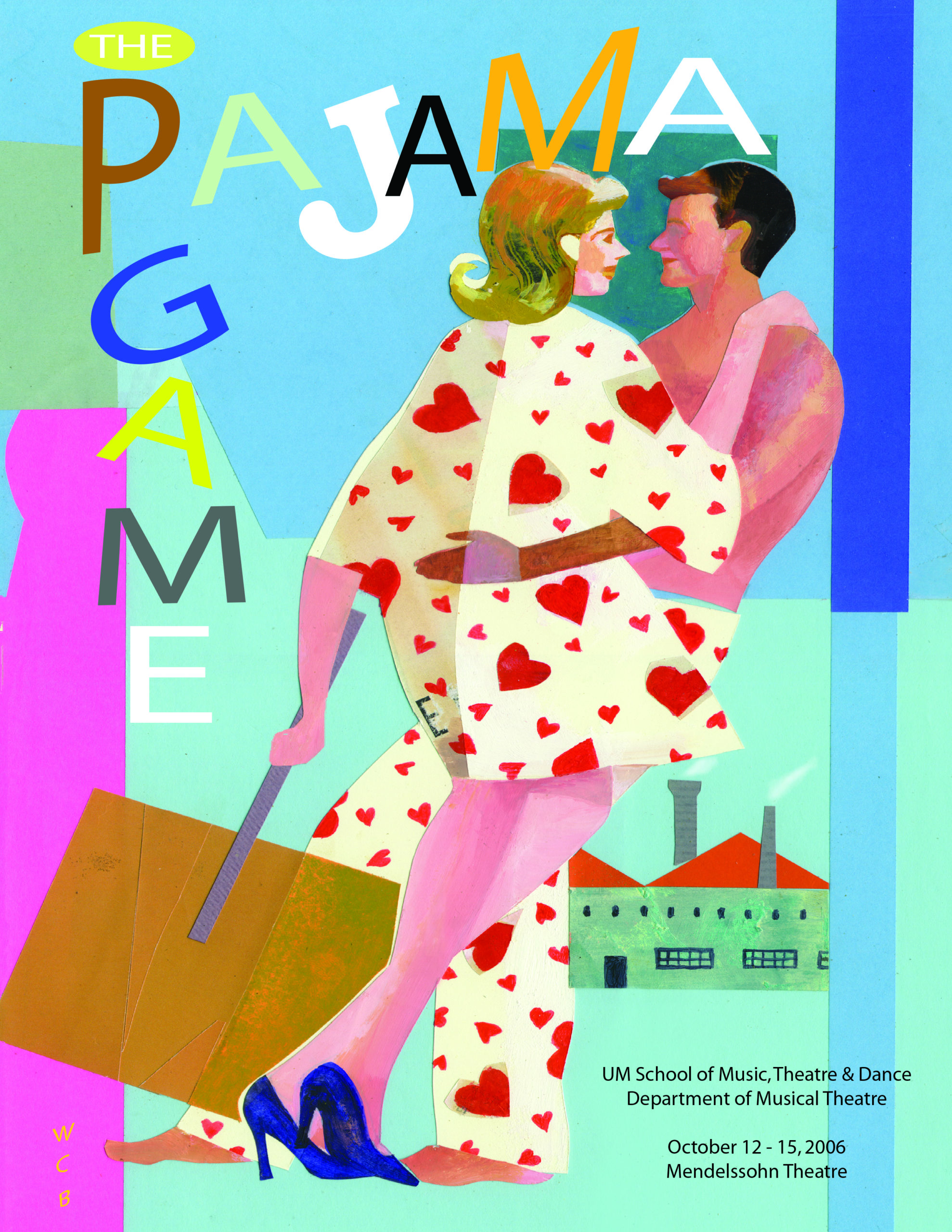 The Pajama Game
Book by George Abbott and Richard Bissell
Music and Lyrics by Richard Adler and Jerry Ross
Based on the novel 7½ Cents by Richard Bissell
Department of Musical Theatre
October 12-15, 2006 • Lydia Mendelssohn Theatre

The Story: Conflict is rife at the Sleep Tite pajama factory in 1954 where workers are demanding a long overdue 7-½ cent pay raise. Sparks fly, and not just those regarding the labor dispute, when the new superintendent Sid Sorokin and union representative Catherine 'Babe' Williams meet. A union girl all the way, Babe fights the pull of desire, but Sid's charms begin to lower her resistance. Unfortunately an impending strike threatens their budding love affair. Will the union-management clash derail their simmering attraction or will Sid find a way to negotiate an agreement and get the girl?
Artistic Significance: Winner of the 1955 Tony Award for Best Musical, The Pajama Game recently won the 2006 Tony Award for Best Revival. Composers Richard Adler and Jerry Ross's brief collaboration produced two of the signature musicals of the 1950s – The Pajama Game and Damn Yankees. Their blend of earnest romance with satirical comedy and a buoyant score featuring innumerous song standards such as "Hey There," Steam Heat," and "Hernando's Hideaway," gives the musical an exuberance that transcends time. Abounding with old-fashioned charm and a dash of sex appeal, The Pajama Game is a theatrical piece of cotton candy that, as the Toronto Star stated, "can make you grin from ear to ear."
Artistic Staff
Director: Mark Madama
Music Director: Cynthia Kortman Westphal
Scenic Design: Bruce Brockman
Costume Design: Jessica Hahn
Lighting Designer: Rob Murphy
Sound Designer: Mark Gordan
Choreographer: John MacInnis
Wig & Makeup Designer: Dawn Rivard
Stage Manager: Stephanie Anderson
Cast
Hines: Kendal Sparks
Prez: Jake Wilson
Joe: Ryan Foy
Hasler: Max Spitulnik
Gladys: Cara Massey
Sid Sorokin: Garen McRoberts
Mabel: Ricki Foss
First Helper: Andrew Keenan-Bolger
Second Helper: Andrew Laudel
Charlie: David Hull
Catherine 'Babe' Williams: Cortney Wolfson
Mae: Susanne Layton
Brenda: Paige Wheat
Poopsie: Ruth Pferdehirt
Pop: Zachary Barnes
Max: Mark Christine
"Steam Heat" Dancers: Darren Biggart, Dave Hull, Heléne Yorke
Ensemble: Marjorie Failoni, Kelcy Griffin, Olli Haaskivi, Jessica Hershberg, Andrew Keenan-Bolger, Max Kumangai-McGee, Bryan Langlitz, Andrew Laudel, Shina Ann Morris, Alex Puette, Dani Spieler, Ashley Williams
Sponsors
The School of Music acknowledges the generosity of McKinley Associates, Inc. whose support has helped make this production possible.
Media
Program
Photos
[cycloneslider id="06-07-pajama-game"]